"Back on the Water" | Tiberias - 22' | 12/31/12
I have been absent from the fishing scene since December 5th. My boat's motor started to signal an overheating issue. I quickly replaced the thermostats on both port and starboard sides. Ran the boat only to get the same alarm. Move on to the water impeller. During my inspection of the lower unit and connecting parts I found some more serious issues. I found several cracks in the exhaust housing and the tuner had also seperated from the lower bracket. Needless to say some long overdue tender love and care needed for the motor. I have replaced all gaskets, housing, plugs, filter, gear lube, etc...Motor is ready to roll.
Itching to get on the water today. Beautiful day! I got snagged...My wife's dad stopped in for a visit and delayed my departure. After his visit my wife dragged me grocery shopping to the dreaded Wal-mart. Could the lines be any longer?! Finally, 4pm home at last. Grabbing gear and heading out the door. Awwwh!!! It feels good to be back on the water. I quickly looked for live bait, but no such luck. I pulled out the artificials and went to work. Picked off a few red drum then a trout. Moved further back into the shallows and found a large school of small reds. Picked off a couple more trout. I did not hang Mr. Big today, but had a blast catching 15 or more reds and 3 trout. I love it! See ya on the water!
4" Bass Assassin in Albino Ghost 1/8th ounce red jighead...2 feet of water 50.8 degrees...rising tide...
- Capt. Jacob Frick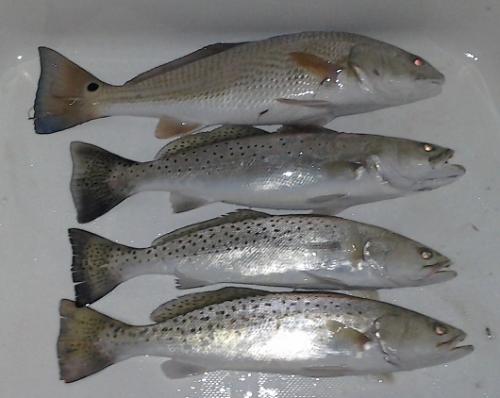 ---