Traveling Fisherman - Galapagos 2011
After a significant research effort and logistical planning we are pleased to announce the latest exotic fishing expedition for the Traveling Fishermen program. One of our many goals with this program is to plan, organize and offer unique fishing excursions to our OIFC fishing friends. When I first began researching new destinations for the Traveling Fisherman I knew we had a lot to live up to after the super succesful trip to Panama in 2008. Not just any destination or operation would suffice. Fortunately I was able to locate Capt. Pete Santini and his fishing operation on San Cristobal Island in the Galapagos. I stayed in contact with Capt. Pete through the winter fishing season and his daily reports were more than enough to convince me this was the spot we needed to go. The Galapagos Islands are known for their tremendous array of wildlife including perhaps their most famous inhabitants the enormous turtles. These islands are those that Charles Darwin wrote about in his journals describing the creatures as of not of this planet. Little did many know that the sportfishing was equally as "wild" just offshore of the islands. The biggest sport fishing draw is the abundance of marlin. On numerous occassions this winter Capt. Pete reported more than 20 shots at marlin and on several days over 40 shots. They catch mostly stripes, but blacks and blues are not at all uncommon. In addition there is a great giant big eye tuna run, plenty of yellowfin tuna and wahoo
Fishing Report Updates
"2011 Trip Announced" | OIFC 1- 36 | 04/10/11
And the winner is.............The GALAPAGOS!!! January 30, 2011 - February 6, 2011. More details to follow.
- Capt. Barrett McMullan
---
"Galapagos Itenerary" | OIFC 1- 36 | 04/10/11
- Arrive in Guayaquil, EC.
- A company host will be outside of admissions area waiting to greet us.
- Hotel van transfer to Oro Verde Hotel 5 Star and Casino
- Night at Oro Verde Hotel
- Dinners at your leisure (not included)
- Breakfast at the Oro Verde Hotel
- Private transfer to Guayaquil airport with company guide
-Flight check-in and Galapagos screening procedures. A company guide will help us with this
- Depart Guayaquil to San Cristobal, Galapagos Islands
- Arrive in San Cristobal (You will be one hour behind mainland Ecuador)
** Pay the Galapagos National Park admission (currently USD 100.00) upon entering the park
- Host will be outside of GNP admissions area waiting for us to take us to hotel
-Transfers from Airport to Galapagos Hotel. Hotels to be confirmed depending on availability
- After we check in, we have time to rest a little and change for the

Lobos Island and Kicker Rock Tour

.
Time: 3 to 4 hours approximately private boat transfer
-
Enjoy the afternoon at Lobos Island where we will be able to snorkel in the pristine and clear waters with sea lions, sting rays and reef fish. All snorkel gear will be provided. Next if you have energy left venture
to the Leon Dormido (Kicker Rock) and see the vast rock formations protruding from the water and the animals that live amongst them. (Snacks and beverages included)
- After tour return. Night at hotels, depending on availability
- Dinners at your leisure (not included)
Days 3-4-5 and 6, 2011
- Breakfast at the
Hotel or aboard the boat
-

Full day of fishing aboard boats

34, 35 and 36ft custom sportfishers with twin outboard engine, fly bridge, fighting chair, tackle and crew
- Beverages, snacks and lunches on the boat are included
- Depart 7:00 am and return to port approximately 5:00 pm
- Night at hotels
- Dinners at your leisure (not included)
Day 7, 2011
- Return flight San Cristobal to Guayaquil and transfer to Hotel Oro Verde 5 Star and Casino.
- Night at Hotel Oro Verde 5 Star and Casino
- Dinners at your leisure (not included)
Day 8, 2011
-Breakfast at Hotel Oro Verde
-Hotel transfer to airport
-Local airfare Guayaquil-San Cristobal-Guayaquil
-All guides, hosts and transfers
-Breakfast at hotels and lunches while fishing and on tours mentioned
-Sodas, water, beer and more beverages while fishing
-All tours mentioned (additional tours can be purchased from company representative)
$ 100 USD Park entrance fee to Galapagos. Entrance fee subject to change without notice
Tips for captain, crew and guides
Dinners and lunches where not mentioned
* The Ecuadorian Government has mandated as of February 25th, 2008 that all passengers now have to pay $10.00 US for INGALA card in order to enter into the Galapagos. Your host will assist you.
** Upon entering Galapagos in San Cristobal you will be briefed on their natural habitat, disinfected (As to not carry any bacteria or microscopic organisms to the island.), given rules of the islands and will be charged $100 US per person as entrance fee into the Galapagos National Park.
Passports are necessary for travel to Ecuador and the Galapagos. Please make sure to pack your passports first.
- Capt. Barrett McMullan
---
"Galapagos Islands is on the Map for 2009!" | OIFC 1- 36 | 04/10/11
Breaking News!!! Just in, the OIFC's Traveling Fisherman program has signed on for what is sure to be an unbelievable fishing adventure to the fertile and untouched waters off the Galapagos Islands in South America. After a significant research effort and logistical planning we are pleased to announce the latest exotic fishing expedition for the Traveling Fishermen program. One of our many goals with this program is to plan, organize and offer unique fishing excursions to our OIFC fishing friends. When I first began researching new destinations for the Traveling Fisherman I knew we had a lot to live up to after the super succesful trip to Panama in 2008. Not just any destination or operation would suffice. Fortunately I was able to locate Capt. Pete Santini and his fishing operation on San Cristobal Island in the Galapagos. I stayed in contact with Capt. Pete through the winter fishing season and his daily reports were more than enough to convince me this was the spot we needed to go. The Galapagos Islands are known for their tremendous array of wildlife including perhaps their most famous inhabitants the enormous turtles. These islands are those that Charles Darwin wrote about in his journals describing the creatures as of not of this planet. Little did many know that the sportfishing was equally as "wild" just offshore of the islands. The biggest sport fishing draw is the abundance of marlin. On numerous occassions this winter Capt. Pete reported more than 20 shots at marlin and on several days over 40 shots. They catch mostly stripes, but blacks and blues are not at all uncommon. In addition there is a great giant big eye tuna run, plenty of yellowfin tuna and wahoo. I will continue to update this page as I learn more about this untapped fishery.
We are now taking reservations for this trip! There is room for only 9 fishermen/fisherwomen so if you have interest be sure to contact me immediately. captbarrett@oifc.com.
- Capt. Barrett McMullan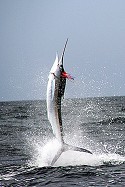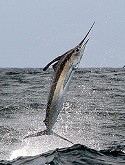 ---