"Cy's World Inshore Tourney THIS WEEKEND" | OIFC | 11/20/18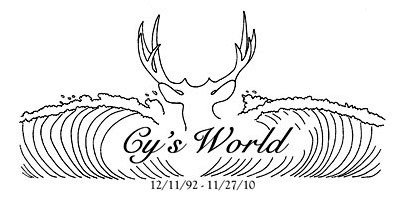 8th ANNUAL FLOUNDER, TROUT, AND REDFISH RODEO 2018
For any further information about our cause, please visit the Cy's World website:
Date: NOVEMBER 24, 2018 (Saturday after Thanksgiving)
Entry Fee: Minimum donation of $50 per boat
Boundaries: No ocean fishing.
Time: Lines in @ 7 AM. Be in weigh-in line at OIFC by 4 PM.
Rules:
Winner is determined by a combination of two fish per boat. Fish can be of any combination of flounder, trout, or redfish.
Fish must be legal as determined by the NCMF guidelines.
Only one prize per entry.
SKA Celebrity Chris Bryan will be the Weigh Master.
Awards to follow weight in at Ocean Isle Fishing Center
Primary:
1st 25%
2nd 15%
3rd 10%
Cy's World 50% (Thank you for your donation to a great cause!)
Junior Angler: Participating Junior Angler (15 years and younger) with heaviest combination will win an OIFC inshore spin combo, courtesy of OIFC.
Please send entries (Boat name and donation) to:
Ned Garber, P.O. Box 188, Fayetteville, NC. 28302, nedgarber@rubiconnc.com: 910-237-2586
(Please note on entry if you have a Junior Angler Participating)
We will be at OIFC on Friday 11/23/18 from 4 to 5pm accepting entries. Look for the Cy's World Logo.
- Capt. Brant McMullan
---