Webcam ActiveX Load Instructions
First, select either the Low Resolution or High Resolution Web Cam. After clicking on one of the webcam selections, if the ActiveX control "AxisCamControl" is not installed, do one of the following:
If, at the top of the browser window just below the tabs, an Activex control notice appears...do the following:



Click on the line.



On the drop-down menu that appears, click "Install ActiveX Control..."

On the "Internet Explorer - Security Warning" pop-up window, click the "Install" button.
or:
If a "Security Warning" pop-up window appears, click the "Yes" button.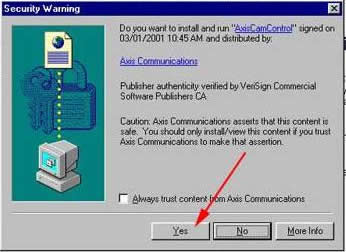 back to Webcam