Capt. Brant's Fishing Report
"Trip Details" | OIFC 1- 36' | 04/10/08
For those who may have interest in our Traveling Fisherman program, we now have our dates set for the 2010 trip to Panama. As posted earlier on the OIFC fishing report the trip is slated to visit the Paradise Fishing Lodge in Panama where we will be fishing the surrounding waters of Coiba Island, the legendary Hannibal Banks, and Montosa Island. The trip consists of 5 nights in the Paradise Lodge resort and 4 full days fishing. We will depart the US on Sunday, March 14th and arrive at the resort that evening. Fish days are Monday, March 15th thru Thursday, March 18th and the return trip to the US is Friday, March 19th. If anyone would like to stay longer that option is available. We have put this extraordinary trip together with the purpose of giving OIFC friends an opportunity to travel to one of the most incredible fishing destinations on Earth with a group of familiar faces with a common background of being Carolina fishing enthusiasts. In addition to researching and finding a great operation with top shelf fishing action, we have been fortunate enough to secure the trip at a bargain. The cost of the trip will vary depending upon how many you choose to fish on each boat. The recommended number of fishermen per boat is 3. The price per person for 3 fishermen per boat is $2600. This price includes everything including; three meals per day, boat food, boat drinks, evening drinks (includes alcohol), 5 nights in Paradise Fishing Lodge, and 4 days fishing. It does not include air fare from the US to Panama City, gratuity for the boat crews and gratuity for the resort staff. Also, we will be provided a charter bus from Panama City to the resort, which all travelers will share the cost. Once again we have 15 spaces to fill. In order to hold a space contact Barrett via email. For more details email me.

Trip Dates: March 14th, 2010 - March 19th, 2010
Cost: 3 Anglers Per Boat $2600 per person
Contact: Barrett McMullan

- Capt. Barrett McMullan
---
"Dates Set" | OIFC 1- 36 | 04/10/08
March 14th, 2010 - March 19th, 2010
- Capt. Barrett McMullan
---
"Panama Wrap Up" | OIFC 1- 36 | 04/10/08
The dust has settled, my feet are back on the ground and I've had ample opportunity to reflect back on trip #1 for the Traveling Fisherman. It's funny, while in the moment you find yourself occassionally complaining about petty issues and making comments such as "if we had our equipment" or "if we had this fishing at home" ect. After you separate yourself from the moment though and have time to think back on the experience you see the trip for what it was meant to be and what it was- an adventure. If everything was just like home what's the purpose of traveling half way around the world for a new experience? My overall opinion of the Panama adventure aboard the Coral Star was that it was truly an awesome experience. We may have had our expectations set a little high, but when it was all said and done we had great fishing, great accomodations, great food, unbelievable scenery, and a unique opportunity to experience a part of the world that most will never see.
Fishing: From a pure fishing perspective I was anticipating more action, but not the quality of fish we encountered. What we lacked in quantity we certainly made up for in quality. Apparently with the use of such large baits (5-8lb bonitos), the sailfish action is diminished. I believe there are a ton of sailfish in that area, but most of the fishing is targeted mainly at marlin so we don't get as many bites as you would if fishing with smaller baits. And when you do get bites from sails they have a difficult time choking down the bait so the hookup ratio is not good. For me personally this was what I would prefer. I would rather fish all day for a couple marlin bites than catch 10 sailfish. But, that opinion probably differs from person to person. I would like to see the Coral Star operation equip their boats with tackle that would allow them to target sails if the customer desired. Such equipment would be ballyhoo, dredges, and smaller plastics. The rod and reels were completely sufficient. They had mostly Penn and Avet reels in the 30 to 50 wide range with Seeker rods. Depending on the angler's choice it'd be nice to have a better selection of light tackle. It's difficult though to pull out the light tackle when the next bite may be a grander black. The terminal tackle, and lures left a little to be desired. On my next trip I will carry an assortment of lures. The mothership deal is absolutely the way to go. Each morning we awoke, had breakfast, boarded the sport fish boats and were fishing within 50 yards of the mothership. There were absolutely no runs to the fishing grounds. In fact at times in the evening aboard the mothership you could watch billfish crashing baits from the uppder deck. At lunch time we would come back to the mothership grab something to eat, maybe a nap, cool off and then hit them again in the afternoon. Again, this is my opinion, but to me fishing is about more than just racking up the numbers and seeing how many fish you can catch. I put a lot of value in the style of fishing. While trolling plastics and ballyhoo seemed like a very effective method for catching sails and marlin, I much preferred the live baiting method. Once I figured out how to properly feed a bait back to a fish, the hookup ratio was much improved. It really put a lot more feel into when you have to free line an 8lb bonito into a slashing marlin's mouth. You could feel the difference between a sail billing a bait and a marlin sucking one down. Watching a big bonito get nervous and then seeing the tell tale bang on the rod was awesome. For the week the offshore fish captures are as follows:
3 Blue Marlin to 550lbs, 6 Black Marlin to 500lbs, 17 sails to 130lbs, 5 yellowfin tuna to 275lbs. The inshore fishing yielded snapper, roosterfish and jacks for most anglers.
Accomodations/Food: From the hotel in Panama to the living arrangements aboard the ship, I thought the accomodations were more than acceptable. The rooms and bathrooms on the ship were definitely tight to say the least, but we were usually so tired from fishing that it didn't really matter. We spent little time in our rooms other than to sleep. The upstairs outdoor dining and bar was where most of our time was spent while on board the Coral Star. Being more than 50 miles away from the mainland made for great sunsets and star filled skys which we took in nightly from the upper deck. Chef Andy treated us well on the meals. We had fresh fish most nights which was excellent. If we ate on the sport boats during the day we typically had ham sandwiches and fresh fruit. There was some difficulty each day in making sure everybody had their beverages of choice, but for the most part that was overcome.
Travel/Logistics: The getting to and from our destination was quite an undertaking. It seemed like we kept moving from plane, to bus, to boat, to bigger boat ect. This was definitely an adventure to some of the most remote areas in the world. With all the opportunities for logistical travel problems I thought everything went rather smooth. The Starlite travel group who guided us through Panama City was a major help. The only travel issues came from the sport boats that seemed to be on their last mechanical legs. To their credit though, the crew was resourceful. They kept their boats running with duct tape and bubble gum but never missed any fishing time.
Crew: I felt the sport boat Captains and their mates were great. They were super friendly, entertaining, and really cared about producing fish. After some initial jostling and sizing up they were very receptive to our input on fishing techniques and intricacies. Capt. Don, who was at the helm of the Coral Star kept us safe and navigated his ship to the closest safe anchoring location to the fishing grounds. He was very in tune to the conditions and kept the ship running in an orderly manner.
I very much enjoyed this excursion and I believe the rest of the traveling fishermen would concur. There are a few things I will do different when I return, but overall the concept is very attractive for serious fishermen who want to experience new fisheries and see new turf. A few things I might do different would be to bring more of my own tackle, try to arrange the trips where there would be no mates just us to run the cockpits, and lastly perhaps shorten the adventure by one day.
It's now safe to say The Traveling Fisherman program is a success. We had a great experience in Panama with a great group of OIFC fishing friends and we look forward to more adventures in the near future. Currently I am working on the late 08 and 09 Traveling Fisherman program. We are hoping to add a couple trips this year with excursions taking place in September, and then maybe a couple between January and March. If anyone out there has any suggestions on new and exotic fishing locations to check out please email me at
mailto:captbarrett@oifc.com">captbarrett@oifc.com
>. My criteria for selecting the next destinations include great fishing, peak season, unique fishery or fishing experience, remote locations, attractive fishing styles, and quality accomodations. I have several excursions in the works currently and as soon as I finalize a date I will post the details here.
Until the next adventure, Traveling Fisherman signing off
- Capt. Barrett McMullan
---
"Pics" | OIFC 1- 36 | 04/10/08
- Capt. Barrett McMullan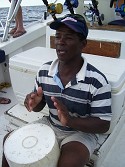 ---
"Panama Report Day 8" | OIFC 1- 36 | 04/10/08
Day 8 Friday 2/15/08:
This morning the Starlite Travel folks woke us up at the Marbella and loaded us on their shuttle bus for the Panama City airport. We all ended up on the same Delta flight to Atlanta, which was on time and smooth. Back in Atlanta everybody collected their gear and went separate ways all heading for home in North Carolina, South Carolina or Georgia. As for me I was ready to pet my dog and sleep in my own bed so I hit the highway and made the 6 hour drive back to good old Ocean Isle Beach. Although leaving 80+ degree sunny weather was difficult especially when returning to 40 degrees and raining, I am glad to be home. After being away from the US for over a week and pretty much secluded from real life as we know it, it is almost surreal driving up and down the highway seeing all of the commercialization and the organized chaos of our society. It's amazing that you can be removed from your typical day to day life for just a week and the affect it has. I feel like it's going to take a couple days to get my feet back on the ground and back in the flow. I'm going to take a couple days now to reflect on the experience and will report back with my opinions and thoughts on the adventure and what the future holds for the Traveling Fisherman.
- Capt. Barrett McMullan
---
"Panama Report Day 7" | OIFC 1- 36 | 04/10/08
Day 7 Thursday 2/14/08:
Today was our last day with the Coral Star. The game plan was to fish the morning until noon and then make the trip back up the river to David. From there we were to hop on a plane for Panama City where we would spend the night before returning to home. At breakfast Capt. Don shared some interesting info with us. Apparently there had been riots in downtown Panama City yesterday evening between the construction workers union and the police. He said they were still collecting information but so far the plan was to continue on with our original arrangements. It certainly made us a little nervous but I guess this is the type of things you potentially deal with when you travel to a 3rd world country. Everybody seemed to have a different fishing or travel objective so we scattered onto the sport boats and headed out around 6am. Ray Boyd, Jared Boyd and Yorke Pharr opted to get an early start on returning home so they left the Coral Star with Tito and returned to David. They jumped on Ray's jet and headed for home. Forest Taylor, Richard McCrae and Tony McCrae were with Juan and Juan decided to hunt the inshore fishing scene. Todd Helf, Brian Richard and Robert Hughes were with Capt. Alexis and also were on the hunt for rooster fish. Brant and Robby Dial were bound and determined to find a marlin for Robby so they went with Capt. Kidd and headed offshore to Ladrones. Rube, Tommy Lytton, Todd Schadd and I went with Capt. Chaca with a mixed plan of trying for marlin and sails at Ladrones early on the tide change and then switch over to bottom fishing the rest of the morning. Yesterday evening several of the guys loaded up a floating live well with live goggle eyes and blue runners. Each of the boats that were inshore fishing or bottom fishing split the live baits this morning and headed out. We made the 45 minute ride from Paridas out to Ladrones first thing, located live bonitos and deployed a spread. We fished the bonitos for about an hour and a half with only one strike from an aggressive Cubera snapper. After making a good effort on the top water action we moved a little closer to the island dropped down live goggs and chunk bait for whatever was on the bottom. Interestingly the Capt's down there preferred to target snapper without any lead weights. They hook a bait and then just start free lining until a snapper strikes. We tried with and without lead weight but without seemed to work best. We caught a multitude of bottom species including 3 different types of snappers. We didn't find any monster cuberas and the action wasn't red hot. Around noon we headed back in and up the river towards David. About half way up the river we saw Capt. Kidd limping in as they had encountered an engine problem. After a valiant effort to fix the problem the decision was made that we were running short on time so Brant and Robby jumped on board with Capt. Chaca and us and made tracks for David. They had fished hard all morning but never were able to find that elusive marlin for Robby. We arrived back to the Coral Star which was already in port at David about 2:00pm. The cook Andy had a farewell barbeque going for us and we quickly ate, packed our bags and said our goodbyes to the Captains and crew. Robert, Todd and Brian had a successful day on the inshore circuit catching 2 nice roosters and a big cubera. Forest, Richard and Tony also had success inshore fishing with action from rooster fish. Sam, Capt. Tito's, mate extraodinaire and airport manager guided us through the small airport and David and sent us on our way. We arrived in Panama City this evening and were once again met by the Starlite Travel group. They helped us locate our luggage and got us back to the hotel Marbella. Most of the team walked down the street for a nice dinner in bustling Panama City. There was no evidence of any unrest or hostility in our area from the previous day's riots so were able to explore the nightlife. After dinner we ventured to the casino one more time where Robert and Forest schooled me on the intricacies of crapps. After I lost my money I headed back to the hotel and most of the other guys did the same as everyone is pretty worn out and ready to head home. We have another early wake up tomorrow with our flight departing Panama City for Atlanta at 8:30am. It's been quite a journey and awesome experience so far. I'm sure once I have time to reflect on the entire trip I'll have an even greater appreciation for all aspects of the adventure. For now, I'm glad to be heading back to the US.
Thanks to Brian Richard for the pics.
- Capt. Barrett McMullan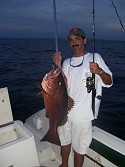 ---
"More Panama Pics" | OIFC 1- 36 | 04/10/08
Panama Pictures
- Capt. Barrett McMullan





---
"Panama Report Day 6" | OIFC 1- 36 | 04/10/08
Day 6 Wednesday 2/13/08:
Today we got another early start. After a Capt. Don original wake up call, Andy had a big warm breakfast ready to go. We were on the water by 6:15 and had bait and fishing for marlin and sail by 6:30. I was aboard Capt. Alexi's boat with Rube and Robby Dial. The weather was perfect today. The temps were still warm but it was overcast which made the heat much more bearable. Today the plan was to fish around Montosa until about 2pm and then we had to start making the run back to Paridas a couple hours away. The action started quick for us. Right off the bat we missed a sail that couldn't choke down the big live bonito we were using for bait. Just a few minutes later the excitement really began. I had brought with me a shimano Trevalla jigging rod with a Shimano Torsa reel spooled with 500 yards of 80lb braid. These rods are extremely slinder but unbelievably strong. I had decided that today I was going to give her a chance and put a live bonito on the combo. I had the bait on this rod placed in the short position when the rod tip gave away the signal that a bill had just struck the bait. I quickly threw the reel in free spool and the fish definitely was carrying the bait away. Then all of a sudden the line went slack. I knew the fish had my bait so I advanced the drag and tried to come tight. At the same time the outrigger bait popped out of the clip and Rube freelined it. About that time the Capt gunned the boat I had come tight and a beautiful 300+ lb blue marlin broke the surface right behind the boat. Rube also had now come tight and we were both hooked up. We quickly figured out the same marlin had eaten both of our baits so we gave him the double team. The fish went ballistic as he ran and jumped so fast away from the boat he caused the Avet reel that Rube was using to heat up so much that it left a burn mark on the inside of his arm the size of a baseball. In the madness the acorbatic marlin had made a b-line towards a 65 foot Viking private boat that was fishing nearby. The fish showed no signs of stopping and actually jumped and hit the side of the huge sportfisher. The fish then went down for a few seconds and resurfaced jumping again right in the middle of the sportfish's spread. Nevertheless we both stayed tight and proceeded to gain back our line. Within 20 minutes the 30lbs of drag I had on the marlin slowed him down and inched him to the boat. At the boat the fight took on another life as the mate and Capt. Alexis grabbed the bill and went for a ride. Eventually the hooks were removed and off he went. Marlin are incredible fish. Personally I'd rather fish all day and catch 1 marlin than catch 10 sailfish. We put the lines back out and again it didn't take long until a sailfish came barrelling through our spread. He disappeared for about 5 minutes then my rod's bait went suspiciously slack and I free spooled. After 20 seconds of feeding I came tight on the sail and Robby Dial went to work and quickly handled the 100+ lb sail. This sail was unique in that it didn't have a bill. I went to grab his bill to bring him in for a picture but due to a deformity this sail had no upper bill. We took a few pictures and sent him on his way. About an hour later the big school of porpois moved into the area which meant tuna time. Several of the other boats nearby hooked up on big tuna but we never got the bite. However, we did end up in the middle of blitzing yellowfin in the 30 to 80 lb range. They were jumping all around the boat but weren't big enough to eat our baits. So Rube took a surface popper on a spinning rod and cast into the school. No sooner did the lure hit the water did it get eaten. Rube made short work of the 40lb yellowfin on spin gear. We fished a couple hours more missing one more sail that was tailing. It was then time to make the 2 hour run back to Paridas. On the way back we stopped at another set of islands called Ladronas or "Island of Thieves". We fished for a short time but had no success. We made one drop on a piece of bottom on the way in and captured a rock snapper about 8lbs. When we returned to the mothership at our original location at Paridas we found we had new company. The mothership and sportboat from the Go Fisch operation had anchored right next to us in the protected cove. The Go Fisch is the operation that you see on ESPN on salt water Sunday that travels around the world to the most secluded and incredible fishing destinations. By dark all of our crew had returned and we took our positions at the upper deck bar and began the run down from the day's activity. Brian Richard, Todd Helf and Robert Hughes had a slow day catching only one dolphin and losing a big yellowfin for a total of 1 point with Juan and Juan. Richard McCrae, Tony McCrae and Forest Taylor caught one sail, three dolphin and missed two other bites with Capt. Chaca for a 5 point total. Tommy Lytton, Yorke Pharr and Todd Schadd caught one sail, three dolphin and missed an incredible nine billfish bites for a total of 5 points with Capt. Kidd. Rube, Robby and I ended with 7 point with Capt. Alexis. Today's winner was Brant, Jared Boyd and Ray Boyd fishing with Capt. Tito and Sam. They won with one fish an estimated 500lb black marlin that Jared did battle with. We had mixed results today with some boats having significant action and others just didn't find the fish. Tomorrow is our last day. We will fish until about noon and then make our way back up the river and to David where the mothership will be at port refueling. Some of us are going to give the offshore fishing one last try around Ladrones while others are going to hit the inshore scene and try for roosters and cubera snapper. Montosa was an incredible fishing destination. There probably aren't too many places in the world where you can go and have shots at multiple marlin day after day. We never really busted into a large number of fish but the quality made up for the lack of quantity. We'll give it one more shot tomorrow but I think everybody is just about ready to get their feet on solid ground. It's been a long, fun week out here but there's no place like home.
- Capt. Barrett McMullan




---
"More Pics" | OIFC 1- 36 | 04/10/08
So far I have been posting pictures from the Panama trip that I had taken with my camera and also pictures from Yorke Pharr's camera. I just got in a whole new set with pictures from Brian Richard. Brian fished with Todd Helf and Robert Hughes all week and had a variety of catches. I'll continue to post pictures as I receive them.
- Capt. Barrett McMullan





---
"Panama Report Day 5" | OIFC 1- 36 | 04/10/08
Day 5 Tuesday 2/12/08:
Today we woke up a little earlier around 5am so we get on the water sooner. The bite has been best in the morning and we wanted to try and take advantage of all the daylight. At 6:00am I was boarding Capt. Chaca's boat with Brant and Robby and Dial. We started the day like the others before by trolling small squid squirts for bonito that we needed for bait. Within a few minutes of leaving the mothership we had 4 lively bonitos kicking in the tuna tubes. Capt Chaca picked up speed and headed offshore of Montosa about 2 miles. He spotted a massive school of porpoise and zigged and zagged through the school. We couldn't really figure out what he was doing but all of a sudden he says "aqui' aqui'" which means here here. We dropped 3 baits in the water. Two were on 50 wide Avet reels and one was on Brant's OIFC custom combo with a 30TLD and custom gulf stream rod. Apparently Chaca's plan was to find the very front of the school of porpoise and then deploy baits. He later told us that the big yellowfin tuna stay underneath the porpoise. They come thru in waves, feeding and moving fast. He likes to put baits out in front of the porpoise that way the whole school will pass by our baits. Less than 10 minutes later 2 baits get nervous. When you're fishing with 5-8lb bonitos you know when a bait gets nervous. Then at the same time both baits get whacked. It's not like a billfish bite that picks the bait up and carries it away. These fish nail the baits and stripping them from the hooks and off they go. Chaca explains "grande tuna". Before we had time to try and figure out what happened the third bait gets hammered. This time we free spool for 20 seconds and Chaca hits the throttles. The drag is advanced and the rod doubles. He's on! The 50 Avet is smoked as Robby takes his place in the fighting chair. For over an hour Robby does battle with the huge yellowfin tuna. The fight of the the yellowfin is exactly the same as that of a bluefin tuna. The fish runs hard at first staying up. Next he darts around confused as to what is going on. Finally he goes deep and begins the tuna spiral. After just over an hour Robby inches the fish to within sight. This is by far the largest yellowfin I've seen and looked to be in the 80" range. We guessed the fish to be in at least the 275lb class. The mate took hold of the leader and right as he had the yellowfin coming to the gaff the 300lb leader popped. It was an official catch and the monster tuna swam back down to the depths. We fished another hour or so without anymore action and decided to head back to the mothership for lunch and a short siesta. On the mothership we met with several of the other guys who all had a good morning fishing. Rube, Ray Boyd, and Jared Boyd were headed out but they were going to explore Montosa first. They took a fishing boat close to the island and then swam in the rest of the way while the tide was slack. Brant, Robby and I grabbed some lunch and then a nap. About 2:00 we jumped back on with Chaca and went for round two refreshed and ready for action. It didn't take long for the plan to pay off. Brant's OIFC custom setup gets popped. He free lines the big bonito for a few seconds, feels the fish take the bait then advances the drag. He came tight on the fish and the fish headed for the high country. About 300yards away he broke the surface and revealed he was a 300lb black marlin. The combo was spooled 450yards of braid and mono and we needed every inch. Finally we got the boat turned and ran down the angry marlin. He jumped at least 10 times while Brant did everything he could to keep the line tight. Within 30 minutes the massive marlin was boatside where we took some video and sent him on his way. The rest of the afternoon we jumped off two sails and caught 1 dolphin. Back at the mothership we enjoyed fresh tuna sashimi and started the story process from the day of fishing and exploring. While most of us were fishing Ray Boyd spent the afternoon on Montosa talking with the "squatter" on Montosa. By the time he left he was in deep negotiations to buy the island. On the fishing front it was another decent day for everybody. Tommy Lytton, Yorke Pharr, and Todd Schadd caught only 1 dolphin but missed 3 billfish bites and 2 other bites with Tito for a total of 1 point. Rube, Ray and Jared missed one sailfish, caught a small yellowfin tuna and Jared landed a monster yellowfin estimated at 275lbs for a total of 3 points with Capt. Lexi. Todd Helf, Robert Hughes, and Brian Richard fished with Capt. Kidd and Grouper and had a decent day. Brian landed a 160lb yellowfin tuna and then just 5 minutes later they were attacked by a 400lb blue marlin that ate a trolled plastica and this time Todd Helf was on the rod. They caught one more small yellowfin and missed another marlin for a total 7 points. Brant, Robby and I ended the day with one giant yellowfin, one dolphin, and one black marlin for a total of 8 points. The day's winner for a second time this week was Forest Taylor, Richard McCrae, and Tony McCrae who fished with Juan and Juan and caught 2 sailfish and an estimated 550lb blue marlin. Richard was on duty for the enormous marlin and had him whipped in 45 minutes. This team accumulated 12 points. Dinner tonight was fresh seared yellowfin tuna that cook Andy prepared just right. Tomorrow we are fishing around Montosa until about 2:00pm and then we have to start making our way back to Paridas. We're going to get an early start again tomorrow so we can get as much morning fishing in as possible.
- Capt. Barrett McMullan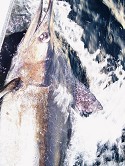 ---
"More Day 4 pics" | OIFC 1- 36 | 04/10/08
More Pics from Day 4 in Montosa
- Capt. Barrett McMullan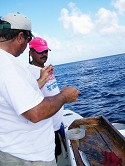 ---
"Panama Report Day 4" | OIFC 1- 36 | 04/10/08
Day 4 Monday 2/11/08:
Today was our first day of waking up at Isla Montosa which was just a few minutes from fishing grounds. We woke at 5:30 and Andy once again had an impressive breakfast for us. By 6:30 we were loading all of gear, food, and drinks on the boats for a full out fishing effort off Montosa. As soon as we cleared the mothership the lines were put in the water. Today I fished with Rube and Robby Dial with Capt. Kidd and his mate Rupert a.k.a Grouper. Kidd and Grouper were a totally different story than what I had experienced the day before. These guys were on point and it was obvious they had plans to catch some fish today. Kidd spoke a little English so I was able to get his philosophy which differed a little from the other Captains. He liked pulling plastics and other lures especially if he had ballyhoo. He had been in Costa Rica the week before and brought back a few ballyhoo that we were using. Kidd and Grouper put out 12 lines including the lures used to target bonito, large plastics for billfish and one small islander with a ballyhoo. It didn't take long for this approach to payoff as less than 1 mile from the mothership we found the dolphin. For the next couple hours we trolled and hammered the dolphin all in the 25 to 30lb class. In the middle of the dolphin chaos we were attacked by sailfish 3 times and finally made one of them pay. Robby Dial did work on his second sailfish in two days and second one ever. He made short work of the 100lb bill and sent her on her way. Once that sail was caught it seemed like the billfish really started to show. Until about 11:30am we saw marlin in sailfish everywhere we looked. Some would come through our spread, some were free jumping and some were hooked up on other boats. Sometime around mid morning I was standing in the tower looking out front of the boat where I had already seen a few free jumpers when the water exploded about 400 yards ahead. It was then I saw the largest fish I had ever seen. I don't have a lot of experience guessing weights on billfish but this black marlin greyhounded twice and his head was more than 3 feet from top to bottom. It had to be in 800+lb class. We trolled towards the jump, but were not able to get the bite. Less than an hour later our turn finally came on a marlin bite. Rube had the ballyhoo rig in his hand on a small Avet reel with 100lb braid when the big boy came thru. He made one swipe and then headed for the high country. Rube held on while line disappeared off the reel. For 30 seconds the fish burned it down then he jumped and spit the hook. We learned quick it happens fast and you have to be watching all the time. Most of our action was before noon as we spent the afternoon trolling looking for activity. Kidd and Grouper entertained us with stories of their lives and families. At day's end we had captured 10 dolphin, 1 sail, missed 5 billfish bites and seen a total of 11 billfish. Fishing was good today. We returned to the mothership about 5:30 and greeted the other crews as they returned. Everybody seemed to have a good fishing just on first reports. However, Yorke, Tommy, and Todd were not back yet. By 7:00pm everyone had returned and the fish stories began. Todd Helf, Robert Hughes, and Brian Richard were with Capt. Tito and Sam and managed 3 sail releases, 1 dolphin, missed a marlin and saw another marlin for a total of 7 points. Next was Ray Boyd, Jared Boyd and Brant fishing with Juan and Juan. They captured an impressive two black marlin one at 300 and one at 400lbs plus one sail and missed 5 other billfish bites for a total of 10 points. Third place was yesterday's winners Forest Taylor, Richard McCrae, and Tony McCrae with Capt. Alexis. They had 7 dolphin, and 1 black marlin estimated at 450lbs caught by Richard. According to Forest the black crashed a trolled plastic and drug Richard across the deck where the back of the boat stopped his momentum. They had the fish whooped in 30 minutes. Rube, Robby and I came in second with 12 points with our 10 dolphin and two sails. Today's winners were Yorke Pharr, Tommy Lytton, and Todd Schadd fishing with Capt. Chaca. The reason they were late getting in was that around 6:00 just a few hundred yards from the mothership they had 400+lb black marlin visit them. Tommy was on rod duty and battled the beast for 30 minutes before bringing him alongside for release. This crew accumulated 17 points with 9 dolphin, 1 black marlin release, 2 sail releases and they reported missing 3 more marlin and 4 sails. Overall the action was steady for everybody. We all missed a bunch of fish but I think we are mostly missing sails that are having trouble getting the large baits in their mouths. After another great dinner we had a team meeting to discuss a variety of topics. First it is agreed the tournament rules need some adjusting. We limit the amount of dolphin and tuna that count towards your point total to 3 per boat. Next most of us decide that we will come in for a couple hours during the middle of the day and eat lunch and take a nap. The heat in the middle of the day is tough and the fishing seems to be dead so taking a siesta is a good plan. Ray Boyd, Jared Boyd and Rube negotiate with the Capt and get approval to go explore Isla Montosa tomorrow. They will take one of the fishing boats in close then jump off and swim to the island. After all the business is taken care of we all shared stories of the day's events. By 9:00 I'm exhausted and ready for bed. Today was a good day. The fishing was much better, the equipment held up and everybody's spirits were up. Hopefully tomorrow will bring more of the same.
- Capt. Barrett McMullan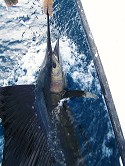 ---
"Panama Report Day 3" | OIFC 1- 36 | 04/10/08
Day 3 Sunday 2/10/08:
It is our first morning waking up on the Coral Star. Our wake up call consisted of Capt. Don banging on doors and announcing "we are buring daylight" at 5:30am. Sleeping is difficult the first night probably due to the excitement of the day's fishing ahead and the sardine can of a room with 2 inch mattresses on the beds. That problem would soon go away as I'm sure we are going to be exhausted after a day of fishing. After wake up we head to the dining room where we enjoy a full breakfast whipped up by Andy in the galley. By 6:30am we are loading onto our designated sportfish boats. Anybody who brought some of their own gear loaded it on their boat, but for the most part all the boats had a good selection of rod and reels. They carried Penn reels, Avet reels, and Seeker rods. Today I was fishing with Ray Boyd and Jared Boyd aboard Capt. Tito's 28' Pursuit. We left the protected waters at Paridas and made the 2 hour run until we were within a few miles of Panamas most remote island Isla de Montosa. According to Tito this is where most of the action had been occurring over the past few weeks. Apparently Hannibal Banks, where I thought we would be fishing, had not been producing due to current flow. All 5 of the sportfish boats in our group spread out over a 10 mile stretch in hopes of locating the fish. When we stopped we threw in two rods with small squid squirts that we were using in hopes of catching bait. Also we put in a standard cedar plug and a couple big marlin plastics and started trolling about 7 knots. The idea I came to find was to troll around until you ran across a school of bonito and then try to catch 3 or 4 and put them in the tuna tubes on the back of the boat to keep them alive. Next they slow the boat down to about 3 knots and put out a spread of live bonitos. It's very similar to live bait king mackerel fishing just with much larger baits and on 50 wides. We started pulling around our spread and passed a longline boat. A few minutes later I spotted a large group of porpoise and birds feeding. We trolled all over the activity and were quickly rewarded when the cedar plug went off. I had it tied on a Shimano Torsa and Shimano jigging rod with 80lb braid I had borrowed. This little setup is pretty awesome. It is very light weight yet extremely powerful. Jared jumped on the first bite and just a few minutes later put a 30lb yellowfin in the boat and more importantly scored a sashimi dinner for us. We continued to troll the area and caught 6 more smaller yellowfin. While Jared and Ray were catching the tunas off the back I had taken a Yo-Zuri Bull GT popper to the bow and started casting to the tuna. The tunas were all over this thing but I quickly opted to put it away when at one time I looked down while we were moving slow and saw a school of about 20 yellowfin swim under the boat that were in the 200+lb range. I knew my spinning rod wouldn't be the answer. We trolled a while longer and couldn't hook up on a big tuna so we picked up and made our way to the official fishing grounds which was about 1-2 miles west of Montosa where there were numerous underwater pinnacles that the big game fish hung around. We trolled our squid squirts for a short time before we captured several bonito. Capt. Tito and his mate Sam quickly bridled the baits and deployed them. We trolled most of the day around a very fishy looking area with bonito schools crashing the top and birds and porpoise everywhere. Surprisingly there were 10-15 other boats fishing the area that were from other outfitters or private boats. The top water action was extremely slow for us and for everyone else. We missed one bite that could have been a billfish but no guarantee. The method of fishing is interesting. The large 5lb bonitos are bridled with a circle hook and deployed. The drag is set extemely loose but tight enough to keep the bait in place. If a bait gets very nervous or drag comes off the reel is thrown into freespool until you feel like the fish has taken the bait and eaten it. Next the Capt. and mate start screaming in several languages, run in circles, jump up and down and slam the throttle to the corner as the angler advances the drag and reels like mad. Although we didn't hook up today I believe I understand the process. Near the end of the day we got a knock down on a bonito and we do the freeline deal. I'm on the rod and the Capt. nails the throttles. I reel hard and the line comes tight except that it's not ripping off the reel like I was expecting. Nonetheless the crew is screaming and reeling everything in. I look back behind the boat and see whatever we have hooked up is not real big because it's spinning with the boat making 12 knots ahead. The crew regains composure and Jared takes over angling the 30lb Dog Snapper to the boat. That was it for us today. It was very disappointing as I visions of double digit sailfish and grander marlin. Oh well maybe the bite will be better tomorrow. I did see a few other boats hooked up to marlin and sails so there are fish here. We headed back to the mothership around 5:00. The others make their way in behind us and we convene on the upper deck for tuna sashimi appetizer and happy hour. Dinner tonight was steak and lobster- no complaints. The mothership is anchored in the lee of Montosa about 1 mile offshore. The landscape of this island is incredible. It's very mountainous but has white sand beaches lined with palm trees just like something out of a movie. We are told it is uninhabited except for two people claiming squatters rights who have built a small grass shack on the point of the island. After a great dinner we come clean with what each boat caught today. Tommy Lytton, York Pharr, and Todd Schadd fishing with Juan and Juan on the 28 Albemarle captured 1 30lb dolphin, 1 30lb cubera snapper, 4 mullet snapper and missed 1 marlin and 1 sailfish for a total of 1 point. Rube, Brant, and Robby Dial were fishing with Capt. Alexis aboard his 28' Pursuit and caught 1 dolphin 30lbs, 6 snapper up to 30lbs and Robby caught his first sailfish at 130lbs for a total of 2 points. They also missed one other sail that came up on a kite bait that Brant had set out which we brought from home. Todd Helf, Brian Richard and Robert Hughes caught 6 dolphin to 20lbs, 3 mullet snappers, 1 hammerhead shark, and raised two sails for a total of 6 points with Capt. Chaca. Ray Boyd, Jared Boyd and I ended up with 6 yellowfin tuna, 1 30lb snapper, and 1 missed billfish with Capt. Tito and Sam for a total of 6 points. Today's tournament winner was Forest Taylor, Richard McCrae and Tony McCrae who caught 2 dolphin to 30lbs, 4 sailfish and missed 2 sails with Capt. Kidd for a total of 10 points. There was some talk of disqualification though as we learned Capt. Kidd had ballyhoo on his boat and that was the ticket for the sails. We all hung out on the upper deck until about 9:00 and then started hitting the sack. Fishing off the back produced more blue runners but no big fish. Most everybody is too tired to mess with it anyway. Today was not a real good fishing day. I was not very impressed with the techniques or tackle on my boat. Most everybody else echoed the same thoughts. The condition of the sportfish boats was not great either to say the least. 3 of the 5 boats had mechanical problems today but to their credit, the crews are extemely resourceful as all the problems were fixed and no fishing time was missed. Hopefully the fishing will get on track tomorrow. Wake up is at 5:30.
- Capt. Barrett McMullan





---
"More Day 2 Pics" | OIFC 1- 36 | 04/10/08
More pics from Day 2 in Paridas
- Capt. Barrett McMullan





---
"Panama Report Day 2" | OIFC 1- 36 | 04/10/08
Day 2 Saturday 2/9/08:
The 6:15am wakeup call at the Marbella came early. Several of us were eating breakfast in the street side lobby when we spotted the missing crewmembers making their way back from a long night in Panama City. We finally rounded up all 13 in the group and the Starlite folks had our bus waiting to take us to the airport. We were once again quickly processed through the airport lines and boarded on a plane to the port city of David. A short scenic 45 minute plane ride through Panama led us over mountains, rivers and the Panama Canal. We arrived in David around 10am and met with Capt. Dan and his crew from Coral Star Expeditions. They loaded our luggage into the shuttle bus and we headed to Taz marina about 5 minutes away. At Taz we met up with the remaining 2 from our group Ray Boyd and his son Jared who flew direct from Atlanta on their jet. The Captain was anxious to get on the road becuase of a low tide issue as he explained the tidal swing on the river we would be traveling was 18 feet. Taz was little more than a couple docks tucked away in the deep jungle. We loaded the 5 sportfish boats with luggage, three passengers per boat a captain and mate. The sportfish boats are very slow, maybe 15 to 18 mph. We take another scenic hour and a half ride down the river out to the mothership that was waiting at an island called Paridas. The landscape is incredible with volcanic formed islands everywhere you look. At some point in time a serious geological event had taken place here. Once aboard the mothership we drop off our luggage, go over a quick safety briefing, grab some snacks and we're off again. This time we're headed out for some afternoon inshore fishing around the numerous rock islands. All 5 boats were targeting roosterfish, snapper, and jacks using top water plugs and live bait within a couple miles of the mothership. I was aboard Capt. Tito's 28 Pursuit with Brant and Robby Dial. In a few hours of fishing we caught a jack crevalle, missed a couple roosterfish and last several big snappers in the 30 pound range on the rocky bottom. The snappers would come to the surface and take a surface popping lure that we casted towards rock piles and then make a b-line to the bottom. Todd Helf caught a nice 25lb rooster with Brian Richard who also caught a 20lb snapper and Robert Hughes aboard Capt. Chaca's Pursuit. Tommy Lytton, Yorke Pharr, and Todd Schadd caught a small rooster and a couple snapper with Juan. Forest Taylor, Tony McCrae, and Richard McCrae caught a nice snapper with Capt. Kidd. Rube, Ray Boyd and Jared Boyd caught a couple jacks with Capt. Alexis. It was a nice warmup day for us. A good day to get our sea legs under us and get used to the boats. Once back on the mothership we were served snacks and took in happy hour as the sun set over the beautiful island of Paridas. Capt. Don struck a deal with a family passing by on their hand carved canoe for a 5 gallon bucket full of lobster we would eat for dinner the next night. Andy, the very talented cook, prepared an awesome fresh snapper dinner that Forest had caught just a couple hours earlier. After dinner Capt. Don gives us the gameplan for tomorrow, which was for the sportfish boats to take us out to Isla Montosa a couple hours away and begin our serious big game fishing. While we were fishing the mothership would move to Montosa and anchor on the lee side assuming the weather stayed nice. Next we figured out who would be fishing on what boat for tomorrow and we established rules for the tournament. We planned to have a new tournament each day. The tournament was between the 5 boats and would be based on a points system. 4 points were earned for a blue or black marlin release, 2 points for a sailfish release, 1 point per dolphin, tuna, or wahoo. Double bonus points were awarded if the marlin was estimated over 500lbs by the Capt. and for tunas over 100lbs. A few from our crew brought satellite phones and made contact with home. Darkness fell and most of the team opted to hit the bunks for some much needed rest before the real fishing began. The living quarters were not much to brag about but functional. There was a set of bunk beds in each room with a small bathroom. On the main deck was the living room, kitchen and dining room. Upstairs was the outdoor bar, eating area and sun deck. Not too many frills to the mothership, but certainly nice enough to call home for a week. Before we knock off for bed Brant, Tommy, Robert, Bryan and I try some fishing off the back of the mothership. The water is about 40 feet deep. We quickly found that the lights around the boat had attracted a multitude of fish including goggle eyes and blue runners. We had no where to store the baits so we let them go except that we put one on a balloon and one on the bottom for a few minutes. Neither bait yielded any action so we cashed in and rested up for the day ahead.
- Capt. Barrett McMullan





---
"Panama Report Day 1" | OIFC 1- 36 | 04/10/08
Day 1 Friday 2/8/08:
Finally after months of planning and anticipation our fishing excursion to Panama is here. I've been in Atlanta for a couple days visiting family and friends, but now it's time to start making progress south. I met up with fellow travelers Yorke Pharr, and Tommy Lytton at my dad's house in Atlanta for a carpool to the Atlanta airport. At the check in we ran into three more crewmembers Forest Taylor, Richard McCrae, and Tony McCrae who had driven down from Rockingham. We checked our bags including my fishing rod carrying case at the Delta International counter. We made our way to the concourse and found everything in order. Our plane was on time and waiting, the remaining fishermen from our group, minus Brant, had arrived, and the airport bar was conveniently located directly across from the gate. The 3 hour and 45 minute flight was relatively smooth and uneventful except for the "chicken" or "fish" option at dinner. We arrived in Panama City, Panama around 10pm and were immediately greeted by our in-country travel guide Starlite Travel Company. We received rock star treatment as they hustled us to the front of the customs line and through it in no time. They then showed us to the VIP lounge where we waited while the luggage was retrieved and packed onto our transport bus. By this time we have also met up with Brant who came in on an American Airlines flight from Miami that arrived about 20 minutes before ours. The group now 13 strong is loaded onto the shuttle bus and taken on a 20 minute ride through Panama City to hotel Marbella. The city is bigger than most of us expect with numerous high rise buildings, bright lights and construction everywhere. At Marbella the Starlite folks sort us out into our rooms and make sure all of our luggage is in the right place. Within a few minutes most of the team decides to check out the nightlife in downtown Panama City. Just a couple blocks down from the hotel is the heart of Panama City and a bustling casino. The people in this place are dressed to the 9's, the atmosphere is vibrant and cultural diversity is very apparent. Our team equipped with fishing t-shirts and jeans made themselves right at home in no time. Some opted for the bar, others for gambling, and the rest just took in the sights of this "different world." After an hour or so several of the crew walked back to the hotel for sleep while the others were last seen high fiving at the craps table. Tomorrow's, well I guess it's now today's, wake up call is at 6:15am.
- Capt. Barrett McMullan
---
"In Route" | OIFC 1- 36 | 04/10/08
A quick update on the road to Panama. Our crew has successfully navigated a night in the bustling metropolis of Panama City (some better than others :) Everyone made it back from their evening excursions by departure time this morning at 7:30. Currently we are waiting at a small airstrip near Panama City for our plane to take us to the port of David where we will meet the boats. So far so good. Nothing a dark pair of sunglasses and a quick power nap can´t heal. The temperature is about 75 degrees this morning and warming quickly. We should be on the boats by noon and fishing this afternoon. We´ll try to give as many updates as we can. Signing off for now from Panama- Traveling Fishermen 2008
- Capt. Barrett McMullan
---
"Changes in latitudes, Changing in attitudes" | OIFC 1- 36 | 04/10/08
The time has finally arrived. We're out of here! This evening, along with 14 other OIFC'ers, I'll be heading south to Panama City in Central America on our first Traveling Fisherman excursion. By this time tomorrow we'll be making 6 knots and keeping watch for lurking billfish underneath teasers. It's my understanding that so far this year aboard the Coral Star operation the marlin fishing has been excellent. Both Brant and I are equipped with all kinds of electronic media devices so that we're sure to bring back evidence with our stories. I will be keeping a day by day journal of the expedition and will post that journal on the Traveling Fisherman link off our website upon our return next week. Wish us luck.
- Capt. Barrett McMullan
---
"Now Booking Panama!" | OIFC 1- 36 | 04/10/08
After several months of logistical planning and conferring with the owners of the Coral Star Operation we have our first trip to Panama planned for 2009. The fishing days will take place February 15th - February 20th 2009. We've had tremendous interest in this trip from those who followed our adventure this past February so I expect the slots to go fast. We have room for 14 fishermen or fisherwomen on this trip. Booking is now underway. If you have interest email:
captbarrett@oifc.com
or 910-575-3474 ext. 4. Click
here
for more details or click underneath Trip Information.
- Capt. Barrett McMullan



---
"The Countdown Is On!" | OIFC.com- 36 | 04/10/08
For all you folks who follow this website I'm sure you've seen information on the exotic fishing expedition we are heading up to Panama in a couple weeks. In fact we are now exactly 2 weeks away from departure and the anticipation of a fishing paradise has all of us "Traveling Fishermen" fired up. It certainly doesn't hurt that it's February and cold enough to freeze sea spray to the bow rail at home while we are headed to a sub tropical 80+ degree billfish mecca. I apologize if my fantasizing is making anyone sick but the point is we are all excited to go to Panama and hopefully the fishing lives up to its reputation. Capt. Brant and I are going to take this opportunity fishing the fertile grounds of the Hannibal Banks to put on our journalist caps and take as much video and still shots as possible. When we return we will be posting a daily journal with pics and videos on OIFC.com to give those following a clear picture of our experience abroad. There are 15 Traveling Fishermen taking part in this excursion all of whom are "OIFC fishing friends" and cover a broad variety of backgrounds. We have the "contractors", the "real estate guys", "the "sales guys", the "fishermen" and several other categories. I'm sure there will be some sort of internal tournament competitions arranged once this crowd gets together. The standard method of big game fishing in Panama is trolling live bonita on flat lines targeting blue marlin, black marlin, sailfish and huge yellowfin tuna. We are also likely to run into giant snapper, grouper, wahoo, roosterfish, mahi and who knows what else. Keeping true to form we plan to shake things up a little from a tactical fishing approach on our excursion. While we know we can fall back on standard live bait trolling with bonitas and hopefully experience incredible action we plan to bring a little home cooking innovation OIFC style to Panama. We hope to try a few new things including top water plugging, vertical jigging, kite fishing and possibly night time swordfishing while we are there. We'll probably go to the billfishing capital of the world and catch king mackerel! We are truly excited to experience this incredible fishing destination once again and even more excited to expose our fellow Traveling Fishermen to a fishing experience like no other. There are already plans in progress for the Traveling Fishermen in late 08' and 09' so next time don't miss out on an opportunity make an escape from the winter doldrums and head to warmer latitudes!

Here is an email report we received from George Whitaker who recently traveled to Panama and fished out of another operation near our Coral Star excursion.

"Thought I would let you guys know some friends and I just returned from 4 days fishing around Coiba and Montousa. Caught 7 black marlin from 250 to 500 lbs., plus 5 sails in the 130 lb. range, plus numerous dorado and cuberra snapper. We fished out of Panama Big Game Club, which is well run with great food and accomodations. Also, I wanted to add that numerous boats from a mother ship (don't know which one) also fished around Montuosa, with everyone hooked up with marlin or sailfish at one time or another. The bite was best early morning, up till about 11:30. Then dead for a couple of hours, followed by another bite. Bonita were plentiful, and ballyhoo showed up Wed. of last week. Capt. Lee Campbell of Panama Big Game Club reported that our catch of 7 blacks made their total through January 16th come to 27 blacks for the month. One party prior to our arrival on the 12th caught a 250 lb. yellowfin."

More reports to come. Stand by.
- Capt. Barrett McMullan
---
"Team is Set" | Carolina Contender- 36 | 04/10/08
Thank you to everyone who expressed interest in joining our OIFC organized fishing excursion to the remote Hannibal Banks off the coast of Panama in Central America. We have officially filled all available spots on this trip that is slated for mid February 2008. I will continually post updates with trip details and upon our return from Panama will include a detailed report and pictures. For those who wanted to participate but couldn't due to schedule conflicts or other reasons, I'm sure another opportunity is already being formulated. We are very encouraged to see the interest this program has brought forth from fishermen and we hope to offer even more exotic fishing adventures in the future. Thank you again OIFC fishing friends for helping to get the Traveling Fisherman program up and running!
2008 Panama Traveling Fisherman Team

Robby Dial
Yorke Pharr
Tommy Lytton
Todd Schadd
Robert Hughes
Todd Helf
Brian Richard
Richard McCrae
Tony McCrae
Forest Taylor
Ray Boyd
Jared Boyd
Rube McMullan
Brant McMullan
Barrett McMullan

- Capt. Barrett McMullan
---
"1 Spot Available" | Carolina Contender- 36 | 04/10/08
It's officially cold here on the Carolina coast which makes thinking about our excursion to the lower latitudes a lot easier. In just a few short months the Ocean Isle Fishing Center's Traveling Fisherman program will be heading south to fish the fertile waters of the Hannibal Banks off the coast of Panama in Central America. We'll be chasing a variety of billfish, hugh yellowfin tuna, groupers, snappers, roosterfish and much more. We have a great team on this inaugural mission that are sure to bring back fish stories and experiences that will last a lifetime. Currently we have 14 Traveling Fishermen on board. There is 1 slot still left open for somebody who wants to join this exotic fishing adventure. If you want to fill this position I encourage you to act quickly as this is the final spot available for the OIFC group's trip. Contact me immediately if you have interest- captbarrett@oifishingcenter.com The trip is scheduled for Feb. 8th, 2008 - Feb. 15th, 2008. On the team so far:
Robby Dial
Larry Terrell
Yorke Pharr
Tommy Lytton
Todd Schadd
Robert Hughes
Todd Helf
Brian Richard
Richard McCrae
Richard's brother
Forest Taylor
Rube McMullan
Brant McMullan
Barrett McMullan
- Capt. Barrett McMullan
---
"Forming Ranks" | Carolina Contender- 36 | 04/10/08
2 more Traveling Fisherman have joined the Panama excursion leaving a total of 8 slots remaining. We need to fill these 8 slots as soon as possible in order to keep the trip an all "OIFC" excursion. Traveling Fisherman #3 for the Panama trip is Tommy Lytton of Ocean Isle Beach. Tommy has extensive experience billfishing in Central America especially Costa Rica. Traveling Fisherman #4 is Rube McMullan. Rube made this excursion about 10 years ago and couldn't pass up the opportunity to return to the fertile waters of the Hannibal Banks. I can't stress it enough, if you're planning on joining this trip or need more information please contact me as soon as possible. Thanks.
- Capt. Barrett McMullan
---
"2 Slots Available" | OIFC 1- 36 | 04/10/08
Our October 1 deadline has come and gone and the Traveling Fisherman program at the OIFC is officially in full gear. With only 2 slots remaining for the Panama excursion Coral Star Expeditions in concert with the OIFC has declared the trip a "go". The trip is slated for February 8th, 2008 - February 15th, 2008. Two final slots remain for anyone interested in jumping on board. Currently the trip is composed of all "OIFC fishing friends" and it would be great to round out the last spots with 2 more. For additional details or if you have any questions please don't hesitate to contact Capt. Barrett McMullan at captbarrett@oifishingcenter.com or 910-575-3474 ext. 4. We have a high powered team already signed up for this inaugural Traveling Fisherman event so don't miss out on this great opportunity to experience some of the most amazing big game fishing in the world. Stay tuned for further updates. The Traveling Fisherman Panama team currently consists of:
Robby Dial
Yorke Pharr
Tommy Lytton
Rube McMullan
Larry Terrell
Robert Hughes
Todd Helf
Todd Schadd
Brian Richard
Forest Taylor
Brant McMullan
Barrett McMullan

- Capt. Barrett McMullan
---
"Spots are Filling" | Carolina Contender- 36 | 04/10/08
We have our first traveling fishermen signed up for the Panama trip. Traveling Fisherman #1 is York Pharr of the Pharr Fishing Team. Traveling Fisherman #2 is Robbie Dial of the Force 5 fishing team both are Ocean Isle fishing pros and promise to do damage on the species abroad. We now have 10 slots available. I am getting many emails with questions and interest in the trip. The next 10 deposits will reserve the final slots on the Panama Coral Star Expeditions fishing excursion. Feel free to email or call with any questions.
- Capt. Barrett McMullan
---
"Details Are In Place" | Carolina Contender- 36 | 04/10/08
Alright guys, we have been working with the folks at the Coral Star operation in Panama to set up the final details for the 1st Annual OIFC Hannibal Bank Excursion. The trip will commence with everyone from our group meeting in Panama on Friday February 8th, 2008. We will stay the night in Panama City and then take a short in-country flight the next morning where we will meet the mothership and head for the fishing grounds. The Coral Star folks have organized a package for us to include all accomodations, transportation, and customs from the time we touch down in Panama City and then again when we return from fishing and head back to Panama City. The fishing expedition will include 4 full days of fishing and 2 half days. We will be fishing the pristine waters surrounding the Hannibal Banks where we are likely to encounter a multitude of billfish, giant yellowfin tuna, huge grouper and snapper, roosterfish, wahoo and many others. The last day of fishing is a half day on Thursday February 14th, 2008. We will return to the marina that afternoon and by that night be back in Panama City. The next morning, February 15th, 2008 we will fly back to the States.
The costs associated with this trip are as follows:
*Coral Star Trip $4,500 per person- Includes 4 full days fishing, 2 half days fishing, (3 to a boat) accomodations during those days, meals, and boat food and beverages.
*Starlite Travel $435 per person- Includes greeting at airport and customs arrangements, 2 nights in a local hotel in Panama City (1 on the front end of the trip and 1 on the back end), transporation to and from airports on both ends of the trip, and a roundtrip in-country flight from Panama City to David where we meet the mothership.
*WHAT'S NOT INCLUDED- Travel to Panama City, gratuity for the staff and crew aboard the Coral Star, and meals in Panama City.
In order for this trip to be an OIFC exclusive trip, we must have our commitments in as soon as possible. To reserve a slot we will be taking a deposit of $1,125 which is 25% of the trip amount of $4500.
I know it is hard to make plans for February 08 in August 07 but this is a trip of a lifetime and in order to keep the trip OIFC exclusive we must act promptly. If you plan to make this trip or need additional information please contact me via email- captbarrett@oifishingcenter.com or phone 910-575-3474 ext.4. Thanks.
- Capt. Barrett McMullan
---
"Taking Reservations for Panama Trip" | Carolina Contender- 36 | 04/10/08
Greetings fishermen! I wanted to remind those who might be interested in joining with fellow OIFC fishermen for the Panama trip that we are currently taking reservations. We've had a lot of interest over the past month and spaces are filling. We have 10-12 slots remaining so if you're planning on making this fishing excursion please don't wait to contact us. I can be reached via email- captbarrett@oifishingcenter.com or by phone 910-575-3474 ext.4. The trip details can be seen by clicking above on upcoming expeditions. Below is a fishing report from this past winter's trips from the folks aboard the Coral Star in Panama. Stay tuned for further updates.
So let's talk fishing in
Panama
!!! In fact, let's just talk about fishing!!! Where have you been? What have been catching??? What is on "your catch list" that you have not caught yet???
I hope you and your family are well……..
Below are some recent highlights over the past few months of fishing in
Panama
. Check it out!!! Are you up for it, or are you going to "miss the boat"??? DON'T DO THAT!!!!
February 10-15 gave us a double hook-up on Black Marlin, one scrappy high flying 350 pounder and one nice fat 500 pounder, also this week would land over 40 big Pacific Sailfish, among other things!!
February 24-March 1 brought in an amazing 1,000 pound Black Marlin, along with another well rounded 800 pounder. Oh Yeah, among other things!!
Overall, in the last two months, over 24 Black Marlin have been landed, along with 2 Blue Marlin and 2 Striped Marlin. 132 Pacific Sailfish and at least that many more teased up, largest Yellowfin weighed in at 270 pounds and the Dorado numbered well over 103, largest bull weighed over 60 pounds. Roosterfish are strong with over 52 landed, largest weighing in at 78 pounds and Wahoo, which typically prefer overcast skies, are still producing good numbers under clear, sunny skies! 22 nice Wahoo have been landed in February and March, largest 35 pounds. Cubera "Dog-toothed" Snapper have been outstanding, over 190 have been landed, the largest weighing in at a whopping 70 pounds! Amberjacks, Blue Jacks, Mullet Snappers, Groupers (one nice 178 pound), Pargo, Bull and White Tip Sharks, Barracudas, Pacific Black Snook and many other species numbering 170 plus…….landed!
FYI – La Nina is upon us…….so no matter where you go fishing next year???? You will not JUST BE FISHING…..YOU WILL BE CATCHING!!!!
- Capt. Barrett McMullan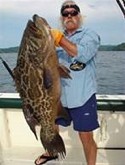 ---
"My Panama Experience" | Carolina Contender- 36 | 04/10/08
Capt. Barrett McMullan-
I can testify that the fishing adventure I took to Panama with the crew of the Coral Star was without a doubt a truly unique and unforgettable experience. If I had to describe the fishery to someone who has never been to the Hannibal Banks and the nearby islands in one word I would say 'unimaginable'. I have been on this trip once back in the mid 1990's with my father Rube, and though I probably can't do the description justice in words I'll try to convey my experience the best I can.

Our adventure started in Atlanta where we hopped a plane to Miami. From Miami the next stop was Panama City, Panama in Central America. We arrived in Panama City early afternoon and did some quick sightseeing and experienced the local cuisine that evening before crashing that night at a nice hotel in the heart of the city. The next morning we were guided by a travel agent to the airport where we took a short flight from Panama City to a small coastal town called David pronounced Daveed. At David we were greeted by representatives of the Coral Star and we packed our luggage into their vehicles and headed down to the docks where we met the boat. At the docks we transferred our gear onto to the 28' sportfish boat and headed off to meet the mothership the Coral Star. My geography and memory is a little hazy at this point, but I believe we ran down an inland river for a while before getting to open water where we intercepted the Coral Star. I believe the itenerary has changed a bit now, but back then once on the Coral Star while we got aquainted with the boat and unpacked, the mothership was already making ground towards the fishing grounds. It was a 6 day trip and it was obvious the crew was ready to make sure we got the most out of every minute. We had incredible meals every night that consisted of the catch that day or if you preferred more turf than surf that was also available. Anyway, after a night where excitement blocked any hope of sleep we stepped out of our individual cabins to the outside deck to find we had traveled through the night and were now anchored about 2 miles from a mountainous island in the middle of the ocean. Finally, it was time to go fishing. Back then the Coral Star operation and recreation sport fishing the Hannibal Banks was still in the early stages of discovery. We had fished Costa Rica many times and had great days on sailfish, but we had no clue what we were about to find. The mountainous island provided a lee where the mothership was anchored in calm water. From there we boarded one of the sportfishing boats and traveled about 6 miles offshore until we reached the Hannibal Banks. It felt like we had arrived to a place on Earth where man had never been. In broken English the Captain descibed the method of fishing we would be employing and the mate quickly tossed over two small bucktail rigs on 20lb tackle while we trolled the area. We were working the Hannibal Bank area which is basically a serious of mountains and a plateau that rises from the extremely deep waters of the Pacific to about 300 feet beneath surface. About 5 minutes after putting the lines in both rods with three bucktail rigs on each bent over and line starts screaming off the reel. Dad and I are chomping at the bit at this point and quickly take action thinking 'man that was quick'! After short battles on both sides of the boat we're thinking 'ok not a bad way to start off the day two double header bonitas on each rod in the 8-10lb range for a total of 4 bonitas'. Just as we expect the mate to release the bonitas we see him and the Captain quickly scurry around the deck and say 'now we're ready'. They expertly rigged two of the bonitas on bridle rigs and deployed them in seconds so they were good and lively. Holy smokes, we are about to use these things as bait. That's when the nerves set in. It wasn't 15 minutes later when both baits started shaking the rods violently. The Captain says, 'get ready'. At that time two 120lb sailfish simultaneously engulf the monster baits and take off in opposite directions. That was just the beginning of our incredible fishing expedition to Panama. During the week we trolled huge live bonitas over the bank and had some of the most extraordinary sportfishing action imaginable. We never trolled more than 30 minutes without action. During a 3 1/2 day span of fishing the bank I caught and released a blue marlin about 350lbs, a black marlin about 250lbs, a striped marlin about 150lbs, countless sailfish in the 80 to 140lb range. For the dinner table we also caught two enormous yellowfin tuna between 180 and 220lbs. My dad also caught numerous sailfish, mahi, and a couple marlin. The top water fishing was off the charts, but maybe the most impressive thing I saw was when the Captain became frustrated after trolling the live bonitas for about 30 minutes without a bite. He tried to piece together some directions for me but just ended up putting the fighting harness on me and handed me the rod. I noticed the mate positioning himself behind me with a two handed grip on my belt. I didn't understand what we were doing at the time, but the boat was in neutral and was told to freespool the reel. After about 45 seconds the Captain and mate in unison said 'ok go'! as the mate threw the Penn International into gear. At that point I was nearly pulled out of my shoes as the rod doubled and I lunged forward and caught myself on the gunnel with my chin. After a 10 minute all out war of up and down battling, from the depth rose the biggest snapper I had ever seen. It was called a dog snapper and had to weigh over 60lbs. After witnessing my ordeal my dad had to get a piece of the action and he busted another snapper of a different species about 45lbs. So that was their version of bailing out when the top water action wasn't fast and furious. Very impressive! One morning we opted to spend the first half of the day trying out the inshore fishery around the island near where we had anchored the Coral Star. In that half day of trolling top water plugs within a 100 yards of shore we caught huge snapper, grouper in the 20-40lb range, several roosterfish between 25 and 45lbs, mackerel, and some kind of jack. In the evenings we would return to the Coral Star and tell fish stories on the upper deck where drinks and snacks were served. From the upper deck we watched the sun sink down while you could actually see sailfish busting bait and tailwalking off in the distance. While this fishing report sounds like we hit the jackpot on our trip, we were assured by the crew that we had just an average catch. From a pure fishing perspective the Panama trip aboard the Coral Star is at the top of my list.
- Capt. Barrett McMullan
---
"Pics" | OIFC World Cat / Carolina Cat | 04/10/08
- Capt. Barrett McMullan





---
"More pics" | OIFC World Cat / Carolina Cat | 04/10/08
So far I have been posting pictures from the Panama trip that I had taken with my camera and also pictures from Yorke Pharr's camera. I just got in a whole new set with pictures from Brian Richard. Brian fished with Todd Helf and Robert Hughes all week and had a variety of catches. I'll continue to post pictures as I receive them.
- Capt. Rickey Beck





---
"More Pics " | OIFC World Cat / Carolina Cat | 04/10/08
So far I have been posting pictures from the Panama trip that I had taken with my camera and also pictures from Yorke Pharr's camera. I just got in a whole new set with pictures from Brian Richard. Brian fished with Todd Helf and Robert Hughes all week and had a variety of catches. I'll continue to post pictures as I receive them.
- Capt. Rickey Beck





---
"Beautiful Day" | Speckulator - 22' | 12/31/10
Captains Jeff Beck, Zach Faulkner and I took advantage of today's 60+ degrees and sunny weather to do a little inshore fishing. We'd been told by Captain Jeff Williamson (Get Busy) the bite had been on in the morning.
We put in at slack tide and didn't expect much action. Our afternoon started out slow and went downhill from there. (One of Brian Aycock's famous sayings.) Jeff fished mostly with a cork, Zach worked an artificial and I opted for mud minnows. We managed a few trout like the one in the picture. Mayhaps we three have spent too much time off shore and need to sharpen up our inshore skills. No matter though. All we wanted to do was take advantage of a beautiful day, get on the water and wet a hook.
- Capt. Rickey Beck





---
"Addition To Capt. Barrett's Report" | OIFC World Cat / Carolina Cat | 12/31/10
Captain David Hooks (Black Pearl) was one of the boats fishing east of the Tower Thursday. In addition to a couple of fish boxes full he brought in these 2 nice kings.
- Capt. Rickey Beck


---
"Ocean Isle Boat Ramp" | OIFC World Cat / Carolina Cat | 12/31/10
The State has posted a notice saying the OIB boat ramp will be closed January 3rd, indefinitely. As of now I have no further info. We will keep you updated.
- Capt. Rickey Beck
---
"There ARE fish out there" | OIFC World Cat / Carolina Cat | 12/30/10
In fulfilling our commitment to provide up to date and often real time fishing reports, I am coming to you just off the water with a fish report from today's action. In fact, I'd have been online sooner but my fingers just thawed out enough that I can type! No not really, it was a beautiful day but traveling home through that 45 degree water certainly gets a little chilly. Today, Capt. Rube, and good buddy Capt. Jon Miller joined me aboard the 31' Yellowfin for a mission to go wet a line. I'm on a record streak having not fished for almost a month. Bad weather, holidays, and every other excuse in the book has kept me off the water but today I was gone! I recently put together a new gulf stream trolling rod and reel combo as well as new wahoo trolling rig set ups so I was jonesn' to pull a ballyhoo in the stream. But then again I did hear a good king mackerel report from yesterday just east of the tower. But wait, the jumbo bass were also supposedly on fire. Let's not forget tis' the season for deep jigging. Oh yeah, and don't forget about the ever alluring possibility of a bluefin tuna blitz. So, as you can imagine my little 31' Yellowfin looked like a porcupine this morning when I left the dock with rods sticking up from every single rod holder on the boat, ready for anything. We cleared the inlet in the dark around 5:45am and pointed her east to first go explore the king mackerel bite I had heard about the day before east of Frying Pan Tower. We arrived and found about 10 commercial spoon boats circling but the word was no king mackerel just boneheads. The bait was marking up thick so we took that opportunity to collect a well full of jumbo cigar minnows thinking we may use them somewhere along the line. We stuck around for about 30 minutes and managed 1 small king and some boneheads and opted to continue on our trek towards the break around the Same Ol hole. While I rigged up the trolling arsenal Rube and Jon went to work on the vertical jigging where they quickly found a bent rod with school of amberjack. After we were all worn out from pulling on the jacks we deployed the new wahoo trolling rigs on my new gulf stream setups for a trial run. It was trial by fire as 5 minutes later the short left fires off screaming down the middle with white water splashing all over the place. 20 seconds of a screaming drag then he was gone. Fortunately 5 seconds of despair was quickly flattened when the long line burst into a high pitch squeal and we were on again. The new gulf stream trolling combo was awesome as we angled the fish to the boat in short order but with a great sporting fight. 35lb wahoo in the boat! We plowed around for another 1 hour or so with nothing and then the same thing again. Short left gets nailed and he drops it only to come right back to the long bait again. And again, Capt. Rube puts wahoo number two in the box. After catching a few boneheads we decided to give jigging another shot. The jacks were waiting for us again for some exercise and I broke off what I believe was large grouper. It was getting towards afternoon so we made the call to start heading back towards home hoping to run into a bluefin tuna sign but it was not to be. We never saw any birds or bait of any consequence. All in all it was a fun day and great to be back on the water. I was very pleased with the new gulf stream trolling combo that I manufactured. It takes gulf stream trolling tackle to the limit with the purpose of catching big fish on small equipment making the angling experience much more enjoyable. I'm putting in my request to OIFC management to carry these in the store so be sure to come check out the latest development in trolling tackle. The weather looks good for the next couple days- go get em'!
- Capt. Barrett McMullan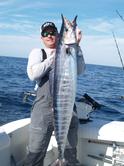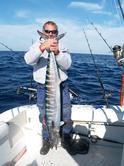 ---
"Update" | OIFC World Cat / Carolina Cat | 12/30/10
Several boats fished yesterday. They found the kings and a couple of mahi east of the Frying Pan Tower. It seems the warm water has pushed out. Captain Brant and some others are out again today.
Inshore, the water was in the 30's. The trout were very lethargic. (Didn't know I knew words like that did you?) Flounder were seen in very shallow water laying on the black mud. Some of this info was courtesy of Captain Mark Dickson...thanks. Mark. Captain Jeff Beck and Capt. Brandon Sauls may give the in shore fishing a shot today.
I hope to give you an update this evening.
- Capt. Rickey Beck
---
"" | Real-Time Update | 12/29/10
Had a good day with the Wu party from Buffalo. Started out trying to catch a bluefin.  Found tons of birds and bat 3 miles inshore of shark hole..  Water a bit cool at 47 but worth a shot.  Struck out.  Ran offshore to 90 feet at 11am and smoked the big sea bass, most big ones I've seem in a while.  Caught all we could by 3pm and are on the way home now.  Tomorrow think I'll head off and try for wahoo and do some vertical jogging.  Maybe web can sneak an end of season grouper.  Stay tuned.
- Capt. Brant McMullan

---
"" | Real-Time Update | 12/29/10
Had a good day with the Wu party from Buffalo. Started out trying to catch a bluefin.  Found tons of birds and bat 3 miles inshore of shark hole..  Water a bit cool at 47 but worth a shot.  Struck out.  Ran offshore to 90 feet at 11am and smoked the big sea bass, most big ones I've seem in a while.  Caught all we could by 3pm and are on the way home now.  Tomorrow think I'll head off and try for wahoo and do some vertical jogging.  Maybe web can sneak an end of season grouper.  Stay tuned.
- Capt. Brant McMullan


---
"" | Real-Time Update | 12/29/10
- Capt. Chris Dew

---
"Game on!" | OIFC World Cat / Carolina Cat | 12/29/10
Lite winds, slight and lite seas; it is TIME to finally go fish. Brant fished today and loaded up on 15-20 inch sea bass in 90-100 feet of water. He said he saw more gannets diving in the Shark Hole area than he has ever seen. Big pods of pogies. Fished for Bluefin couple hours and amazingly, no bites. The kings are east of the Tower and gulf stream action looks promising east of the Steeples. SO.....tomorrow, Barrett/Rube are heading out for Kings and Wahoo. Brant and crew heading out for Bluefin/Wahoo with a little diving thrown in. Forecast looks great next couple days. Come on down and see what winter fishing is all about in NC; the best fishing of the year.
- Rube McMullan
---
"EPIRB" | OIFC World Cat / Carolina Cat | 12/28/10
Check the attached
link
for information. Also, beginning in 2011the SKA is requiring all participants in tournaments to have Epribs and ditch bags. Follow this
link.
- Capt. Rickey Beck
---
"Family Support" | OIFC World Cat / Carolina Cat | 12/27/10
Barbara Yow Newton sent this picture of her grandchildren. She said they all stop in the OIFC everytime they are down. Thanks for the support and the picture guys.
- Capt. Rickey Beck

---
"Poor Benjy" | OIFC World Cat / Carolina Cat | 12/26/10
Poor Benjy Faulkner, stuck in Winston Salem in @ 8" of snow with the only thing to remind him of the sea is a snow man with an OIFC shirt. 32 degrees and snow flurries at the beach is better than snow men inshore!
- Capt. Amy McMullan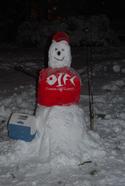 ---
"Hardcore" | Speckulator - 22' | 12/26/10
Hardcore, crazy or bored...Regardless Capts. Brandon Sauls, Kyle Hughes and Brant braved the 32 degree temps. and snow to hit Brandon's hot spot from yesterday. Judging by Brant's and Brandon's pictures they hit pay dirt again.
I'm sworn not to give too many details, but I'd say to hit the waters behind OIB and you too should strike gold..or red.
- Capt. Rickey Beck

---
"" | Real-Time Update | 12/26/10
Hot redfish bite on oib canals.  Brandon Sauls leads the way.  U know they r biting if even I caught one!!  Can u see the snow falling! 
- Capt. Brant McMullan

---
"Pendulum May Be Swinging?" | OIFC World Cat / Carolina Cat | 12/26/10
As bad as the weather is now, looking just ahead the forecast is looking very promising. The winds are supposed to go light on Wednesday and I believe I saw Friday with a high in the 60s ????? I'll believe it when I see it. But, I know we are going to be ready. Of course, Christmas Day the weather was absolutely perfect with flat seas AND the Gulf Stream was perfect for big time Wahoo fishing. Its cloudy now, so I can't see, but the water at the Black Jack and Steeples was over 74 degrees on Christmas Day. If that water will just hold until mid week I guarantee I'll be there. The best days of Wahoo fishing I've ever had have been mid Winter unders such conditions. They are fairly rare. Also, looked like a finger of upper 60s water was moving around the Frying Pan Tower which should bring the Kings. Bluefin are still the wild card. I expect a good amount of effort if the weather does get good this next week. Come on down to the beach. Enjoy the coast when its laid back and not crowded. Best of all, send out 2010 with one last fishing trip and hang around to ring in 2011 at the beach. Where else would you rather be ???
Happy Holidays to all.......
- Capt. Brant McMullan
---
"Christmas Day Slam" | Speckulator - 22' | 12/25/10
Local inshore angler extraordinaire Brandon Sauls took a break from the Christmas gala to slip out for a little inshore fishing in the Ocean Isle backwaters. If you study the flounder closely you can get a rare glimpse at the bait he was using. Along with the winter flounder, Brandon brought in some drum and more than 2 dozen trout.
- Capt. Rickey Beck



---
"Merry Christmas" | OIFC World Cat / Carolina Cat | 12/24/10
Merry Christmas and happy holidays from all of us at the OIFC!
- Capt. Rickey Beck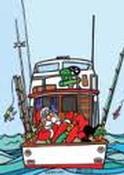 ---
"" | Real-Time Update | 12/23/10
Spent morning yesterday filling stockings with fresh sea bass.  Caroline, rube and myself fished 90-100 feet to find nice bass. Ocean was nice.  Also was a test trip for oifc world cat.  I just got it back marine service center or with new power.  She's sporting the new yamaha 300s.   Had 250s.  Speed and efficiency has increased.  A nice upgrade that will save fuel and give our customers more fishing time.   Happy holidays to all.  Stay tuned for reports
- Capt. Brant McMullan

---
"Bonner Bridge" | OIFC World Cat / Carolina Cat | 12/22/10
Any sportsman (woman..child) in North Carolina sooner or later crosses the Herbert Bonner Bridge that connects the Outer Banks and Hatteras Island.. Click on this
link
to read an update on a new bridge.
- Capt. Rickey Beck



---
"WalMart Information" | OIFC World Cat / Carolina Cat | 12/22/10
I was finishing up some shopping at the Walmart in greater Shallotte today when I ran into one of our local fishing "aces". He told me that "the water had moved in" around the Tower and the kings were almost eating the bottom out of his boat. He said most of the guys were pulling spoons and were killing the fish. That if someone pulled "minnows" they could absolutely slay the kings. All the emphasis has been on blue fins and most of us haven't really thought about kings. Maybe we need to. I also had my bags checked by the Walmart Greeter. I guess it was the "gangsta" look I had going in my hooded OIFC sweat shirt.
- Capt. Rickey Beck
---
"Sea Bass Birthday" | OIFC World Cat / Carolina Cat | 12/22/10
What better family tradition than to celebrate a birthday sea bass fishing. Today is Capt Brant's birthday so me, Brant, and Caroline loaded up the Carolina Cat[with it's brand new 300HP Yamaha's] and headed out to 90-100 feet in search of the absolute best eating fish in the sea; which just happens to make it's home right here in North Carolina. We loaded up with 1-3 pounders, while dodging lots of sharks. Seemed like the best strategy was to drop on any rock, catch a couple before the sharks found us, and then move to another rock. Hopping around like this in a small area allowed us to catch the sea bass and miss most of the sharks which are thick out there right now. The weather today was perfect, but appears to be taking another downturn for the rest of the week and into next week. Didn't see any encouraging Bluefin signs, a few gannets and porpoises, nothing exciting. Hope everyone has a great Christmas; I will with a refrigerator full of fresh Sea Bass!
- Rube McMullan
---
"Messed Up!!" | OIFC World Cat / Carolina Cat | 12/20/10
Messed up! That's what the weather man did. The wind was supposed to blow Monday and Tuesday. It blew hard out of the north Sunday, and then about 5 pm someone threw a switch and it stopped! Tuna birds were thick right off the beach at Ocean Isle all day Sunday. The ocean was flat and beautiful Monday and there is not even a slight breeze now (Monday night).
I've talked with some guys who are going out blue fin huntn' Tuesday. With the cold weather, the report of the tuna washed ashore at Ft. Fisher and the Gannets flying in our area the odds are in the favor of someone hooking up. I wish all the anglers good luck and hope we'll have some pictures to post Tuesday evening. Stay tuned!!!!
- Capt. Rickey Beck
---
"Washed Up Blue Fin" | OIFC World Cat / Carolina Cat | 12/19/10
I just confirmed a report that an @80" blue fin tuna washed ashore at Ft. Fisher. Good news is they have made it our way. Bad news is one died and washed ashore. Also, the weather will not let us get out and fish for them.
- Capt. Rickey Beck
---
"Bluefin Tuna Regulations Update" | OIFC World Cat / Carolina Cat | 12/15/10
The OIFC received the following bluefin tuna regulations update from the Marine Fisheries:
Recreation/private boat: 1 fish per day per boat-27" to 59"-no fish over 59"
Charter boats: 2 fish per day/per boat- 1 can be 27" to 47", 2nd fish 47" to 59"-No fish over 59"
Commercial boats: 3 fish per day/per boat over 73"
- Capt. Rickey Beck
---
"Plastics" | OIFC World Cat / Carolina Cat | 12/13/10
It's cold, windy, Jeff and I are rigged for blue fin fishing, so there's not much left to do except read and study. I found this
article
on Earth Sports, found it interesting so I thought I'd pass it along.
- Capt. Rickey Beck
---
"Uncommon Valor" | OIFC World Cat / Carolina Cat | 12/12/10
What do you say? Is it uncommon valor, or lack of common sense. Brandon ain't skeer'd he's got plenty of sense, and a great love for in shore fishing. I guess it's that passion and drive that motivates him to go fishing on such a raw day...rain, wind and 37 degrees. No doubt his efforts paid off. I'm not about to ask a man this dedicated to tell me what he was using or where he found his fish. We'll save that for a fair weather trip.
- Capt. Rickey Beck



---
"Rain and Wind" | OIFC World Cat / Carolina Cat | 12/11/10
Well folks, yet another windy, rainy weekend in OIB and at the OIFC. The mood is a little grim around here as we all realized yesterday that it has been almost 3 weeks since any of us broke the inlet and headed to the deep. This is the longest any of us have been off the water this year and there is a bit of withdrawl going on... Good news though, there are fish to be caught out there and we are all checking the weather forecast several times a day with cautious optimism that we will be able to get out this week. There ARE Bluefin Tuna out there, the numbers are not quite there but all the signs say, they are on their way. Sea Bass are out there waiting to be punished and it looks like there is still a little bit of warm water left around the Blackjack and Steeples area, meaning, Wahoo's and Blackfin must still be around. Also, if you head to the deep, DO NOT forget your jigging equipment. It was this time last year that we started really having a lot of success with jigging at the gulf stream ledges. The other news is, while it is very difficult to be "landlocked", we are doing lots of things here at the OIFC to get ready for next season. Should be some pretty dramatic changes around here in an effort to better meet your needs. The most exciting thing we are working on is a whole line of Custom King rigs that are being build here, in house. These are going to be top of the line rigs using only the best products from Cape Lookout Lures, Fishizzle lures and Redfishone hooks. Not to mention Spro and AFW hardware. The best part? A great price. These products will be going into production any day now and we will keep you posted. While we are staying very busy with various projects, we are never too busy to stop and talk fishing with you. Its mighty quiet here at the shop so stop by and get some 1 on 1 time with our Captain's. We will happily help you catch more fish.
- Capt. Steele
---
"Report" | OIFC World Cat / Carolina Cat | 12/10/10
Well, no sooner did I send out a mass email pronouncing this weekend as a great weekend to get offshore than the weather forecast totally changed and went to poo. Its still cold as heck and the wind has layed a bit, maybe 15kts or so, but 15kts at 25 degrees on the open water .... you do the math. But, those are ideal Bluefin conditions. I think there may be a few guys trying for them today locally, I'll keep you posted. In Morehead, there's been one or two Bluefin brought in every day. Nothing has broken open yet, but there are fish there.
We finally got the web cam fixed. Not that there's a lot to watch, but at least now you can see the sunrise over Ocean Isle in the AM. And occasionally maybe you can watch us pace up and down the docks messing with stuff or simply trying to burn off energy. It is quiet here!
Hope everyone is planning a nice holiday. Merry Christmas. Stay tuned for updates as we get them.
- Capt. Brant McMullan
---
"Help For Ricky" | OIFC World Cat / Carolina Cat | 12/08/10
I can't stand to watch Ricky struggle for a fishing report. Here are some bluefin tuna pictures from recent years. These ought to get your blood pumping. Man, I'm going to go re-check my gear, sharpen my hooks and buy a new Bluewater Candy Jag. So here you go Ricky, you can relax a little.
- Capt. Barrett McMullan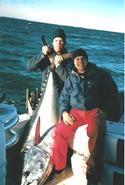 ---
"Help For A Struggln' Reporter" | OIFC World Cat / Carolina Cat | 12/07/10
A good friend of the OIFC, Bryan Freeman sent the attached pictures. Bryan heard my plea for help because the weather was keeping most people on shore. Not so for Bryan, Daniel Simmons and Victor Jones. These brave souls battled their way to the Steeples on a cool Friday. They marked several tuna, though Bryan said they were all little. Not the kind size the blue fin hunters are after. He said all they could score were false albacore, but they did manage to land one wahoo after several break off's. The wahoo are still here, at least they were Friday.
The pictures do not do the sea conditions justice. Check out the stance in the pictures and the spray in the 2nd picture.
The last picture is of their wahoo dinner. Thanks for helping a brother out Bryan!!
- Capt. Rickey Beck



---
"Right Whales" | OIFC World Cat / Carolina Cat | 12/06/10
Blue Fin Tuna will be here within a matter of days. Along with them come the Right Whale. Along with the whale come several
regulations
we need to be aware of.
- Capt. Rickey Beck
---
"Largest Yellow Fin Tuna On Rod And Reel" | OIFC World Cat / Carolina Cat | 12/06/10
Jamie Blue posted thisYou Tube link on Facebook today. It's of the largest Yellow Fin Tuna caught on a rod and reel. It was caught aboard the Vagabond sport fishing boat out of San Diego on 12-6th and weighed 405.2 lbs. on a modified Penn 30W, 100lb Spectra and 100 lb mono leader.
- Capt. Rickey Beck
---
"Dive" | OIFC World Cat / Carolina Cat | 12/05/10
Follow this
link
to Jeff Martini's (
MidTown Bistro
) Facebook page. He spear fishing a wreck Captain Brant took him too. By looking at the Fishing Report, you've shown you love the sea and fishing. This video is beautiful!
- Capt. Amy McMullan
---
""Jetty Trout"" | OIFC World Cat / Carolina Cat | 12/05/10
The trout bite continues to be strong! Dr. Wallen and I headed for the jetties yesterday with live shrimp. It took us longer to anchor, than to catch our first trout. We landed 8 nice trout, 3 redfish, and 2 great eating black drum. I couldn't help but try a few artificials since that is what I like to do. Artificials will work at the jetties, but it is a challenge to keep them in the strike zone. Dr. Wallen and I both landed trout on artificials. I caught a nice one on an Old Bayside shadlyn and another on a 4" Sea Assassin. Dr. Wallen caught his on a DOA Cal electric chicken. The fact is trout will readily take artificials, but the jetties are difficult to fish that way. Floating shrimp is the best way to go out there. Water temp is in the low 50's and will be dropping with this weeks forecast. As long as you can find water temp in the 50's the fish will bite. This is the time of year going shallow, very shallow is where you will find warmer temperatures. The redfish bite stays great all year long here. You just gotta know where to look and have a boat that will get you there. QUIETLY!!! Fish gulp and jigs very slow! Hang on! See ya on the water!
- Capt. Jacob Frick
---
"Friday and Saturday Update" | OIFC World Cat / Carolina Cat | 12/05/10
Captain Zach fished Morehead Friday and Saturday. There was a 90 and a 74" bluefin brought to the docks Friday. He said there were hook ups Saturday, but did not hear of any brought to the docks. The good thing is they should be headed here soon. Last year it was around Dec 20th when we started getting the bite.
Captain Brant fished Friday. He said the water was a little murky for the bluefins, although some signs were there. He caught some kings off the Raritan and around the B.P using bluefin gear. He said there were some kings just off the beach and the bait was just off the beach.
Looks like it going to blow for awhile so I'm going to have trouble keeping our report interesting. But if it blows out of the north like it is now the water ought to be calm enough to fish, and maybe hook up with a king.
- Capt. Rickey Beck
---
"" | Real-Time Update | 12/04/10
Capt kyle working on rebuiling his trout ego. Bite is on!
- Capt. Brant McMullan

---
"Not To Jinx" | OIFC World Cat / Carolina Cat | 12/03/10
I don't want to Jinx the man, maybe just put pressure on him..but.....Captain Zach Faulkner, Benjy and Richie HAITHCOCK (inside stuff) loaded up the "Get Floor'd", 36' Contender and trucked her to Morehead yesterday. It's, true 'cause I passed that huge monster on Hwy 17 yesterday.
Zach has spent the last month, it seams, tying rigs and checking gear for this day. Let's all hope Zach does well. He's got the reputation of the OIFC on his back...no pressure "dude".....Catch 'm up Big Zach!!!
(Here's a reason to look for a slick in the water or gannet "tuna birds" diving to eat bait left overs. You see that, add in some dolphin and maybe a whale or two, and you'd better be ready to hang on!)
I hope that not too much pressure on Capt. Zach!
***The You Tube video references a bait ball of mackerel. That's not the case in N.C. or the east coast in general. The Pogy is the food of choice for our blue fin. They follow the pogies down past our shores during the blue fin migration. An important reason to hang with Rube when he talks about the commercial pogy netting that takes place by out-of-state boats in our waters.
As far as trolling bait we have just the ballyhoo you need. Capt. Brant ordered and inspected some quality bait just for blue fin tuna fishing. The ballyhoo he fishes come out of the same stock we sell..nothing secret, nothing special.
- Capt. Rickey Beck
---
""Bluefin Confirmed!!"" | OIFC World Cat / Carolina Cat | 12/02/10
The bluefin bite was confirmed on 11/29/10...a 77" 199lb. core weight hit the dock in Moorehead this past Monday...Lots of folks have been reporting whales, birds, and oil slicks. Capt. Brant is planning on doing his bluefin seminars again this year with the action already heating up out there. I have been tying topshots and Steele has an end cap built with all the tackle you need on it. We have several options in combo rods and reels to fight these monsters as well. This Saturday's weather looks to be fishable as of right now. NW 10kts. or less switching to the West seas 2 to 3....Go look for the bluefin early and then go get a wahoo! The wahoo were thick a couple of weeks ago out on the break. I would imagine not much has changed since this is usually where they stay for the winter months. It is going to be cold, but a giant bluefin will warm you up quick! See ya on the water!
- Capt. Jacob Frick
---
"OIFC Year Round Rodeo" | OIFC World Cat / Carolina Cat | 11/30/10
I just finished updating the
Rodeo
standings. I THINK I've got it right. If I've made a mistake, let me know. I'll be updating it prior to it's end...
- Capt. Rickey Beck
---
""No Joke! BLUEFIN!!!"" | OIFC World Cat / Carolina Cat | 11/29/10
Just got off the phone with Capt. Brant...77" 199lbs. core weight Bluefin hit the dock in Moorehead today...another Bluefin was called in and on the way to the dock as well. The signs have been every where the last few days and finally someone confirmed it! Who will be next? Look on our website and join Capt. Brant's Bluefin seminars. I am sure it will not be long before our fleet will be in hot pursuit. If you are thinking about following us and need equipment, we've got it. Either way, stay tuned...it is about to get really exciting around the OIFC! Lock and load, lets go!
- Capt. Jacob Frick
---
"Tragic Loss to OIFC Family" | OIFC World Cat / Carolina Cat | 11/29/10
It is with great regret that I report that 17 year old Cy Garber, son to Ned and Caroline Garber of Ocean Isle has tragically passed away in a car accident. The Garber family is also kin to the Newell's, another Ocean Isle family; both fishing families. We are so sorry for the loss. Please keep the Garber and Newell family and all those close to Cy in your thoughts and prayers.
Below is the obituary taken from the Fayetteville Observer:
FAYETTEVILLE - Edgar Clyde "Cy" Garber IV passed away Saturday, Nov. 27, 2010, evidencing that God's will surpasses our spiritual understanding and trumps our earthly wishes, as Cy received the call to return to the realm of our Lord.
In the wake of his departure, untold grief befalls the family and friends of this zestful and amicable young fellow, who wrenched the very marrow from the bones of his short life here on earth.
Cy was a lifelong member of Snyder Memorial Baptist Church. Yet it was beside the quiet, and not so quiet, waters and woods that Cy most intimately communed with our Lord. Cy was a senior at Terry Sanford High School. He attended dutifully, though sometimes wistfully. For while his body sat in its pew or at its desk, his spirit directed his eyes most frequently toward the windows of the room. It was out there that he longed always to be.
As a result of his passing, many a straight Harrells pine will never be climbed; many a still Carolina water will remain undisturbed by bow of boat or fin of ski; many a swampy bulrush will go untrodden by his boots; many a stainless hook will fail to taste the salt of the ocean; many a swollen wave will break un-surfed; many a dirt path will remain untracked; many a hand will go ungrasped; many a neck will remain unhugged; many a lady's lip will fail to part in the smile he would have brought to it; and many a man's head will remain unshook to the otherwise gently chuckled whispery phrase of "that daggum Cy Garber ..."
Cy was predeceased by his maternal grandparents, Billy Niles and Lela Harrell of Harrells.
Cy leaves behind an emotionally broken but spiritually confident family. The greatest loss is felt by his father, mother, and sister, they being Edgar "Ned" C. Garber III and Caroline Harrell Garber, both of the home, and Molly Caroline Garber of Fayetteville. Also surviving Cy are his paternal grandfather and grandmother, Dr. and Mrs. Edgar Clyde Garber Jr. of Fayetteville; his aunts and uncles, Bob and Liz Newell of Winston-Salem, Niles and Linda Harrell of Cary, Amy Byrd of Fayetteville and Lee and Sharon Garber of Raeford; his cousins, Will and Lela Newell of Winston-Salem, Lizzie Harrell of Cary, and Ross and Anna Byrd of Fayetteville.
In that we, by faith, are sure of Cy's place with God today, we pray as one for your comfort, Lord, and that our days of grief may one day be replaced by a sense of celebration for our time spent with Cy and in acknowledgement of the assuredness of our one day being reunited with him and with You.
Funeral service will be held at 2 p.m. Tuesday, Nov. 30, 2010, at Snyder Memorial Baptist Church, with the Rev. John Cook and the Rev. Tim Register officiating. Interment will follow at Harrells Town Cemetery in Harrells.
The family will receive friends from noon to 1:45 p.m. Tuesday in the church gathering hall, prior to the service.
In lieu of flowers, memorials may be made to Siloam Baptist Church, 833 Tomahawk Highway, Harrells, NC 28444.
Arrangements made by Rogers and Breece Funeral Home of Fayetteville
- Capt. Brant McMullan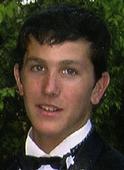 ---
"Fish Pic" | OIFC World Cat / Carolina Cat | 11/29/10
Rickey reported an all OIFC staff Wahoo trip that took place last Monday. I finally got around to downloading one of the pictures. After morning storms and wind, the skies opened up and a nice afternoon of fishing was had by all. Thanks to friend Dan Ratley who invited us all aboard his boat Quick Draw for the day of fishing.
For the record, Anita's Wahoo weighed 62 pounds and Jacob's 61, so Anita is officially holding the crown for big fish of the year right now. I'm sure more to follow.
- Capt. Brant McMullan

---
"A Raw Weekend" | OIFC World Cat / Carolina Cat | 11/29/10
Captain Jeff Williamson (Get Busy/OIFC) was chartered by Bruce Christison and his son Matt this weekend. Mat is a junior at Charleston College majoring in marine biology. As you can tell in the pictures they weathered the wind and cold and caught some nice fish at the old (thank goodness) Sunset Bridge.
Meanwhile, Brandon Sauls, aboard his new Triton took the lead in the OIFC Rodeo with an unbelievable 9 lb. trout. Brandon and his trout are in the next to the last picture. The last picture is Brandon's partner, witness and accomplished fisherman in his own right, Clay Morphis, Sr. Clay caught a 7.2 lb trout himself. On any other day, that fish would have won Capt. Kyle's Tournament.
It will take some getting used to not seeing Brandon in the Bone boat with his sunvisor on upside down and backwards. That boat would make someone a nice ride, and it knows how to catch fish!
Meanwhile, the off shore guys were hanging around the OIFC or coffee shops talking about the upcoming blue fin season. Also, as a side note, Capt. Rube and Capt. Chris Eckert were cleaning some big ol' Mahi on the OIFC dock. The word is they came from an undisclosed location far out in the Gulf Stream. Add that to the recent wahoo bite and the prospect of landing a big money blue fin and a lot of people are "chomping at the bit" to wet a hook.
- Capt. Rickey Beck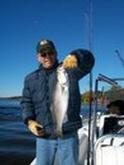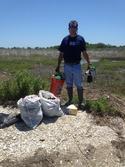 ---
"Fishing Update" | OIFC World Cat / Carolina Cat | 11/28/10
Sorry to say that there really isn't much to report from the offshore scene this past weekend. The weather didn't let up enough for anyone to get offshore to get back after the Wahoo, Kings and Grouper. No doubt they are still out there, but we just need Mother Nature to help us out. Right now the weather looks to blow most of the week, but maybe we'll get a window by next weekend. Stay tuned. On the inshore side, you can see from Capt. Kyle's tournament that the trout fishing is not lacking.
For those who were at OIB this weekend, hope you enjoyed the flotilla-- a dozen or more boats were dressed to the T with lights and decorations and made for a great parade on Saturday evening. The flotilla has become very popular over the past few years as hundreds if not thousands come out to watch. The OIFC is a great place to watch and we certainly welcome our customers to watch the flotilla in coming years from the OIFC. Better yet, next year, join in and decorate your boat.
The cold weather has got me thinking more toward Bluefin now. I'm getting rigs ready and making sure that the boats are ready with correct permitting and such. A good trip to plan is Bluefin Tuna fishing in the AM until 11am or so and then run off another 30 or so miles to fish for Wahoo until 3pm or so and then head home. I'm going to start planning my coming trips along these lines. Stay tuned to our reports and the weather and then come join us, either on your boat or ours.
Happy Holidays-
- Capt. Brant McMullan
---
"Trout Tournament Results" | Speckulator - 22' | 11/28/10
Another Thanksgiving Inshore Classic is now in the books, and it will certainly be one that will be remebered for many years to come. Conditions were forcasted to be tough, so only 9 teams mustered up the courage to brave the cold, wind, and dirty water. While it is safe to say that most of us had a tough day of it yesterday, Capts. Brandon Sauls and Clay Morphis had one of those days that doesn't come around very often, and that few trout fishermen will ever have. They slid into the scales aboard Brandon's brand new 24' Triton, the "El Diablo/Bonecrusher II" with a 3 - trout aggregate totaling 23.7lbs. Thats right 23.7lbs people. There fish weighed in a 9.0, 8.5, and 6.2, and the had another one over 6 as well. Throughout my trials and travels fishing trout tournament over the years, I only know of 1 other time in a 3 - fish tournament where the winning weight was over 20lbs. The only way I could describe the magnitude of this feat to those who don't trout fish would to that it is the equivalent to Team OIFC's 74lb king in the National Champioship last year. In 2nd place was Robert Hughes and Brian Richard with an aggregate of 8.5lbs. 3rd place was claimed by Mike Fields and Jason Mc Dowell with an aggreate of 8.4lbs. So there you have it...I can't explain what happened or why no one else managed to find a good one, but I will go on record that I saw Brandon and Clay catch their fish, just for anyone sittling at home who might have doubts. Good job boys, I'm not sure how you're gonna top that one.
- Capt. Kyle Hughes



---
"Get Busy" | OIFC World Cat / Carolina Cat | 11/27/10
Steve Gassaway and his sons Patrick and Kevin of Charlotte, N.C. fished in shore yesterday with Captain Jeff Williamson aboard the Get Busy and went 2 for 3 on an in shore slam. The charter group took advantage of the morning weather before the rain set in using live shrimp and
Gulp
Swimming Minnows.
- Capt. Rickey Beck



---
"Trout Time" | Speckulator - 22' | 11/27/10
Scott Allen and his son Austin joined Captain Kyle aboard the Speckulator on a blustery Friday to do some trout fishing. The group worked the docks and shallows using live shrimp and caught a live well full of nice specks. Scott said they released more than they caught. The cool weather trout bite is on at the OIFC.
- Capt. Rickey Beck

---
"Wendell the Wahoo Slayer Barnett Strikes again" | OIFC World Cat / Carolina Cat | 11/26/10
Wendell Barnett sent me this picture of an 80 lb Wahoo that he caught last weekend during the Wahoo Blitz of '10. This fish was caught near the Blackjack. Great fish Wendell.
- Capt. Steele

---
"Gator Caught this morning" | OIFC World Cat / Carolina Cat | 11/26/10
Darren Cranfield just stopped by to weigh this nice 4.8lb Trout that he caught on Artificials first thing this morning. Great Job Darren.
- Capt. Steele

---
"East of The Shoals" | OIFC World Cat / Carolina Cat | 11/26/10
"Team McKee Craft" made up of Jeff Reid,Matt Watson and Joey Crisp headed east of the shoals on some numbers provided by John McWhite of ProFinder Charts.We are a dealer for the charts and chips..check our web store. They were on a great bottom about 37 miles out a few miles east of the Tower and in about 100-120 ft. of 74 degree water.They kept their limit of grouper, caught many kings, released several red group just below minimum size, caught trigger fish and various other bottom dwellers.
Of great interest to many of us is they saw a blue fin tuna and some whales. The sky was also thick with "tuna birds". The picture below of the ocean was one they tried to take of the tuna, the whales, and the grease slick they made. But it didn't show up. Hopefully they will be off Brunswick County soon!
- Capt. Rickey Beck





---
"Thanksgiving Inshore Classic Update" | Speckulator - 22' | 11/25/10
Just a reminder for all you trout fishermen who will hopefully be fishing the tournament. Registration will be tommorrow afternoon, Nov. 26th, at the OIFC from 5:00 - 7:00 p.m. Fishing hours will be from 6:00 a.m. to 4:00 p.m. on Sat. You must be in the weigh in line by 4:00 p.m. The scales will open at 3:30 p.m. If anyone has any questions feel free to give me a call. Look forward to seeing some of you tommorrow evening.
- Capt. Kyle Hughes
---
"NC KFC PICS" | OIFC World Cat / Carolina Cat | 11/25/10
A few more weigh in pics from the NC KFC. Great weather, great fishing, great competition- It was a great tournament!
- Capt. Barrett McMullan





---
"NC KFC PICS Cont'" | OIFC World Cat / Carolina Cat | 11/25/10
More Pictures of teams weighing in at the NC Kingfish Championship
- Capt. Barrett McMullan





---
"NC Kingfish Championship PICS" | OIFC World Cat / Carolina Cat | 11/25/10
Below are pictures taken of the teams fishing the 2010 North Carolina Kingfish Championship at weigh in last week in Beaufort, NC. Team Release is the 2010 State Champion with an aggregate weight of 78.65lbs!
- Capt. Barrett McMullan




---
"Marine Fisheries Menhaden meeting" | OIFC World Cat / Carolina Cat | 11/25/10
Results for the NC Marine Fisheries Commission meeting Tuesday is that they decided not to open up waters south of Cape Lookout for commercial menhaden netting. I have requested a copy of the discussion on this subject as I'm curious to learn more of the what/why this subject was brought up. Also whether they discussed the issue of not allowing Omega to net north of Cape Lookout until close of commercial Bluefin season. Thanks to everyone for contacting them, as apparently they got a strong message from the public. Standby for more info. Rube McMullan
- Rube McMullan
---
"Visit With A Soldier" | OIFC World Cat / Carolina Cat | 11/25/10
OIFC charter Captain Jeff Williamson had a great day fishing inshore with a family who were in the area visiting their son before he deployed to Iraq.
The primo bait is live shrimp. There are some stores in the area selling the for $6.50 a dozen. They are tough to find in the waterway. Second to them would be to float an artificial such as a Berkly Gulp under a cork.
- Capt. Rickey Beck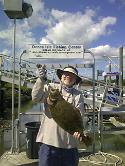 ---
"Perspective" | OIFC World Cat / Carolina Cat | 11/25/10
This picture should give a little perspective to the size of the 76.2lb wahoo Jeff Martini's crew landed on the 22nd. The bite is still on and right now the wind isn't blowing like was originally predicted.
- Capt. Rickey Beck

---
"Make Good Use of Your Time" | OIFC World Cat / Carolina Cat | 11/24/10
It has been fun reporting on the fishing this past week. Being able to share reports and especially pictures makes doing the Fishing Report very fulfilling. But I'm afraid if the weather prediction is correct my computer will fall silent for the next few days. But that doesn't mean ya'll should take a break also.
Reading this week's reports there is a common thread...bluefin tuna! Barrett's latest report ties it all together. Now we need to make use of our down time and test our equipment, make up rigs and buy bait before it all gets gone. Our shipment of jumbo ballyhoo has just arrived, it looks great and I've already sold a case myself. Steele is stocking our shelves with high quality supplies. I just talked with Captain Brant and he is going to teach his bluefin seminars again this year. We had a great turnout for them last year and Brant provided a lot of important, valuable information. He'll post his schedule soon.
Everyone have a happy and safe holiday...don't forget the Captain's Points Sale.
- Capt. Rickey Beck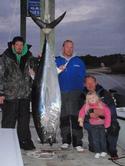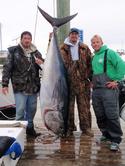 ---
"Bluefin ARE in the area" | OIFC World Cat / Carolina Cat | 11/23/10
For the past week or so we've been hearing reports of bluefin sightings and positive signs for the tuna to be here. The weather has made for slick seas which lends itself to being able to see the massive fish easier when they push their 400+lb bodies out of the water after bait fish. The reports of bluefin sightings continued this weekend out of Ocean Isle and Southport by the king mackerel fishermen fishing in the 100' depth range. While I was in Morhead over the weekend it was the same thing. Numerous reports of fish being seen jumping combined with bait marks, gannets and whales had every body up that way to start thinking tuna. The ultimate confirmation came on Sunday when apparently a boat fishing for wahoo offshore of the Atlas Tanker out of Morehead hooked a giant bluefin and fought the 250+ lb monster to boatside before the fish broke off. Although it's a little early as compared to the last couple years, if you're a tuna fishermen it's time to bust out the 50 wides and start those early morning trolls. It's an exciting time to be offshore fishing right now out of Ocean Isle with the kings, wahoo, and now the ultimate challenge BLUEFIN TUNA.
- Capt. Barrett McMullan
---
""Jimmy's Girls Carolina Slamm'n"" | OIFC World Cat / Carolina Cat | 11/23/10
The fishing has been awesome! An approaching full moon, perfect water temps, and great weather conditions have set the fish in full feeding mode. I had the privilege of taking a couple of young ladies fishing this past Sunday. On the second cast Marley landed her first redfish. A few cast later Alyssa landed another. We ended up catching three reds, before looking for the trout bite. It did not take long before picking up a few trout with a couple of them being nice. While beating the banks for trout we picked up a few flounder completing inshore slams for Marley and Alyssa. Congratulations ladies! See ya on the water!
- Capt. Jacob Frick
---
"More Weekend Kings" | OIFC World Cat / Carolina Cat | 11/23/10
Corey Bellamy went bottom fishing this weekend on some numbers he had in 69 degree water and couldn't get the bottom dwellers to cooperate. That being the case they jigged some cigar minnows at the Little River Off Shore and took to trolling. The king bite was so hot for them that they even caught a nice one on a butterfish about the size of a silver dollar.
Thanks Corey.
- Capt. Rickey Beck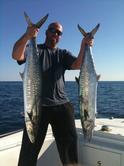 ---
"Law Review" | OIFC World Cat / Carolina Cat | 11/23/10
Michelle Drake reports that Saturday The Law fishing team partnered with Kenny Clark to fish 100 ft. of water.They took a bait buffet of frozen cigar minnows, squid, & assorted bottom rigs. The crew started trolling at 9:30 and had 3 kings in the box by 10, with numerous short strikes and break offs. By noon they had their 3 person limit of kings.
They then switched to bottom fishing using squid and various bottom jigs. Immediately they began catching keeper sea bass and the usual assortment of bottom dwellers. Michelle fished a blue and white Shimano Lucanus Jig, which is now in need of a skirt and hooks. At times she was catching 2 at a time. She reports a beautiful sea and a great time!
Thanks for the report!
- Capt. Rickey Beck

---
"Team OIFC's Wahoo" | OIFC World Cat / Carolina Cat | 11/23/10
The newly formed Team OIFC, made up of Brant, Amy, Anita, Steele, Jacob & Chris Dew joined Dan Ratley aboard the "Quick Draw" to get in on some of the hot wahoo action off the Brunswick Co. shores yesterday. The group pulled balleyhoo and landed these 2 citation wahoo and several blackfin tuna Anita's 62 # wahoo bested Jacob's 60 #'r for the top fish of the day, but neither fish were anything to sneeze at.
Captain Brant has some more pictures and surely will fill us in on the details in his report. I'm glad everyone had fun and wish I could have joined you.
- Capt. Rickey Beck

---
"Braid vs. Mono" | OIFC World Cat / Carolina Cat | 11/23/10
I ran across this article and thought ya'll might be interested.
- Capt. Rickey Beck
---
"76.2 lb Wahoo" | OIFC World Cat / Carolina Cat | 11/22/10
Jeff, his son Chance Martini and crew from the MidTown Bistro couldn't stand Bryan Freeman's success with the wahoo Saturday and struck out on their own today. They ended up surpassing Bryan's 60+ lb wahoo with their own 76.2 lb wahoo. This was Chance's 2nd gaff shot ever.
Jeff says he always plays Kid Rock when he's wahoo fishing. This wahoo must also have been a fan!
- Capt. Rickey Beck

---
"Captain Zach's Sail" | OIFC World Cat / Carolina Cat | 11/22/10
Captain Zach Faulkner, Captain Steele Park, Benjy Faulkner and Richie Hayward brought several big wahoo in Saturday night. They were also flying the sailfish flag upside down indicating a release.
Here are some pictures of the sail as Zach fought it that Benjy sent. I say it time and time again, thanks to all the anglers who send in reports, especially those supported by pictures so we can share them with our readers. When sending pictures they must be in the jpg format in order for us to upload them to the fishing report. Thanks again!
- Capt. Rickey Beck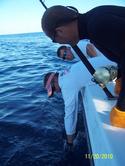 ---
"Caught Ya Lookin Action Shots" | OIFC World Cat / Carolina Cat | 11/22/10
The OIFC reported on the monster yahoo Bryan Freeman, Brian Robbin, Steve Austin and Tripp Cobb brought to the dock on 11-20-10. Bryan has just sent us some action shots of not only the wahoo but of a beautiful catch and release sail that should make folks trapped inland long for the sea.
Thanks to the crew of the "Caught Ya Lookin" for bring your fish to the OIFC and for sharing the pictures.
- Capt. Rickey Beck




---
"NC KFC Final Results" | OIFC World Cat / Carolina Cat | 11/22/10
2010 RESULTS

Overall (2 Fish Agg)
Release.............................51.50 + 27.15 = 78.65lbs

Dig It..................................52.55 + 25.75 = 78.30lbs

OIFC..................................32.75 + 38.10 = 70.85lbs

Mac Hunter.......................11.00 + 41.90 = 52.90lbs

Tide One on......................DNW + 48.85 = 48.85lbs

Reel Action.......................21.65 + 22.40 = 44.05lbs

Money Grows On Trees..11.85 + 30.05 = 41.90lbs

Sharon Leigh....................36.45 + DNW = 36.45lbs

Bobcat...............................30.90 + DNW = 30.90lbs

Second Catch...................28.00 + DNW = 28.00lbs

Black Gold.........................25.95 + DNW = 25.95lbs

Mr. Needmore...................21.35 + DNW = 21.35lbs

Open Wide........................19.05 + DNW = 19.05lbs

White Lightning.................18.40 + DNW = 18.40lbs

Big Fish TWT
1. Dig It......................................52.55lbs
2. Release................................51.50lbs
3. Tide One On.........................48.85lbs
Aggregate TWT
1. Release................................78.65lbs
2. Dig It.....................................78.30lbs
3. OIFC.....................................70.85lbs
High Rollers TWT
OIFC.............................................70.85lbs
Mr. Needmore.............................21.35lbs
White Lightning...........................18.4lbs
Report to Follow
- Capt. Barrett McMullan
---
"Hottest Fishing in a LONG Time" | OIFC World Cat / Carolina Cat | 11/22/10
I hope you were here this past weekend. Conditions and circumstances had built up to a point of near explosion; the weather and fishermen had been kept at bay for weeks and it just so happened that everything settled out perfect to land on a weekend. How often do you actually get good fishing and good weather? Well, I'm here to say that this past weekend was definitely the best all around fishing days we've had all year and I'd say near the top all time that I've seen. Its not unusual for one species or another to be hot and good catches to occur, but this weekend it all went down. The big news is without a doubt the Wahoo fishing. Quite frankly, I've never seen it so good. I don't know a boat that went Wahoo fishing and didn't catch 5+ Wahoo and many had double digit numbers. And these are not your run of the mill 20 and 30 pound schoolies. These were nice size Wahoo, averaging 35-40 pounds with a bunch of 50's and quite a few 60's scattered in. It was surreal at the Ocean Isle Fishing Center docks on Saturday and Sunday PM as boats came in to offload and show off their catches. Boat after boat with boxes full of monster Wahoo. The reports were of multiple hookups, Wahoo skyrocketing through the air packs attacking spreads and lures with incredible speed and aggressiveness. Our area typically has very good Wahoo fishing all through the Winter, and I can only dream that this type of action will continue. If it does, you can go ahead and mark Brunswick County as Wahoo destination #1 in the world, because this past weekend's action was world-class. But wait, there's more. You want King Mackerel? They were chewing the props off the boats in the 25-35 mile range. The Atlantic Ledge and BP 25 areas both were holding school Kings in the 8-20 pound range. If you could find the bait and thus the Kings, you could not get a live or dead Cigar Minnow 20 feet out of the boat before it was consumed. If you got bored with that, simply drop a bait to the bottom and hang on, the Grouper bite was on. The Gag Grouper are still around in good numbers and they, like the Kings, are focusing on structure in 70-100 feet of water where there is bait. And last but not least, the Speckled Trout bite is off the hook as well. I'm no inshore guy, but when the Trout guys come to the dock and see all the Wahoo, Kings and Grouper and they are not impressed, then I know they must have something going. Capt. Kyle with the Ocean Isle Fishing Center is hosting his annual Thanksgiving Trout Classic this coming weekend. He and other inshore guys report the Trout fishing is incredibly good. Clay Morphis of Ocean Isle weighed in a 7.4 pound Trout to take the OIFC year-round Rodeo lead. If you have interest in Capt. Kyle's Trout Tournament, give him a call at 910-840-7186 or visit the OIFC website at www.OIFC.com .
I don't know what more I can say. I sure hope you were here, and if not, I sure hope you had a good excuse. At this moment as I'm pecking away on the keyboard, its 5am, my crew is loading the boat, and we are about to go fishing. Wahoo are on the menu.
- Capt. Brant McMullan