Capt. Brant's Fishing Report
"Last Bluefin of the Year" | Show Time | 12/31/03
According to Capt. Brant things were back to normal with the bluefin fishing again today after yesterday's big blow. Today the wind was from the northeast around 15kts with 3-4 ft. seas. Brant and Roger guided a husband and wife for the wife's first ever saltwater fishing trip. She proved be a quick learner and with a little coaching was able to make her very first catch one that she will certainly always remember. The Showtime was able to catch and release two giant bluefin this morning before 9:00am. The fish were roughly 85 inches and 90 inches. After 9:00am the bite was very slow with only a few boats hooking up. Brant reported that more and more recreational fishermen are beginning to show up again in preparation of the two days of commercial fishing that are coming up Jan. 2-3. Today was a great ending to the 2003 bluefin season. Up to this point fishing could not have been better. Every single charter trip taken this year has been successful and most of the time multiple fish are being caught. There is no reason why this should change in the next few weeks as the conditions continue to hold steady. The Showtime will be back on the water tomorrow, new year's day, to try and get 2004 off to a good start. Happy new year to all and let's hope the fishing remains as good in 2004 as it has been in 2003.

Correction on the available dates for bluefin charters: Jan. 6-9 is the correct dates for openings to go bluefin fishing on either the Showtime or the Carolina Contender.
- Capt. Barrett McMullan
---
"ROUGH!!!" | Show Time | 12/30/03
Well, if it's too good to be true it probably is. Finally, after several days of relatively good weather up in Morehead things deteriorated quickly this morning for Capt. Brant and Capt. Roger who were guiding the same group today that caught four giant bluefin tuna yesterday. After visiting the main charter dock this morning and seeing that not a single boat was going to try their luck today Brant began to question going after the tuna today. But, his crew was hardy and they were well aware of the challenge at hand and opted to go for it. The wind was blowing about 25 kts out of the southwest which made crossing the Cape Lookout Shoals not exactly the most relaxing thing to do at 6 am. Nevertheless they made it across and stopped about a mile short of the 30 minute rock to begin fishing in the heavy seas. Just after getting the second line out it was on. Fighting these giants when it is calm is hard enough but throw in 8-10 ft seas and now you are at the extreme end of any possible outdoor activity. The crew battled the elements and succeeded in catching what Brant said was the biggest Bluefin he had ever caught measuring over 100 inches. What an accomplishment considering the conditions. The bite started fast, but surprisingly that was all the action the Showtime would see today. Brant reported that things seemed to change today besides the weather. There wasn't near the bait there has been being and the water temperature was way down, not to mention that they were the only boat out which made locating the fish more difficult. Thankfully the weather is supposed to improve tomorrow so hopefully the fish will be located. The Showtime will be fishing the next two days and I will be reporting in with the what they experience.

Jan. 5-8 are still available on either the Showtime or Carolina Contender. Call 910-279-4606 to book
- Capt. Barrett McMullan
---
"More Bluefin" | Show Time | 12/29/03
Capt. Barrett reporting in for Capt Brant and Capt. Roger again. More of the same type incredible bluefin action today. Once again the fish were hanging near the 30 minute rock and indulging themselves on the schools of pogies. Brant did report an unusual siting today, amongst a group of bluefin fishing boats all of a sudden about 50 giant tunas rose to the surface in a feeding frenzy chasing shad out of the water. He said it was amazing to see the fish feeding that way and that boats were actually backing up to the pod of balled bait within 10-15 feet and were tossing their own baits into the malay and hooking up. I believe Brant has some good videos and pictures of this sequence of events that he will post when he gets a chance to come back to Ocean Isle. All in all the Showtime had another great day going 4 out of 5 with the biggest fish in the 95 range weighing around 500lbs. In addition to the feeding tuna Brant and Roger also encountered numerous whales, dolphins and frenzied gannet birds eating shad. Sounds like an ideal bluefinnin' day off Morehead. Just another reminder, due to some cancellations we have availability for bluefin charters between Jan. 4 and Jan. 8. The fishing should remain outstanding for the next few weeks so don't miss out.
- Capt. Barrett McMullan
---
"" | Show Time | 12/28/03
Brant reported today that once again the bite was red hot. Brant and Roger took a group of two men and three women to a full eventful day of bluefin hunting. By 10am 3 of the anglers had successfully caught and released 3 giant bluefin all over 80 inches. These bites came around the 30 mintute rock which continues to hold massive amounts shad. At about 12:30 Brant took the Showtime closer to the shoals and found another good spot of bait and it wasn't long before they were hooked up again. Two fish were caught and released in this area before the crew decided to call it a day. Bluefin fishing over the past week has been as good as its ever been. The good weather has been a bonus and the fish seem just to be waiting to test the fishermen. Due to a cancellation of a charter, a few dates have opened up starting next week including Jan. 6, 7, 8, and 9th. Give us a call to book a trip at 910-575-3474 or 910-279-4606.
- Capt. Barrett McMullan
---
"Bluefin Blitz" | Capt. Hook | 12/27/03
I have just returned from Morehead off of a Bluefin charter that proved pretty interesting. On our first hook up we got into another boats fish and ours was cut off. On our second hookup the braid was tangled on the reel and 130 lb snapped like wet cotton. On the third hookup we hit home with a release of a beautiful fish over 100 inches long. He whipped all four anglers and gave Sumo and myself a test of mating and boat handling 101. But we made a succesful release with the fish in good shape so I guess we passed!! On the fourth hookup the hook pulled ten minutes into the fight. On the fifth hookup, you guessed it we hit home again with a fish just over 80 inches long. On the sixth hookup our top shot pulled out. But as you can tell the bite was on!! We just had some hard luck with a little good luck mixed in!! All in all it was a great trip. In the pictures you can see the pressure these giants put on a rod. Also I got to snap one before I had to put the camera down and help out with the leader. I talked to Roger and Brant and I am sure you will see an awesome report posted from the Showtime.
- Capt. David Hooks


---
"WOW!!!" | Show Time | 12/27/03
Capt. Barrett reporting in for Capt. Brant again today. Capt. Brant and Capt. Roger guided a group of three today aboard the Showtime in search of tangling with a giant bluefin. The wind was from the north around 15-20 kts and the temperatures were in the 50's or so. It didn't take long for the mission to be accomplished. At 6:45 am the first hookup came near the 30 minute rock on the east side of Cape Lookout shoals about a 20 mile ride from the docks at Morehead City. From 6:45 am until 11:00 am Capt Brant and Capt Roger kept their crew sweating as they managed to hook 6 bluefin catching and releasing 5 of them and breaking one off right at the boat. The biggest fish seen today was again around 95 inches reaffirming the abnormally large size of the fish this year on average. The crew did a great job battling all of these monsters and with the great memories and stories they now have, they also elected to mount the big fish of the day. We have a mount of a giant bluefin at the OIFC and it is honestly one of the most impressive and beautiful mounts that you can get. A true trophy. Brant reported there were around two dozen boats fishing the area today and most found good success with the bluefin. There is a large amount of bait hanging around the 30 minute rock area attracting the bluefin. The weather is supposed to remain stable for the next few days so fishing should remain outstanding. The Showtime will be fishing everyday for the next week but I believe there might be a few openings on the Carolina Contender. Come take your shot at conquering a giant and take home a trophy of a lifetime.
- Capt. Barrett McMullan
---
"AVAILABLE BLUEFIN CHARTERS" | Show Time | 12/24/03
As Capt. Barrett has reported for me the past few days, the Giant Bluefin Tuna fishing is as awesome as ever, with the added bonus of fish being larger than usual. Our main charter season will begin immediately following Christmas. Capt. Barrett, Capt. Roger and myself will be running the "Show Time" and "Carolina Contender" guiding fishermen from all over the country who seek to test their angling skills against the biggest and toughest sportfish in the ocean.

UPCOMING OPEN DATES:
Jan 1st & 2nd- Show Time
Jan 6,7,8 & 9 - Show Time and/or Carolina Contender
Many dates open after Jan 15th as we will charter thru February 10th-
Call Capt. Brant direct at (910) 279-4606 if you'd like to get a trip set up-

Also be aware that due to Federal Regulations, the Giant Bluefin fishery is strictly catch and release. It is illegal to kill a Giant Bluefin Tuna, thus all fish must be released. Its about the experience, not how much meat you can put in your freezer. There are many other more desirable food fish in the ocean that are much less majestic and spectacular than the Giant Bluefin.


- Capt. Brant McMullan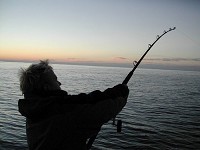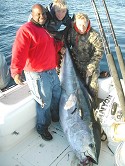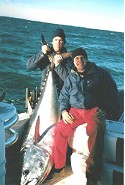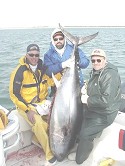 ---
"Giants!!!" | Carolina Contender | 12/23/03
Once again updating you on bluefin tuna fishing via Capt. Brant. The Carolina Contender produced yet again yesterday according to Brant who along with the same crew from the previous day released three more giants. This charter crew managed to catch and release 6 giant bluefin in two day's of fishing, which they can attest to as being more than enough action to keep them busy as well as enough to give each of them some aching muscles. Yesterday the fish were scattered but Brant chose to fish around structure, temperature breaks, and bait marks to find the fish. Two fish were caught around the 30 minute rock area and the third fish was caught near the D-Wreck all on the east side of Cape Lookout. Brant reported that the first fish they caught was at least as big as any bluefin he had ever caught measuring in the neighborhood of 100 inches and extremely fat. The other two fish were no minnows either with one measuring 90 inches and the other at 85 inches. All three fish were caught by trolling pristine horse ballyhoo behind skirts on the surface and down deep. The action continues to remain consistent and the fish are bigger this year on the average than we can ever remember. The next scheduled trips start on the 27th and run through the 4th so we should have an exact bead on the fish in the coming week. If you want to come join the fun with us call to book a trip, or if you care to venture out in your own boat come by the fishing center and we'll help to rig you up and steer you in the right direction. Happy holidays
- Capt. Barrett McMullan
---
"Bluefin x3" | Carolina Contender | 12/21/03
I just got off the phone with Capt. Brant who is in Morehead City to pick back up on the giant bluefin tuna fishing. We have now started the charter fishing season for these monsters and if you are interested in testing your mind and body against a 300+ lb animal made of solid muscle then give us a call to set up a trip. If you can bear the cold conditions that Brant and his crew faced today then most likely you will see some serious bluefin action this time of year. Today Capt. Brant guided his charter aboard the Carolina Contender to three successful hook-ups and releases of giant bluefin tuna. He reported that the bite was hot and they were hooked up nearly the entire trip. The bite happened about 15 miles from the dock near the P-buoy and also D wreck on the east side of Cape Lookout Shoals. All three fish were released unharmed with the anglers gaining the satisfaction of beating these huge fish with pictures to prove it. The first fish caught was the largest of the day measuring nearly 100 inches weighing in the neighborhood of 550 lbs. The second fish was a baby measuring 65 inches, and the third was around 75 inches. A very successful day despite the cold weather first thing this morning. Tomorrow should be a post card day with flat seas and relatively warm temperatures into the 50's and maybe 60's. The fishing should remain very consistent for at least the next month. Don't miss out on this chance to tangle with a giant. Until tomorrow . . .
- Capt. Barrett McMullan
---
"Today's Report" | Show Time | 12/18/03
After a week of rest and getting things in order for the holidays, its about time to head back to Morehead and get after the Bluefin. I'll be charter fishing from the "Carolina Contender" on Sat-Tues, so stay tuned to the new reports and pictures that are hopefully soon to come. I understand the Bluefin have pretty much had a free run of it, and I'm anxious to give them something to chew on. All fishing will be done as catch and release. The value is in the ultimate big-game fishing experience of a lifetime. Stay tuned.
- Capt. Brant McMullan
---
"LOOKING FOR 2- GIANT BLUEFIN CHARTER- DEC 23,26 or" | Show Time | 12/15/03
I have a couple of folks looking to add 2 more to their group to fish either Dec 23, 26 or 27 on the Show Time for Giant Bluefin Tuna. The cost for the 2 people would be $475. Call (910) 575-3474 if you have interest and ask for Capt. Brant.
- Capt. Brant McMullan
---
"Bluefin Season Kicks off with a BANG!" | Show Time | 12/12/03
Loading the player...
|
Video Clip 2
Loading the player...
The bite has been as red hot as you could ever want it to be. We fished three days in row, Mon-Weds and caught Bluefin ranging from 300-400 pounds every day. The fish were holding off the end of the Knuckle buoy at the end of the end of the Cape Lookout Shoals from 40-80 feet of water along a temperature break from 58-70 degrees. The shoals were covered in schools of giant Pogys and the combination of the plentiful bait and nearby temperature edge drove the Bluefin into a feeding frenzy. Each morning the bite occured from daybreak until 9-10am and then fizzled by noon or sooner. But whatever baits you could keep in the water during that time would not stay out very long. The unusual thing this early season is that the Bluefin are abnormaly large. Typical in December you get a mix of fish ranging from 65-80+ inches but this December we've caught and released some 15 Bluefin and none has been less than 80 inches in length. For reference, an 80 inch fish is approximately 300-350 pounds.
December is typical considered the warm-up month for Bluefin fishing off the Carolina coast with January as the peak month. If this is the case, I can't wait to see what January brings as I can only imagine just how many and how big these giants are going to get.
If you ever wanted to participate in a world class fishery catching the biggest of the big-game fish that swim the ocean, this is your best chance. Its not like Blue Marlin fishing and waiting for hours to get a bite. The success ratio is very high and you stand a great chance of encountering mulitiple fish in a day, often times multiples on at one time.
Check out some of the photos as well as the neat video clips I took. The videos will take a little longer to load, but I think you'll like them. For now, I will be taking a short break from the Bluefin fishing and get back to it around Christmas time and then hit it very hard by New Year through January. My charter calendar still has openings, so if you have interest, give me a call at (910) 575-3474 and I can give you the details on the trip.
- Capt. Brant McMullan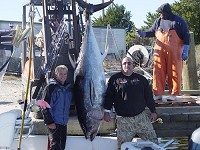 ---
"Catching Up" | Capt. Hook | 12/11/03
Well we have done everything from Bluefin Tuna fish to pulling the Capt'n Hook through the Columbus County Christmas Parade with The Red Hats aboard and throwing candy. The Bluefin have shown up in great numbers off Morehead and for the most part seem willing to bite! And let me tell you this is the ultimate test of man againist beast on stand up tackle. The Capt'n Hook is rigged out and loaded for bear to help you experience the fish of lifetime. Stay Tuned!!
- Capt. David Hooks

---
"Today's Report" | Stori Teller | 12/11/03
The Redfish are biting great- fish averaging 3-8 lbs on light tackle while casting artificial grubs- A must see fishery for the light tackle enthusiast- let's go fishing!
- Capt. Stan Gurganus
---
"Blufins Biting Like Bulldogs" | Show Time | 12/08/03
I just hung up the phone with Capt. Brant. Both crews of the Showtime and Carolina Contender were lucky again today. The Showtime boated a 84" fish and the Carolina Contender hauled one over right at the 82" mark. These fish are running in the 300 - 350 lb class are one heck of a one on one battle! Pictures will be updated when Capt. Brant returns to the OIFC.
- Capt. Brandon Sauls
---
"Bluefin x 2" | Show Time | 12/05/03
Today the same all-star crew of Captain Roger, Captain Brant, Captain Barrett, Captain Stacy and court jester Captain Sumo once again fought the less than perfect conditons off of Morehead City in search the giant bluefin. Conditions were 7-8ft. swells with a 3 ft. chop, a rather pleasant 50 degrees and overcast. We left in the dark and fog but made our way to the area we caught our fish yesterday around the Beaufort sea buoy and had lines in just as you could begin to clearly see the cockpit. After searching for a few hours we finally got in the right area where the fish were being caught about 18 miles out of Beaufort inlet. The bait was thick and the bluefins were plentiful. You could actually mark the individual fish on the depth finder. It was a matter of time before the fish rose from the depths and began feeding in full force. We finally saw our action around 11am when the long line and the deep trolled line both took off simultaneously. After about 5 minutes one of the hookups spit the hook but the other was not so lucky. After 45 minutes and several rounds of pulling for each member of the team the fish was beat. The second bluefin of the year in as many trips for the Showtime- still batting .1000. This fish measured 82 inches and weighed in the 300 lb range. Back at it again tomorrow weather permitting. Stay tuned.
- Capt. Barrett McMullan
---
"Bluefins are Here" | Show Time | 12/04/03
We braved the cold wind and rain today in search of a bluefin. They are now here and starting to bite. We caught a bluefin today 79" - 300lbs. Book a trip today.! The fishing will on proceed to get better over the next couple of weeks.
- Capt. Brant McMullan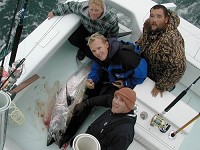 ---
"Today's Report" | Show Time | 12/02/03
Well, its time for Bluefin Tuna season but the weather has been BRUTAL. Strong winds persist although there are reports of some Bluefin being caught off of Morehead City. I'm not diving head first into the season yet as I want to wait another few days until they become more abundant and hopefully the weather will settle a little- stay tuned.
- Capt. Brant McMullan
---
"TODAYS REPORT" | Carolina Contender | 11/28/03
It's windy and rough here. No offshore fishing this weekend, but we are hosting our 1st annual inshore tournament and have 15 boats registered to compete to catch the largest Flounder and Trout. Boats will scatter from Southport to Little River in search of the biggest fish. The Trout have been biting good with many fish in the 2-3 pound range. The Flounder fishing has been winding down, but I wouldn't be surprised to see a late season monster top the board as the biggest Flounders will stay inshore until the very latest in the season, getting fat on Mullet. Stay tuned for results.
- Capt. Brant McMullan
---
"SKA Nationals Report" | Carolina Contender | 11/26/03
In a word- WOW! It was the best King Mackerel fishing ever experienced in the history of tournament fishing- no exageration. Some 350 boats weighed 55 Kings over 50 pounds and 175 Kings over 40 pounds- and that's just fish that were weighed. Aboard the "Carolina Contender" we had exceptional catches both Friday and Saturday with a 46 pounder on day 1 and a 50 pounder on day 2 for a 2 day aggregate of 96 pounds- that would have finished 2nd last year, but fortunate or unfortunate, depending- it put us in a respectable 23rd place in the tournament- And although it wasn't a top 3 finish, as long as you can place in the top 10% you've done well in my book. Each day we caught and released some 30-50 King Mackerel ranging from 25-50 pounds. We likely caught a dozen over 40 pounds with many in the upper 40's. It was an incredible experience and a great way to cap off the 2003 season. Here are a couple of pictures.
Locally the fishing is great for Kings and Grouper in the 25-35 mile range. We will start our Giant Bluefin Tuna fishing season next week, so stay tuned. Everything this season has been running behind, so we'll have to see if the Bluefin are on time or not
- Capt. Brant McMullan



---
"Latest Report" | Capt. Hook | 11/24/03
Well as a lot you know Captain Stacy, Alan, Ned, Jim and I went to Biloxi to compete in the Naitionals for the SKA. We were entered in the 23 and under division and let me tell you there is some stiff comp there!! Upon arrival on Tuesday of last week we were greeted with gray skies and howling winds. Well who would figure any different for a Tourney! So our prefishing plan was shot but we decided to go Thursday and get some Hard Tails penned up for game day. As we checked out Friday morning the wind was calm and the seas were flat. No argument here. We hit our targeted rig about 40 miles offshore and pulled the throttles back. On the first bait I deployed a 40 pound King hit it, burned my thumb, went through another boats lines but still ended up in the box. There were some choice manuvers to make that happen. We ended up catching and releasing several nice fish from 30 to 45 pounds and scaled a 46.65. Not bad for day 1. On Day 2 we returned to the same spot and found a smaller grade of fish 25 to 30 pounds. A 31.10 was all we could muster and put us in 27th place overall. We had lots of fun and bluebird weather and thats what counts. Capt'n Stacy and Alan ran a trip on the Saturday before we left and caught several nice Kings, and they also had some pretty good grouper and American Reds. Stay tuned we are hoping for a Wahoo trip over the holidays!!
- Capt. David Hooks
---
"Today's Report" | Carolina Contender | 11/17/03
We fished the USAA National Championship over the weekend and weighed a 47.85 pound King Mackerel to take 2nd place in the tournament. Myself and family are now heading to Biloxi, MS to fish in the SKA National Championship tournament, which will conclude our 2003 King Mackerel tournament season. We've done well this season, placing consistently in the top 10 and winning the USAA Angler of the Year title, 2nd in the USAA Nationals and now the final piece is the SKA nationals- wish us luck.
Here at Ocean Isle the King Mackerel fishing remains strong. The Kings have moved from the Jungle area a few miles east and are holding in the Offshore 65 foot hole. Pogys are still on the beach, but there is also plenty of live Cigar Minnows to jig at the fishing holes. The Gulf Stream reports from the weekend were not very encouraging as only a few Wahoo were captured. The Sea Bass are biting near shore and the Flounder and Drum are inshore with the Speckled Trout beginning to make a show. Don't forget our 1st annual Flounder and Trout Classic held from the Fishing Center after Thanksgiving- see the below link for details- http://www.oifishingcenter.com/tournaments.cfm
- Capt. Brant McMullan
---
"Today's Report" | Carolina Contender | 11/12/03
The weather has been decent past couple of days but it looks to kick up rough until the weekend. Kings were caught yesterday at the Jungle and 65 foot hole. Pogys are still plentiful off of Holden Beach and Long Beach.
- Capt. Brant McMullan
---
"Season recap- weekly report" | Carolina Contender | 11/10/03
Local Teams Win King Mackerel Crowns on National Level
by Capt. Brant McMullan
It's been a long season, but for myself and many other tournament King Mackerel fishermen, it's been a year full of challenge and mystery. Here in the Carolinas, the tournament season kicks off in May with the Spring Frantic Atlantic and finally wound down this past weekend in Morehead City with the Toys for Tots King Mackerel tournament. The early season started fairly typical with mostly smaller Kings being caught and the majority of fish holding offshore in 65+ feet of water. The area around the Frying Pan Tower produced the most fish. In June the 30/30 located on the East side of Frying Pan Shoals was the hot spot and produced many of the typical 30+ pound Kings it takes to win events. There were scattered fish caught at typical spots such as the Jungle and Shark Hole, but most of the fish were abnormally small. By July we had a few sporadic bites of bigger Kings, but the fish continued to be abnormally small all around which led to tournament winning fish being smaller than normal. At this same time the southwest winds kicked in and we began the unusual upwelling affect which led to water temperatures being well below average which contributed to the near disappearance of King Mackerel. There were scattered Kings caught at different spots, but the only consistent producing spots through September were Georgetown Inlet and the Frying Pan Tower area. Most fishermen including myself struggled just to catch a fish during this period. Case in point, my brother Capt. Barrett and I fished the Atlantic Beach King Mackerel tournament out of Morehead City in early September. In this tournament the unpredictable weather and poor fishing led to only 250 boats signing up for what is usually a 500 boat tournament. Barrett and I felt like the fishing was so bad that if we could just catch a fish we'd be on the leaderboard. Thus we ran some 100 miles south and fished offshore around the Frying Pan Tower in 4-6 foot seas and caught a 20 pound King which would believe it or not finish 6th place in the tournament. That is the smallest fish to ever even make the leaderboard that I'm aware of, nonetheless finish in the top 10. In fact, there were so few fish weighed in (24 on the first day and 15 on the second day) that they didn't have enough fish to fill all the places on the leaderboard. That tournament personified what had been a tough year of King Mackerel fishing. But then came Hurricane Isabel, which was a horror to the folks at Hatteras and to the north but a savior to our fishermen in this area. The strong winds and rough seas reversed the upwelling affect and brought the water temperatures closer to normal. Immediately following the storm we had the best day of King Mackerel fishing of the entire year. For the next few weeks the fishing got progressively better with the Kings finally moving into the Cape Fear Ship Channel and getting back on schedule. In the US Open tournament held from Southport some 500+ boats registered and there were over 40 Kings weighed-in over 25 pounds with a 43 pounder taking 1st place. And from then on King fishing was good and became awesome by mid to late October. The Pogys have continued very abundant along the beaches and the water temperatures have stayed unusually warm. The pattern seems to indicate that fishing is running some 2-4 weeks behind schedule as the Kings are still in the 10-25 mile range whereas they are typically in the 20-30 mile range this time of year. Anyway, as you can see its been a season of ups and downs, but through it all a few teams managed to endure and adapt to succeed in the long term scheme of things. In the Southern Kingfish Association (SKA), their annual Pro Tour includes five tournaments from Louisiana to North Carolina where teams compete to accumulate points by finishing high in five Pro Tour events. At year-end, the team with the highest point total wins the coveted Angler of the Year title. Another similar organization to the SKA called the U.S. Anglers Association (USAA) also exists, however it focuses more on fishing exclusively in the Carolinas. Like the SKA, the USAA sanctions King Mackerel tournaments and awards points, which eventually lead to a year-end Angler of the Year. Here in Brunswick County, three fishing teams rose to the top of the platform as they competed and eventually won Angler of the Year titles. Dean Spatholt of Calabash fishing his 31 Contender, "Fish Meister" had an exceptional year fishing the SKA Pro Tour placing very high in 4 out of the 5 pro tour events and finishing a very close runner-up in the Angler of the Year race. His finishes included a 3rd in Ft. Pierce, FL, 6th in Golden Isles, GA, 3rd in Morehead City, NC and 6th in Fourchon, LA. That's an exceptional season on a national field and congratulations and thanks for representing our fishing community are in order. In the U.S. Anglers Carolina wide series a duel unfolded between Shallotte fishermen John Hunt with crew Maryann Webb, Andy Broadwell and Lauren Brambe fishing aboard the 32 Donzi, "Direct Connect" and myself, wife, Amy, brother, Barrett, father, Rube of Ocean Isle fishing aboard our 27 Contender, "Carolina Contender". All season both John and I fished our regular schedule of some 10-15 tournaments and both of us had consistent top 10 finishes with no heroic 1st place finishes. But that's not what Angler of the Year is all about. It's about consistently placing and accumulating points all season. Sure you get more points for a 1st place finish, but two 5th place finishes are better than one 1st place finish in the point system and thus consistency is rewarded. Coming into the last tournament held this past weekend out of Morehead City, the "Direct Connect" was some 30 points ahead of the "Carolina Contender" for the Angler of the Year title. To that point, the tournament results were as follows- "Direct Connect"- 3rd Swansboro King Mackerel Tournament, 4th Shallotte Inlet King Classic, 6th Wrightsville Beach King Mackerel Tournament, 6th Topsail Offshore Fishing Club King Classic, 9th HOOK King Classic, 14th Sneads Ferry King Mackerel Tournament, 17th Jolly Mon King Classic, 17th Raleigh Fishing Club King Mackerel Tournament and 20th Greater Wilmington King Mackerel Tournament. For the "Carolina Contender"- 4th South Brunswick Islands King Classic, 5th Teach's Lair Shootout, 6th King of the Cape Classic, 6th Atlantic Beach King Mackerel Tournament, 6th Coral Bay Open, 9th Sneads Ferry King Mackerel Tournament, 10th Wrightsville Beach King Mackerel Tournament, 11th Toys for Tots King Classic. However, it all came down to the final event as myself and team would need to best John by at least three places on the leaderboard in order to win. It was really a tragic and not-so heroic ending, but it was the way fate unfolded and proof that skill is only part of the equation as your equipment and luck are strong factors as well. Both John and I fished north off Hatteras in the horrible weather, which brought seas in excess of 10 feet. We fished pretty much side by side and although there were some nice 30+ pound fish caught around us by other anglers, neither of us had the hot hand as we could only produce small fish. John left early knowing that he needed to be sure to weigh whatever fish he had in order to get the points and make my team's opportunity to win much more difficult. I fished right up until the last minute, but could not catch the big one I needed to insure the victory. We were fishing some 70 miles north of Morehead City and had 20 miles of running in 10 foot seas along with another 50 miles of running the Core Sound in 3-4 feet of water with 3-5 foot seas and nets and crab pots everywhere. If you've never run the sound behind the Outer Banks you've missed an adventure. I pushed the throttles to the dash on the "Carolina Contender" and we rushed to put our fish on the scales not knowing what John had caught. About halfway down the Core Sound I could see a boat ahead weaving and attempting to dodge the pound nets that often protrude into the channel. I kept on the throttles, following my marked course through the sound that I've become very familiar with. Up ahead I saw a boat idling and as I approached I recognized it as John and Andy on the "Direct Connect". Tragedy had struck as they had hit one of the pound nets and thus spun the hub in their propeller. They were on one engine and would not be able to make it to the scales in time to weigh-in. I stopped to insure they were OK and left my phone number to call me if they needed help. And thus fate had opened the door as I again dropped the throttles and took off to make the weigh-in. It was close as we made the weigh-in with only minutes to spare, and despite only weighing a 17 pounder and finishing 11th in the tournament, it was what was needed to propel the "Carolina Contender" into 1st place in the USAA Angler of the Year race. Thus, I'm happy to say John and I have succeeded in bringing back both 1st and 2nd place Angler of the Year for the entire Carolinas right back here to Brunswick County. Congratulations to John and team of the "Direct Connect" as well as the team of the "Carolina Contender" for an outstanding year in what was otherwise a not so outstanding year for King Mackerel fishing.
Right here, right now the King Mackerel fishing remains great. Right up until the weekend cold front the Kings were biting like mad at the Jungle and Shark Hole. Things look to settle by mid week, and I think the Kings should not have moved much. Offshore in the Gulf Stream the Wahoo are out there, but the weather has not allowed many fishermen to get to them. The Spots are still inconsistent at best and the Flounder bite off the Ocean Isle Fishing Center docks has been sporadic but red hot on a few occasions. All in all, Fall fishing is still in high gear, so come on down and join in the fun. I want to again remind you that the Ocean Isle Fishing Center's 1st annual Thanksgiving Flounder and Trout Classic will be taking place November 28th-29th. Registration will be on the 28th with fishing on the 29th. I hope the tournament will offer a good opportunity to get out on the water with family and work off some of the Thanksgiving feast you've no doubt gorged yourself on. For information call the Fishing Center at (910) 575-FISH or visit www.oifishingcenter.com
- Capt. Brant McMullan
---
"Today's Report" | Carolina Contender | 11/09/03
We enjoyed a very nice and productive week of fishing but that all came to a hault with this cold front. It's been too rough to fish since Saturday, but the King Mackerel fishing continued excellent all week thru Friday. The winds look to settle by Tuesday and I'd expect the Kings to be right back at it- they may move offshore a bit, but I really expect them to be in the same areas.

- Capt. Brant McMullan
---
"Latest Report" | Capt. Hook | 11/08/03
Fishing has been real good while the weather was good. It also seemed to deteriorate as the weather did. The live bait has been fairly easy to get and the Kings seem to like dead ciagrs almost as good as live bait!! The normal spots---Jungle, Shark Hole, 65 Foot Hole and etc. have all been holding fish. We have also had some good bottom fishing trips in the 4 to 10 mile range catching nice Black Bass and a few Flounders as Capt'n Hook Sr. shows off in the picture. We will be fishing this weekend and then heading to Biloxi, Ms. to compete in The National Championship. I will be with Capt'n Stacy and fishing in the 23 and under division. Stay Tuned this should prove interesting!!
- Capt. David Hooks


---
"Today's Report" | Mac Marle'n | 11/05/03
Another hot day fishing at the Jungle. Caught over a dozen Kings from 10-25 pounds. Pogys were still off of Holden Beach. There was a large crowd at the Jungle and everyone is catching fish left and right. The Kings are also biting good at the Shark Hole, Atlantic Ledge, Horseshoe and believe it or not there were several fish caught this AM at the 390/390- its turning out to be a late season and looks as if the fishing will continue good through the month.
- Capt. Roger Gales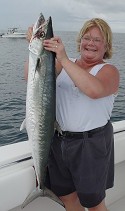 ---
"Today's Report" | Carolina Contender | 11/04/03
Hot bite again today at the Jungle with Kings from 12-30 pounds. Pogys were off of Holden Beach but there are also pods of Sardines just inshore of the Jungle that are easy to jig and also very good bait. The Kings were biting so good that live or dead bait didn't matter at all.
- Capt. Brant McMullan
---
"Today's Report" | Carolina Contender | 11/03/03
Super hot King Mackerel bite at the Jungle this weekend. Also the Kings were biting pretty good at Christina's ledge, Little River offshore reef and 65 foot hole. The Pogys are hanging around unusually long this season and are still plentiful off of Ocean Isle and Holden Beach. King Mackerel fishing is very hot, so don't miss the chance to get out there ASAP.
- Capt. Brant McMullan
---
"Today's Report" | Carolina Contender | 10/28/03
It was a very dreary day on the coast. It rained most all day, but the good news was that the winds stayed light and allowed for fishing the offshore King grounds in fair comfort- other than being soaking wet all day from the rain. The Kings were hot and heavy at the Jungle in the AM until about 11am when they slowed down to near nothing and the Sharks took over. The action was very sporadic through the rest of the day, but Kings could be seen skyrocketing bait and it was obvious they were there but not feeding.
- Capt. Brant McMullan
---
"Today's Report" | Mac Marle'n | 10/27/03
Loading the player...
|
Video Clip 2
Loading the player...
Crushed them again today at the Jungle. The fish were biting like mad dogs and we took full advantage. This AM it was pretty rough with a big, sharp swell from the southeast. Luckily there was not much wind on it and we made our way offshore at an easy pace. We stopped by the Little River Offshore reef and jigged plenty of live Cigar Minnows and were then off to the Jungle. Capt. Roger and I set 3 lines and it was 3 fish on within minutes. There were a few 10-15 min lulls, but for the most part we stayed busy with Kings from 8-25 pounds. The Kings were hitting top lines and downriggers, it didn't seem to matter. At one point several pods of Kings could be seen skyrocketing schools of bait as the birds hovered overhead. A lot of fish and some pretty decent sized ones. Check out pics and video clips.
Also had a nice 10lb Flounder caught by Joe Swails weighed in at the Fishing Center- check it out
- Capt. Brant McMullan


---
"" | Carolina Contender | 10/26/03
A fun-filled weekend of king mackerel fishing resulted in some aching backs and sore knees. The weather was very tough this weekend which made getting to the areas where the kingfish were holding difficult. However, if you could get there, the kingfish did not dissapoint. Live bait on the beaches is becoming more and more elusive. Fortunately, there are plenty of live cigar minnows on the artificial reefs to jig and also dead cigar minnows are working fairly well. Brant and I took the Carolina Contender up to Morehead on Saturday for a kingfish tournament and battled the conditions for a 24.62 lber. Nothing to write home about but good enough for sixth place. Keep your fingers crossed for some good weather this week and coming weekend for the Wrightsville Beach tournament and the Frantic Atlantic. If we can get some good weather the fish will be chomping.
- Capt. Barrett McMullan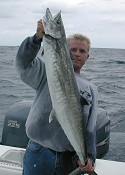 ---
"The Bite Was ON!!" | Capt. Hook | 10/25/03
We ran a trip Thursday that started out a little testy!! The wind was 15 to 20 out of the NW the Ocean a little sloppy, the air about 50 degrees, getting some sea spray every once in a while, you know fall fishing. The first stop was the 65 foot hole and the dog sharks were chewing!! We decided to run to the Jungle area. When we arrived it was slow but the wind started laying out. As soon as it calmed down to an almost slick ocean we started "gettin it done" as the customers stated. We caught a limit of 15 Kings in about 2 hours after they started hitting. They were skying the baits and we finally went down to pulling 2 lines!! Thats how we like it!! The fish were any where from 10 to 25 lbs and averaged around 15lbs or so I would guess. We made a stab at it again Friday but it was a bit too rough to get where we needed to be so we decided to cut it short and shoot for another day. Stay with us the fall bite is on!! I have heard some horror stories about boats catching a dozen or so WAHOO on single trips to the stream. I plan to give that a shot soon.
- Capt. David Hooks

---
"TODAYS REPORT" | Show Time | 10/25/03
Kyle and I embarked on a fall kingfish mission today. After jigging bait at the bardges our sights were set on the jungle. We managed to catch several nice kings, and plenty of sharks. Fall fishing is in full swing. Now the only problem is getting the weather to cooperate.
- Capt. Grady Gordon
---
"TODAYS REPORT" | Mac Marle'n | 10/23/03
King Mackerel are back to chomping today. Limited out and released another 10 or so. Very hot bite after 1pm at the Jungle. Menhaden are getting difficult, so we opted for dead and live, jigged Cigar Minnows. The Kings definitely don't mind.
- Capt. Brant McMullan
---
"Today's Report" | Carolina Contender | 10/21/03
Incredible King Mackerel fishing! Barrett and I went yesterday and caught fish until our backs hurt. We released 2 over 30, the biggest at 35 pounds. Pogys are thick on the beach and the Kings are sky rocketing all over the baits. We caught fish at the Jungle, but there is also a good bite at the Cape Fear Sea buoy and Shark Hole.
- Capt. Brant McMullan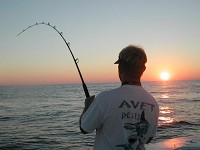 ---
"Fall Brawl Update!!!" | Carolina Contender | 10/16/03
Hot off the press!!! The bite is on. Just had a few fish weighed in here at the Ocean Isle Fishing Center. Sounds like when the wind shifted from the east to the south the bite turned on. This happened around 1:00 pm. Pictured is Lee Frick and his 31.5 lb slab and Mark Stacy's and Kickin' Salt's 25 lber. Mark reported a good bite at the 65' hole this afternoon and Lee's fish came from the 390/390. Everything is shaping up for a great tournament. Don't miss out. By the way, the bite should be red hot tomorrow with the light south wind forecasted. Bait is all over the beach as far as the eye can see.
- Capt. Barrett McMullan


---
"Tournament Forecast" | Carolina Contender | 10/16/03
Here we go it's Fall Brawl Time! It's mid-October, we have a north wind in the forecast, the spots are running the beach, and the kings are hot on their heels, what else could a tournament fisherman ask for?

The Fall Brawl has got to be one of the easiest events to fish due simply to the fact that you can almost be guaranteed it will be wonfrom one of four spots either the Cape Fear Ship Channel, the Lighthouse Rocks, the 390/390 or the Myrtle Beach Rocks. History for this tournament has been very consistent on where the majority of the big fish will come from. Now the question is do you stick with history or do you try to invent a fish due to the unusual pattern the kingfish have been on thus far. Once again weather is going to have a major role in determining where the fish will be and how they will bite. The forecast right now is for it to be beautiful on Friday afternoon with a light south wind and then sometime Friday late night it will switch to the north at 15-20. You can see how volatile the forecast is and with a little variation in the timing of this next system everything could change. However, this is supposed to be a fishing forecast so I will base my expectations on the exact weather forecast as of now. With the light south wind on Friday the fish ought to be chewing the bottom out of the boat at all the spots mentioned above and any others in the same depth range. If the wind goes to the north things will change. I believe the fish will stay close to the beach, but they won't bite nearly as well and it will be essential to use any tactics possible to stimulate a strike. Heavy chumming might be very effective this weekend to try and draw the fish out of lock jaw. The good thing is that the wind is forecasted to come from the north, which means the seas will be flat within a few miles of the beach regardless of how hard it blows because of the blocking effect the land will have. So taking into consideration the time of year, the clear water close to shore, the north wind, and the abundance of spots, spanish, pogies, bluefish, grey trout and pogies along the beaches, the best spots to be will include anything within 5 miles of the beach in particularly the Cape Fear Ship Channel, Yaupon reef, and Myrtle Beach rocks. If the wind does not do what is expected all of this changes of course. As mentioned many types of baitfish are available right now along the beaches and in the intercoastal. If you are planning to catch pogies the morning of the event or even the day before, I suggest you aquire the right equipment or else be ready to get aggrevated. At the OIFC we have designed a special fast sinking cast net to catch pogies this time of year which often are more elusive than king mackerel. Also, if you decide chumming will be the way to go to draw a strike this weekend, we are carrying an assortment of Lighthouse Chum Company products including pogy oil and milk, herring oil and milk, 7lb boxes of purely ground pogies with a 100% pogy oil additive and also my favorite, the 5-gallon bucket of frozen ground chum 100% pogy, which will easily last for half of a day of fishing.

Good luck to all this weekend. I hope this has added another piece to the puzzle when you are considering where that smoker is going to be hiding.
- Capt. Barrett McMullan
---
"Rainy Day" | Capt. Hook | 10/14/03
We departed the Fishing Center this morning and caught bait fairly easy at Holden Beach Pier only to be hit with heavy rain about 15 miles out. After a couple of hours of worsening sea conditions, sideways rain showers, and only one KING strike we threw in the towel. We will be fishing, as time permits, the rest of the week preparing for the BRAWL!!
- Capt. David Hooks
---
"Today's Report" | Carolina Contender | 10/13/03
Loading the player...
Took a very therapudic evening fishing trip with friends Roger Gales and Curtis Mallot. The seas were flat and we caught bait just west of Shallotte Inlet at 2pm and were off to the 390/390. We had lines in 5 minutes when we caught the Smoker shown below. We fished until 6:30pm and had 10 bites and brought 5 to boatside with one in the mid 20's and the others 15-18 pounds. There were also Kings caught today at the Shark Hole and the Cape Fear Ship Channel. The bite is turning on good and after the Cold Front passes tomorrow, the Kings should be on fire for the weekend Fall Brawl. See you there.
- Capt. Brant McMullan

---
"Today's Report" | Capt. Hook | 10/12/03
SLOW!! Things have been real slow for the past couple of days. The weather was overcast and seas were rough yesterday. Today the weather started shaping up but we could only muster one KING on a 3/4 day trip. But let me tell you, the Shark bite was on!! We will be back out Tuesday and then looking forward to the weekend and the FALL BRAWL!!
- Capt. David Hooks
---
"TODAYS REPORT" | Mac Marle'n | 10/12/03
The weather was awesome today but the fishing was not near as good. Fished the 410/510 with no Kings and a Shark. We only had a 1/2 day so we decided to get the poles bending and went and pounded on the Sea Bass- you can always count on them. There were a few Kings caught in the afternoon at the 390/390 and Cape Fear Seabuoy, but the action overall was slow. I think they will bite great tomorrow with the wind shift to the south. We'll see. Cross your fingers for good weather next weekend for the Fall Brawl.
- Capt. Brant McMullan
---
"" | Carolina Contender | 10/12/03
The weather has been tough since last Monday, which seems to have driven the fish offshore. Today the weather is much better with light winds out of the northwest. A few boats are fishing out of Ocean Isle today so maybe we can get a good report and re-locate the kingfish. Tuesday looks like the pretty day coming up. The wind is supposed to be light and slight with a little southwest hint to it which spells major kingfish bite close to shore this time of year. A cold front is supposed to come thru on Wednesday with high pressure building in behind so hopefully this report is accurate which should mean some great fall weather and fishing for the upcoming Fall Brawl king mackerel tournament held from the Ocean Isle Fishing Center. This is a fun event for the whole family and usually has pretty awesome fishing. Don't miss this oppurtunity to come fish the Carolina fall kingfish bite for big bucks!
- Capt. Barrett McMullan
---
"Today's Report" | Show Time | 10/09/03
A little choppy from the east today and thus the Kings were'nt biting too good. Fished the 390/390 and LR Offshore with no strikes then moved to the 410/510 and had 3 King bites, landing one 15 pounder and several strikes. Plenty of Pogys off of Ocean Isle. The River Channel has continued a good place for the Kings.
- Capt. Brant McMullan
---
"Today's Report" | Mac Marle'n | 10/06/03
Beautiful Fall day on the water and the Kings are biting. Today was not red hot action, but steady with some very nice size fish. This AM fished the Shark Hole with a couple of nice Kings and a 41lb Cobia and then in the PM caught 2 out of 4 Kings at the Cape Fear Sea Buoy. The fish in the Cape Fear were mostly biting on the downrigger at 25-30 feet. Pogys are holding all along Holden and Long Beach, but they are getting hard to catch as the water cools. If you are having trouble, you need to get one of my custom nets- call (910) 575-3474 to order one- it will make a difference in your bait catching.
- Capt. Brant McMullan

---
"" | Carolina Contender | 10/05/03
It's On! Fall king mackerel fishing came right on cue Saturday as the wind shifted light to the SW. The report I've received from everyone I talked to was that they bit nearly everywhere. The Cape Fear river channel was on fire like it was supposed to be, the lighthouse rocks were hot along with the shark hole, 18 mile rocks, Atlantic Ledge, 32 mile rocks, 390/390, 410/510, the Jungle and Christina's Ledge. It really didn't seem to matter as long as you found live bait you probably caught multiple fish from 12 up to 30+ lbs. Bait was difficult this weekend as the pogies took their normal Fall pattern as well. They become quicker due to the colder water which makes cast netting difficult but possible if you get on the right pod of bait or have the right cast net (heavy). Brant and our father Rube and I chose to head north and fish the Morehead City area on Saturday where we only managed one bite but it was a 26.5 lber just enough to get our names on the board and crack the top 40 of the U.S. Open. On our way up the beach you could see the fishing piers stacked shoulder to shoulder with anglers wacking the spots. It's a matter of days before they will be in full force along our beaches. Providing we don't have any more dramatic weather look for the good kingfishing to continue close to shore. If you're after the smokers stick close to the inlets as we are just at the beginning of this awesome time for fishing. As for the U.S. Open, I believe there were in the neighborhood of 500 boats competing and a 43 lb fish was first and it took a 24 and some change to make the board which payed to 65th place. The majority of the leader board fish were in the 27 to 30lb range and came from the Cape Fear Shipping Channel on Saturday. If you have been waiting for a good time to come fishing around our area, don't wait any longer! Now is the time. It does not get any better. We wait all year for this month and this migration of fish. Take adavantage of this opportunity.
- Capt. Barrett McMullan
---
"Fishing's Been Good" | Capt. Hook | 10/04/03
I have had some computer issue's lately not letting me keep the site updated as often as I would like. Here goes another try!! The kings in the 15 to 20 pound range have been biting good in 65 to 85 feet of water. They are also showing up in numbers closer to shore. We just finished the US Open Tourney where we caught several fish and just like last time no HERO!! Fish were caught from the beach all the way to the 40 mile area. The bait is getting in the cool weather flip and hide mode, so you have to allow a little more time to get the bait. I heard the Wahoo are biting offshore and plan on giving it try soon. Some are even being caught live baiting for KINGS! Thats fun!! We will be running a few trips this week so we will keep it posted if the old computer agrees!
- Capt. David Hooks


---
"Today's Report" | Show Time | 10/04/03
This weekend as many of you well know was the US Open King Mackerel tournament. On day one we found ourselves in sloppy seas, with fish that apparently had lock jaw. We fished from the 90\90 all the way up to the River Channel, without even a cut-off. What a difference a day makes, on day two we awoke to calm winds and a flat ocean. We began our mission at the Christinas leadge and had action as soon as the first bait hit the water. This pole poppin action continued untill around 11am when the fishing slowed. With fish in the box we decided to go in search of a monster, however he was not to be found at the River Channel for us. hopefuly the fish will continue to bite for the rest of the fall.
- Capt. Grady Gordon
---
"U.S. Open Tournament Report" | Carolina Contender | 09/30/03
This coming weekend is the U.S. Open king mackerel tournament out of Southport, NC- the granddaddy of them all. This is when Fall Carolina fishing is usually in full swing and you can count on a lot of fish and a lot of big fish being caught within sight of land. Last week and weekend we were in a transition period where the fish were holding offshore and they were beginning to make their way inshore. I believe as of today this is still the case. Under the right conditions the beach bite will fire off. This bite will be more and more consistent will the cooling of the temperatures and clearing of the water. An example of this was the decent to poor bite everyone experienced last Saturday in the HOOK tournament with the 15-20 knot east and southeast winds. The next day the wind was light from the southeast and the bite was on fire. 8 fish were caught off Ocean Crest Pier in 2 hours of fishing if that gives you an idea of the caliber bite we're talking about here. On Monday the good fishing continued close to the beach as Yaupon reef produced quite a few mossy back fatties. Today however the wind kicked up a little and to the best of my knowledge the Yaupon bite shut off. So, it seems that weather is once again the determining factor of where and when the bite will be. Looking at the forecast it seems we will have some stout northerly wind on Thursday and improving conditions on Friday and then a switch to southerly winds on Saturday. What this tells me, is that if in fact that wind does come around to the South you better tie a lot of rigs. The fish ought to go balistic at the nearshore spots including Yaupon, the River Channel, Myrtle Beach Rocks and any other inlet. Historically this tournament has always been a River Channel / Lighthouse Rocks dominated event. I don't expect that to change taking into consideration the weather forecast. I look for this weekend to be the break-out weekend for Fall beach kingfishing. However, I also believe there will be fish holding in the 55 to 75 foot depth range as well at places like the Shark Hole, Jungle, and 390/390. But, it's Fall the bait is here, the temperatures are here, the good weather is here, the good water is here, everything says to go to the hill to find the big boys. There is plenty of live baits up and down the beaches of Ocean Isle, Holden Beach and Oak Island. You can find pogies, mullet, spots, bluefish, and many other baitfish that the kingfish will be feeding on. Also remember that when catching bait this time of year and later into the year that they will begin to be hard to catch as the water cools, the bait grows and they get faster, especially the pogies. If you find you're having this problem you can combat this by having the right equipment for this time of year. A custom made net that we have designed here at the Fishing Center is heavy enough and sinks fast enough that it will catch these bigger baits when others won't. We only have a few in stock but I assure you they are an essential piece of equipment this time of year. To recap if the weather man is correct I anticipate an awesome nearshore bite of big fish to take place especially on Saturday. Taking into consideration history and the conditions predicted and what has taken place in the past week the Cape Fear River Channel area is sounding like potentially the place to be. My sleeper spot for this weekend is Shallotte inlet and Milliken ledge just a couple miles off Shallotte inlet. I've seen the winner for this event caught there before, but it seems to have become a forgotten spot. I hope this report will be used as another piece of the puzzle to help you catch this weekend's smoker. Good luck to all. Next week locally is the Frantic Atlantic.
- Capt. Barrett McMullan
---
"Today's Report" | Carolina Contender | 09/29/03
Fall fishing is here. Its cool here this AM and the wind is 15-20kts from the north and man does it feel like Fall. Over the weekend we had good fishing for King Mackerel anywhere from just a mile or so offshore out to 30 miles. We caught good numbers of school 10-15 pound Kings at the BP 25 out 30 miles and a mix of larger 20+ pounders with school fish in at the 410/510, Jungle, Shark Hole and 390/390. The Kings are definitely moving inshore and I look for incredible action in the 30-55 foot depth range for the next several weeks. There is plenty of live bait on the beach off Ocean Isle, Holden and Long beaches. Don't miss the great fishing to come. The US Open King Mackerel tournament is this weekend so stop by the Ocean Isle Fishing Center and get stocked up on supplies- Ribbonfish, Chum, rigs.....- WE HAVE IT at competitive prices--- Oh yeah, and check out this Grouper Amy caught on Saturday while Kingfishing.
- Capt. Brant McMullan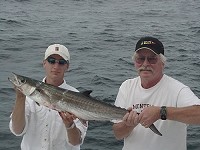 ---
"Tournament Forecast" | Carolina Contender | 09/24/03
In an attempt to further service fishermen here at the OIFC we will be putting together a tournament forecast for the upcoming tournament weekend. These forecasts are exactly that, only a forecast. The employees and the captains at the OIFC will add their $0.02 each week and then a general consensus will be formed from the available information. As a fisherman I will warn that what the conditions and expectations are today, they may completely change by tournament time. We are simply attempting to offer one more source of credible information to help our customers put the puzzle together to catch that tournament winner.

With that said here is the scoop as of Tuesday night. This weekend is the HOOK kingfish tournament out of Southport and the Onslow Bay kingfish tournament. I will focus on the HOOK tournament because of its closer location to us at Ocean Isle. Fortunatley we missed the brunt of Isabelle, which in turn appears to have shaken up the waters and awakened the fish. No more than a day passed before the waters cleared back up and rumblings of kingfish catches began to scatter around the beach. Before the storm you couldn't find a kingfish. Now, from what we've heard and seen a little of ourselves, they are nearly jumping in the boat. The question this week is with Fall stirring in the air will the kings that are now reportedly forming ranks in the 50 to 70 foot water depths stay true to their historical migration patterns and head for the inlets and closer to shore hot spots? Some reports this week include a good number of upper teen size fish at the 24 mile rock, lots of fish including 30+ size fish at and around the Jungle, and an unverified report of a few fish in the Cape Fear River. If you were to follow history it would tell you to fish either the Cape Fear Ship Channel, Lighthouse rocks, or the Myrtle Beach rocks. Once again, will the fish make it to these spots or continue to gather in the deep water for a little longer? All the conditions are right for a beach bite to turn on, the water is clearing, tons of bait including menhaden, bluefish, spanish, Fall mullets and even a few spots are on the beach. With the water continueing to cool even more this week, this also stands to favor a beach bite, but that's why you play the game, you never know. If you do decide to fish offshore I suggest keeping an ear open on the radio to a possible beach bite because if it goes off at the river or one of the other beach spots you won't want to be anywhere else. Hopefully the weather will cooperate and for once this year there will be an impressive leaderboard. There is plenty of livebait on the beaches and in the intercoastal or if you prefer ribbonfish we have plenty of pristine Biloxi hand caught ribbons here at the Fishing Center. I hope this pre-tournament report will be useful and we will do it again next week for the U.S. Open. Good luck to all.
- Capt. Barrett McMullan
---
"Today's Report" | Carolina Contender | 09/22/03
HOT KINGFISH ACTION. Out of nowhere the Kings are suddenly showing up in big numbers and big sizes in the 55-70 foot depth range at most all the spots. There's a ton of bait on the beach so I don't think it will be long before these fish will be at the inlet mouths for the annual Fall migration of baitfish. No more excuses. The Kings are ON!
- Capt. Brant McMullan
---
"" | Hewes Burger | 09/22/03
Yesterday I joined local OIFC inshore guidesman Capt. Brandon Sauls on the High Tide for a flounder pounding mission. The weather was absolutely perfect for any type of fishing. The wind was dead calm and the skies were clear with temperatures in the high 80's. We started the mission by capturing some finger mullets and smaller pogies for bait. The baits we used were anywhere from 3 to 6 inches in length. After hearing the latest report on Saturday of numerous citation fish being taken from the Tubbs inlet area that is where we decided to begin. Our first stop was the Kickin Salt/Mickey creek which had been producing but not today. Next we moved to the Sunset beach docks and again not much shaking just one small fish. There was a ton of bait though in that area. At this time the tide changed from dead low to incoming. We moved to some creeks behind Tubbs and found a few more small fish but still nothing red hot. Next we moved behind the high rise on Ocean Isle and the bite turned on a little bit. For the next hour we caught 5 fish including a 17', 18' and 20' inch fish. After it slowed down there we fished Shallotte inlet for a little while with little action and finished up back at the concrete canals where I lost a doormat and caught one smaller one. We ended up catching 10 or so fish and kept 5. Not a red hot bite but enough to keep us busy. Anglers that fished Saturday and Sunday said the difference in the two days was that the water was much cleaner on Saturday and thus they bit better. Mike Cochran reported catching 17 fish out of one hole on Saturday in the Eastern Channel. The inshore fishing is good right now. Don't miss out on the flounder migration. It should only get better for the next month or two.
- Capt. Barrett McMullan
---
"Latest Report!!" | Capt. Hook | 09/21/03
Captain Stacy and Alan held down the Capt'n Hook for a 3/4 day yesterday and found some pretty healthy KINGFISH!! They found bait at the Inlet and fished the 18 mile rock to no avail. They moved to the 27 mile area and caught Kings, some in the high teens, and multiple AJ'S. Maybe Isabelle shook things up a bit and they are going to happen now!!
I will be at the helm for a 1/4 day this afternoon hoping to find some spanish so stay tuned.
- Capt. David Hooks
---
"" | Carolina Contender | 09/19/03
As Capt. Brant reported earlier we are still here. Although we did experience tropical storm like conditions, if you happened to tune into the OIFC web cam either the evening before the storm arrived or yesterday afternoon from the peak of the storm on into the evening then you would have seen the awesome flounder bite that took place on the OIFC docks. After watching local flounder guru Mike Cochran and his wife catch and weigh an OIFC best bonifide 11.5 flounder at the main cut of the concrete canals on Wednesday afternoon the word spread fast among Ocean Isle's top flounder pounders and the competition was on dockside of the Ocean Isle Fishing Center. The competitors in this event included myself, Brant, Brandon Sauls, Mark Stacy and Amy. For the next two hours a hot bite persisted and at the end Captain Mark Stacy took top big fish prize with a 3.9lb stud. I was able to take the aggregate category with 3 successful releases and one unintentional release. Brant won the grouper division with two grouper releases. Amy thought we were crazy and opted observe in a less harsh environment. And Brandon, well somebody had to be responsible for turning the storm away from Ocean Isle. Thanks to Brandon and his trusty Coconut Rum and Goombay Smash Ocean Isle saw minimal damage from the Izzy. All in all Wednesday afternoon saw 8 flounder, 3 grouper, and 2 Jimmy Blue Crabs brought to the dock and the shortened Thursday evening competition consisting of myself, Brandon, Mark, and Rube saw 6 flounder, 1 red drum, 1 bluefish, and 1 grouper brought to the dock with Brandon taking top honors on this day. As you can see all is well in Ocean Isle, and like usual the arrival of a tropical system turned the inshore flounder bite on and now hopefully it will do the same for the kingfish. The OIFC docks have now made a name for themselves as the newest inshore hot hole. Stay tuned for future OIFC dock tournament notifications.

Our thoughts are with those who were more seriously affected by Isabelle
- Capt. Barrett McMullan
---
"Today's Report" | Mac Marle'n | 09/18/03
WE'RE STILL HERE!
We were lucky and missed the worst of it as we saw winds in the 40 to maybe 60 knot range and not really all that much rain. The "MacMarle'n" is holding down the docks while the "Carolina Contender" and the "ShowTime" are whethering the storm in a more protected location. Tomorrow will be sunny and pretty and I think we'll be back on the water and fishing on Saturday. The storm will likely impact the fishing making fishing within 10 miles of the beach tough for a few days due to the water being stirred up, but offshore I don't think it will take long for things to get back to normal. Actually all the north wind should further push Fall fishing on its way as all the Spots and Mullets in the Chesapeake and Pamlico will likely be on their way after the storm pushes them out.
- Capt. Brant McMullan
---
"Today's Report" | Show Time | 09/10/03
Happy to report the "ShowTime" is here and ready to go fishing. I picked it up from Gilliken Custom boat works in Harker's Island last Wednesday and ran it home- Left Beaufort Inlet and cruised to Masonboro inlet at 27kts and then ran ICW to Ocean Isle- avg speed 29 kts, total fuel burn- 108 gallons. She looks good, but I will be putting her to the test this next weekend. Stop by and see the new "ShowTime". If you have interest in custom boats and potentially having one built, I'd be happy to discuss the process and get you pointed in the right direction.
As for fishing, there really hasn't been any. Its been blowing 20+kts from the NE since last weekend. I did fish the Atlantic Beach Kingfish tournament last weekend and although we only weighed a 20 pound King, due to the lack of fish and bad weather, it was good enough for 6th place. We fished around the Frying Pan Tower and weeded thru tons of Dog Sharks to eventually catch the 20 pounder as well as another that may have gone a bit bigger but was eaten by a Cuda and 4 other Kings around 15 pounds. It was rough, but fishable and we were willing to pay the price for what we felt like would be a good placing fish.
The good news about this weather is it spells Fall fishing. I can't wait to see what happens this weekend when things settle down. Its hard to say where the Kings will be exactly, but I imagine they won't be far from shore. Stay tuned.
- Capt. Brant McMullan
---
"Today's Report" | Capt. Hook | 09/03/03
Things were real slow today offshore. I fished the Tower, Horseshoe, Houston, and a couple of other places in this area and caught dog sharks and one big Spanish. NO KINGS!! We did hook a Billfish off of the Tower that I thought was another Sail after seeing his Bill but then he commenced to pulling line so fast I could'nt do anything fast enough to keep from getting spooled!! I know it was a Billfish maybe a baby BLUE!! Well who knows. Till next time.....
- Capt. David Hooks
---
"Recent Reports" | Capt. Hook | 09/01/03
I guess through the extremely hot weather the fish have been a little lazy. The kings have been a few here and there but not concentrated in many areas short of the 32 mile range. We did catch a few small Kings and released a BIG Sailfish yesterday afternoon at the 24 mile hole. What a day for the camera to malfunction!! Today we targeted Blacktips to no avail. Fall is coming and things will pick up so just hang on. The good stuff will begin to happen any day now!!
- Capt. David Hooks
---
"Today's Report" | Mac Marle'n | 08/28/03
Sorry I haven't reported lately, but we've been busy fishing every day under these beautiful weather conditions. The fishing is good, so long as you can get to your target species. Nearshore we're doing very good on 1-4 pound Spanish Mackerel at all area Artificial Reefs from 40-60 feet of water. We're pulling #1 and #2 Silver Clark spoons on #1 planers. The Kings and Mahi have moved offshore and if you can get to 80+ feet of water, you should be able to have luck. The weather has certainly been nice enough to get just about anywhere. There is plenty of bait on the beach and I'm still seeing the occasion King sky rocket thru the bait pods. Check out this week's pics.
- Capt. Brant McMullan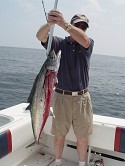 ---
"TODAYS REPORT" | Mac Marle'n | 08/23/03
Capt. Roger and I went on a Spanish mackerel mission this afternoon. We had steady action with better than average fish. Most of the fish caught were in the 3-4 pound range. A Gold clarkspoon behind a # 2 planer was the bait of choice, however silver was also effective.
- Capt. Grady Gordon
---
"Stream Report" | Capt. Hook | 08/21/03
We ran out to the 100-400 and trolled for about an hour with no strikes. Then moved straight offshore to 1000-1500 feet of water looking for weed, birds, bait anything that looked fishy to no avail. We then ran to the Steeples and fished it Hard and had not even one strike. I decided to head to the Tower area to get something to tighten the line but in the middle of the run made a hard left and went to the Black Jack hole. We put out and had a big Wahoo skied the bait, ran the 100 yard dash and spit the hook. Then we put out again made a circle and the next one was not so lucky he ended up in the box. We saw a Sail out sunning, just lazing around on top of the water but he would'nt eat. A little later we hooked a Sail that got fouled in another line and he was behind the boat with his tail about a foot out of the water going 900 miles an hour and when his tail caught traction he pulled all the hooks. Not a great report but not too shabby either!! Capt'n Stacy will be running the next couple of days so we will be reporting. Fall is just around the corner!!!!!
- Capt. David Hooks

---
"Today's Report" | Carolina Contender | 08/19/03
Today I ran a 7 hr. trip aboard the Carolina Contender and fished the Horseshoe area. The water was a dark green and looked decent, but not the typical bluish that is often seen this time of year. We caught several decent sized Kings and a Mahi. The action was very steady.
- Capt. Brant McMullan

---
"Today's Report" | Capt. Hook | 08/18/03
Captain Stacy had a pretty slow day only managing to pull out one Mahi, some Sharks and a Barracuda. The weather was not very cooperative and he fished the 12 mile ledges. We are going to hang in there it will get better!!
- Capt. David Hooks
---
"Today's Report" | Mac Marle'n | 08/18/03
We've been Cuda and Spanish crazy here for the past week or so. The majority of our charters are 3 and 5 hour trips, thus we have to stay within 10-15 miles of the beach- and Barracuda and Spanish are what are biting in that range. For those occasions when we have 7 or 9 hour trips, the Kings and Mahi are biting offshore in the 25-35 mile range. Most of the fish are in the 10-12 pound range but we are catching quite a few into the 20's as well. The weather was great today and I look forward to the cool breezes that I think we'll be getting this week. Actually loaded the well with Silver Mullets running the waterway this AM. A sign that Fall is just around the corner.
- Capt. Brant McMullan
---
"Last Few Days" | Capt. Hook | 08/17/03
We have had several fullday trips in the last few days along with a couple of shorter trips. The fish are biting well around the Tower. The kings are there along with Mahi, Barracuda, African Pompano, and Sailfish. There were 3 Sails released yesterday while I was in the Horeshoe area. We caught Kings 8 to 15 lbs fairly steady and then hit one 26.93 pounds. I heard there were sevral nice ones caught all around out there in 60 to 90 feet of water. The bait is still off Holden and easy to get!! Capt'n Stacy will be on the boat tomorrow for 2 half days so stay tuned!!
- Capt. David Hooks


---
"Today's Report" | Carolina Contender | 08/15/03
Once again the ocean was perfect, I just wish the fish would have gotten the memo. Although things were slow we did manage to catch one of the largest black tip sharks I have ever seen. In addition to the shark, the spanish mackerels kept us busy most of the afternoon.
- Capt. Grady Gordon
---
"Today's Report" | Capt. Hook | 08/14/03
We cut our stream trip back to a full day due to reports of "No Action There". We found lots of Dog Sharks at the 65 foot hole and moved on to the 24 and again, you guessed it, found Dog Sharks. I then moved to the 38 mile area and found a couple of Kings and all the Jacks! Lots of action today!! Bait is still holding off Holden Beach!! Back out on another full day tomorrow!!
- Capt. David Hooks
---
"Today's Report" | Capt. Hook | 08/13/03
We had a full day offshore today and were not overwhelmed with action but had a pretty fair catch. We caught Kings, Sharks, and a Mahi. The Kings came from the Sharkhole and the Mahi came from the 24 mile ledge. We did not get a King stike at the 24. But on the Mahi our lady angler for the day saw them swim by the boat and told me she saw a fish and she was right!! Next thing a cow Mahi was 6 foot high off the transom. As this fight progressed the Bull hit a floating line jumpimg the line already hooked up and breaking it. NO PROBLEM!! I handed the hooked up pole to the gentlemen, took the pole with the broken string and he never missed a stoke!!
- Capt. David Hooks


---
"TODAYS REPORT" | Mac Marle'n | 08/14/03
Today Capt. Amy and I fished aboard the Mac Marl'n. The weather was beautiful with seas in the 1-2 foot range. The spanish mackerel were plentiful around the Barges. And the Barracudas were chompin' at the bit. Hopefully the weather will hold for the weekend.
- Capt. Grady Gordon


---
"" | Mac Marle'n | 08/13/03
Yesterday Captain Roger and I guided a party to a day of live bait fishing around the Shark hole area. Mysteriously, the Cobia made a strong showing with no warning. We ended up with four Cobia and a kingfish. The water color is shaping up and fishing is getting even better.
- Capt. Grady Gordon

---
"Schedule" | Capt. Hook | 08/12/03
We will be out on a Full Day tomorrow and in the Gullf Stream on Thursday if the weather lets us. On my stream trip I am thinking about finding an area that looks productive around the 100-400 or Black Jack and live bait fishing. Will post results!!
- Capt. David Hooks
---
"TODAYS REPORT" | Mac Marle'n | 08/12/03
Capt. Roger and I fished around the shark hole today. The Cobias made a late season appearance. While the king mackerel were scattered. Live pogies were the key for the cobias while the kingfish were on dead cigar minnows like a fat kid on cake. The weather is finally turning around, and the rest of the week is looking good.
- Capt. Grady Gordon
---
"" | Carolina Contender | 08/12/03
Finally the weather is shaping up. This past weekend captain Brant and I fished the Snead's Ferry King Mackerel tournament up in Morehead City amidst torrential down pours and heavy winds. We ended up catching a 26.74 lb kingfish and won 9th place, but I assure you we worked for it. Back at home the barracuda and shark fishing remains hot. However, today the king mackerel made their first appearance in over 2 weeks. We caught several fish around the shark hole and it looks like its only going to get better. Also the cobia are making a come back as well. Yesterday I hooked two including one that had a head about 2 feet across probably weighing in excess of 70 lbs. Today I hooked one more but unfortunately have been unable to get one in the boat yet. Fishing is heating up again.
- Capt. Barrett McMullan


---
"TODAYS REPORT" | Mac Marle'n | 08/08/03
The Spanish mackerel bite was on at the AR445 this afternoon. The key was a gold # 1 clarkspoons behind a # 2 planer. There were also a couple cudas lerking around the bouys.
- Capt. Grady Gordon
---
"" | Capt. Hook | 08/08/03
TYPE FISHING REPORT HERE
- Capt. Barrett McMullan

---
"" | Carolina Contender | 08/08/03
Yesterday morning I guided a crew on the high seas to fun day of non-stop catching. After we netted pogies, we started the morning by catching blacknose sharks in the 20 to 55lb range behind the shrimp boats on freshly cut pogies. After having our fill of these hard pulling sharks we headed offshore to the 10 mile boxcars and spent the next couple of hours doing battle with some agressive barracudas. Light tackle sportfishing at its finest. If you are a trophy collector now is the time to come fishing. Both sharks and cudas are big fish with a ferocious look that make great mounts to go along with the stories.
- Capt. Barrett McMullan
---
"Fishing News" | Capt. Hook | 08/07/03
Boy have we been riding some big waves!! The South Southwest winds have had the swells kicked up a bit but we still managed to catch a few fish. We have been catching Kings, a few Mahi, and a big Spanish every once in a while. The Shark Hole has been my preference and is holding fish but a lot of them are small. We did manage to pull a pretty good one off of it today. Will be in the Sneads Ferry Tourney for he next couple of days!! I hope lady luck will shine down!!
- Capt. David Hooks
---
"Today's Report" | Mac Marle'n | 08/06/03
Although the King Mackerel and Mahi are thinning out, we're moving into our late Summer Barracuda and Shark fisheries as scheduled. I know some people may scoff at the thought of Cudas and Sharks, but pound for pound and for all out fighting ability, both are at the top of the list and within only a few miles of shore. The big news today was our first encounters with numbers of Blacktip Sharks. We caught some 15-20 Blacktip and Black Nose Sharks in the 30-75 pound range and lost one at boatside that had to go over 100 pounds. Blacktip are fast, they jump like Marlin and they are actually good to eat.
- Capt. Brant McMullan
---
"" | Carolina Contender | 08/06/03
Boy how that wind can change everything in no time. The hard south west wind we have been experiencing for the past several days has set the kingfish bite on hold for the time being. Well, at least the big kingfish bite. However, this has given me an opportunity to shift focus to some of the other species hanging in our area. The barracuda bite the past several days has been awesome to say the least. Although they do not make good table fare, you will be hard pressed to find another gamefish that offers the kind of exciting angling opportunity this fish does. From the acrabatic strike to the line sizzling runs, they are a fun alternative to the king mackerel fishing. Here are some pictures from the past few trips.
- Capt. Barrett McMullan
---
"Today's Report" | Mac Marle'n | 08/05/03
The kings bite early at the shark hole, however most of the fish were on the samll side. As the day progressed the kings turned off and the shark bite was red hot.
- Grady Gordon
---
"Today's Report" | Capt. Hook | 08/02/03
Had a great trip today!! Fished the 12 mile ledges again and caught Kings, Mahi, Barracuda, and Cobia. It was an action filled day as the Cuda would have topped the 40lb mark and the Cobia, around 35 to 40 was foul hooked and took over 2 hours to get in!! The bait was again at Holden Beach Pier and easy to get!!
- Capt. David Hooks
---
"Today's Report" | Capt. Hook | 08/01/03
Ran two half day trips today and fished the 12 mile ledges on both trips. We caught Kings and Mahi and had pretty fair action. We lost a Bull Dolphin in the 30 pound range at the boat when he did a flip with a triple gainer and broke the wire. Oh well I guess thats one for the liars club!! We will be at it again tomorrow!! Bait seems to be holding at Holden Beach Pier!!
- Capt. David Hooks
---
"" | Carolina Contender | 07/31/03
Today I fished near Christina's Ledge with live pogies on a 5 hour afternoon trip. We had a lot of action but also had a lot of fish get off the hook. That's why it's called fishing and not catching I guess.
- Capt. Barrett McMullan
---
"Today's Report" | Capt. Hook | 07/31/03
Capt'n Stacy ran a pair of half days that yeilded a few Kings and some Amberjacks. He fished the 18 mile rock area and said the Kings are still a little slow to bite. Maybe they will turn back on soon. I will be out on the hunt Tomorrow and Saturday so stay tuned.
- Capt. David Hooks
---
"Today's Report" | Carolina Contender | 07/31/03
The seas have been a bit tough at 2-4 feet for the past few days, but the fish are biting. We've been doing good with a mixed bag of King Mackerel, Mahi-Mahi, Barracuda, Shark and Amberjack. We've been live bait fishing with Menhaden which are holding off of Holden Beach and fishing the 50-70 foot depth range.
- Capt. Brant McMullan
---
"Todays Report" | Capt. Hook | 07/30/03
Had a very slow morning only yeilding 2 dog Sharks. We worked hard and fished several places the fish have been such as the 12 mile, 65 foot hole, and the bardges but no luck. On the Afternoon trip we headed for the Shark Hole and found a few Kings. We had 4 keepers and a couple of throwbacks. The fish were from 6 to 12 pounds. At least they were there and willing to bite a little!! Bait was at Holden Beach Pier and easy to get. Captain Stacy will be on the boat tomorrow maybe the bite will be better!!
- Capt. David Hooks
---
"" | Carolina Contender | 07/30/03
Today I fished near the Christina out to the York hole and back to the Shark hole. The kingfish seemed to be on strike today as I was only able to come up with one 12 lber. On the other hand the amberjack were chewing the bottom out of the boat. We caught as many as our arms would allow before giving out. A busy day on the water, but the question is where did the kingfish go.
- Capt. Barrett McMullan
---
"Today's Report" | Capt. Hook | 07/29/03
We had a great day today!! We ran a full day trip and caught several nice fish. We picked up a King and a Mahi in the 20 - 25 pound range at the Shark Hole. After that it lived up to its name and the Dog Sharks took over. We did have a good fight with a Cuda before departing to the 24 mile hole. There we found Kings in abundance in the 10 - 12 pound range. Bait was at the Holden Beach Pier and fairly easy to get!! We will be back at it in the morning!
- Capt. David Hooks
---
"Today's Report" | Carolina Contender | 07/28/03
What can I say but that we've been so busy fishing and catching fish that I haven't been able to keep up the fishing report page like I'd like to. Incredible King Mackerel fishing has been taking place for the past week as we've been doing very well on fish in the 12-20 pound range while fishing spots such as the Jungle, 410/510, and 65 foot hole-- Over the weekend I carried a party to fish the "King of the Cape" King Mackerel tournament and we caught a 31 pounder that finished us 6th place overall- not bad. The weather has been pretty good with some days great and some OK, but mostly average for Summer conditions with seas ranging 2-5 feet. I still have a few tournaments left available for charter this August and September, so give us a call if you want to learn to fish like the pros!


- Capt. Brant McMullan
---
"Fishing Report" | Capt. Hook | 07/27/03
We fished a couple of days last week and did real well on the Kings. They were nice fish in the 15-20 lb range and biting rather aggressively in 60 to 70 feet of water. The live bait has been a little tricky!! It is very scattered and mixed in size. If the weather levels out the bait situation might also!! Hope to be back out Tuesday!!
- Capt. David Hooks
---
"" | Carolina Contender | 07/25/03
Awesome day of fishing today for everyone! As a tropical storm bears down on us the fish continue to chew. Reports of great king mackerel fishing up down the coast today were common. I found pogies this morning off Holden Beach and then headed to the 410/510 for the start of our fun. We were attacked by a school of Cobia first and managed this one 35 lber. Then we went to king mackerel slaying and ended up with several fish including one 25 lber. The word tournament hit the air today as boats including the Carolina Contender prepare for the King of the Capes kingfish tournament and as such the weather is predicted to go bad and most likely the fish will quit biting. At least that is the way it seems to always happen. Hopefully this time will be the exception. Kingfishing can't get much better than it is right now.
- Capt. Barrett McMullan
---
"" | Carolina Contender | 07/23/03
Before this wind started blowing yesterday the fish had really begun to turn it on. My last trip was day before yesterday and we had a great catch of big kings and spanish on a 5 hour morning trip. I went to the 390/390 and had 3 kings 2 of which were pushing 25lbs and 3 spanish between 3 and 6lbs. I used dead cigar minnows and live mullet for bait. Several other boats that were in the area also had good catches of big kingfish. Hopefully this hard southwest wind won't stop the great bite we have been experiencing for the past couple weeks.
- Capt. Barrett McMullan
---
"Today's Report" | Intimidator | 07/21/03
Fished at the 24 Mile Rock and caught Dolphin, Kings, and Sharks on Cigar Minnows. Fishing was a bit slow today, hopefully it will be better tommorrow.
- Capt. Mike Wells
---
"" | Carolina Contender | 07/20/03
What a day! Left out of Shallotte inlet this morning around 7am and were greeted with a school of fall silver mullets running the beach and flat calm seas. After loading up on both mullets and pogies we ran offshore to the York 24 mile hole and proceeded to blister the fish all day. After catching 8 large amberjacks 6 quality kingfish including one 25lber and jumping off one 30 lb Mahi we had had enough and headed back to hill. This fish are here it is just a matter of how the weather makes the fish react.
- Capt. Barrett McMullan
---
"Today's Report" | Intimidator | 07/20/03
Today's trip was a make-up from yesterdays early AM thunderstorms. We had calm seas and lots of hot action at Christina's Ledge. Good King bite with a few Spanish mixed in.
- Capt. Mike Wells
---
"Today's Report" | Intimidator | 07/19/03
Fished this afternoon at the Christina, 65 foot hole, Little River Offshore Reef. Had a couple of Kings and raised a Sailfish, but could not get him to eat.
- Capt. Mike Wells
---
"PM report" | Carolina Contender | 07/18/03
I took over the helm this afternoon from Capt. Brant and guided a crew from Chapel Hill to an excellent live bait fishing adventure. We fished just inshore of the Shark Hole and had 2 nice kings and 4 dolphin including one release. Unfortunately we kept tradition going by having a story for the one that got away. We were able to successfully bring a kingfish in the low 30's right to boatside before he opened his mouth, shook his head and sent the hooks flying. Oh well, we got to see her and we would have cut her loose anyways.
- Capt. Barrett McMullan
---
"" | Stori Teller | 07/18/03
Capt. "cool daddy" Stan had a great day of flounder fishing in the backwaters today. Small pogies were the hot bait today used on the drift and at anchor. Ended up with 4 keepers with 2 around 3lbs each. Check out the smile on this little guy's face. Way to go!
- Capt. Stan Gurganus
---
"Today's Report" | Intimidator | 07/18/03
Another excellent day of fishing, with calm seas offshore and lots of fish. We started this morning catching pogies and then running to the Horseshoe. Had a dolphin come through the spread and take all five baits with no hookup. We then moved to the tower were the bite was hot. Had Cudas, Shark, Pompano, and Kings. Hightlight of the day was a 33.70 pound King. Be back at it tommorrow with two half day trips.
- Capt. Mike Wells