"Spring Break Road Trip" | OIFC World Cat / Carolina Cat | 03/13/15
~~Spring break to most collegiate students includes loud music, cheap hotels, and crowded beaches along Florida's coastline. For some this is the ultimate vacation. However being a charter fisherman, if I was going to get a week off school, I was going fishing. My tight collegiate budget landed my girlfriend Kelly and I in Islamorada, Florida for four days. With my 19' sea pro center console in tow we departed at 3am on 3/6. The plan was to splash the boat upon arrival, fish as much as we could, and most importantly relax.
After 14 hours of toll roads and fast food we finally made it to the sport fishing capital of the world – Islamorada. The first day of fishing took me by surprise. Everyone I talked to that had fished down there had told me the wind blows constantly. With this in mind, I checked the marine forecast which showed light to variable winds for the first day then increasing to 15-20 knots the last two days we had to fish. Well the weather man was wrong once again. Upon making my way through snake creek entering the Atlantic we were greeted with a steady 15 knot wind straight out of the north east. In my mind I'm thinking "great, with this wind it's going to make it extremely tough to catch bait and even more difficult to travel to the fishing grounds." Thus, I made the executive decision to ditch netting pilchards and head offshore to jig up some bait. This way I'd be heading in the direction of the fishing grounds while being in range to catch bait. Upon arrival we anchored up, set out a chum block, and began the waiting game. Small reef fish began to pick off small pieces of chum yet they weren't the ballyhoo, or cigar minnows I had hoped for. Suddenly Kelly gets a tug from what seems to be a decent fish on her Sabiki rig. She manages to pull up two 7" speedos. Now I'm thinking "that's a start but those baits are a little big for bottom fishing." About 30 minutes pass and it seemed the speedos were all we were going to catch. With the bigger picture in mind I told Kelly since we already made the trek out here, we might as well see what we could catch with the bait we had. My plan was to head just offshore of the reef edge, anchor up, dangle the speedos from a kite, and bottom fish while doing so. For those of you unaware of this reef edge – it is a drastic slope about 3 miles off of the FL, keys. It ranges in depths yet we were fishing in about 90 feet just a couple hundred yards off the shallow reef. With high hopes, we began to fish. Dropping squid down to the bottom, flying the kite, while attracting reef fish with our chum block. Unfortunately, my grand plan became a swing and miss after fishing for an hour with only remoras and small bottom fish to show for it. Now I'm thinking "Guess I'm not in Kansas anymore Toto." With conditions worsening, I tucked my tail between my legs and headed back to the dock. I had realized the wind was playing a major factor on how effective we were fishing and I need to adapt the next two days.
The second day of fishing was my recon day. I figured if I can't figure out how to catch the fish, I'm going to find someone who does. After consulting with tackle shops, charter captains, and mates I came to the conclusion that our speedos were decent baits to use however pilchards, goggle eyes and ballyhoo were better baits for sailfish and other predatory pelagics. After the recon mission we decided to do a little back water fishing. This type of fishing had us fishing bridges and mangroves with decent luck. We managed to hook a few small grouper, mangrove snapper, and jack crevalle. Bored and sunburnt Kelly and I headed back to the dock to prepare for the day ahead. Once again, the forecast called for light and variable winds with 2-3 foot waves; and once again it was incredibly wrong.
On the third and final day of fishing, I decided to bring along Kelly's father Jack who had been vacationing in Islamorada near us. We winded through snake creek and this time greeted with 20 knot winds on top of 3-4 foot seas. However bound and determined to catch the big one, we pushed off to the reef edge at a bumpy 14 knots. This time the plan was to make do with what we had. I dropped the chum in the water and this time our target species of bait showed up – Ballyhoo and blue runners. I was aware how delicate ballyhoo can be therefore we sabiki'd about 3 ballyhoo and 3 blue runners and headed a little further offshore to begin fishing. Shortly after getting everything situated, I noticed what looked like yellowtail snapper feeding on chum about 10 feet under the surface back behind the boat. I'm thinking "I've read about how to catch these fish. Light leaders, small hooks, small pieces of bait." Well I am here to tell you that these critters are much harder to catch than what people make it out to seem. We tried everything down to 8lb test, a hair hook, with a small piece of de-shelled shrimp attached to it – no takers. Then I figured "well we must need to get them really fired up to get them bite something with a hook in it." I began to ground up the chum and toss it back to the school while Kelly would pitch a bait when they came up to feed – STILL no takers. My last explanation to my problem was that I was a rookie and I was mistaking yellowtails for another fish. Thus, there was only one way to be sure I wasn't going senile. With my mask on and flippers strapped I jumped in the water. And to my disappointment they were in fact big fat yellowtail snappers. Angered with disbelief I focused my attention on something I actually knew how to do well – kite fishing. Dangled off the long kite line was a ballyhoo and off the short was a lively blue runner. Once again we sat and waited. About an hour passed and I mentioned to Kelly's father than I was going to let the kite back a little father to see what happens.
It was the bottom of the ninth, tie ballgame, 3-2 count – this was my last technique to entice something that pulled drag. Apparently I swung at the right pitch because shortly after I let the kite back, a 60 pound sailfish piled onto the long bait. FINALLY we were hooked up. Jack manned the rod as I eased the boat closer and closer to grab the leader. Remember that there are 3 adults in a 19 foot bay boat in 3 foot seas – a sight to say the least. The sail put on a show for us before I grabbed the leader, carefully brought him aboard, took pictures and revived him back to life.
After that fish and the weather we had done it in, our trip was made. For me it wasn't necessarily about the fish being caught or how big it was. It was simply the fact of going to a completely foreign fishery, finding the right bait, to catch fish. Some people call it luck, I call it adaptation. Long story short the trip was a success from the warm tempered climate and the memories made while in it. Islamorada, FL is an excellent fishing and vacation destination. I can assure it won't be my last trip down there.
- Capt. Derek Treffinger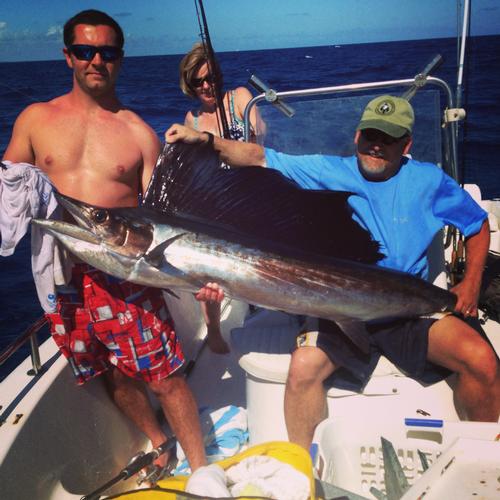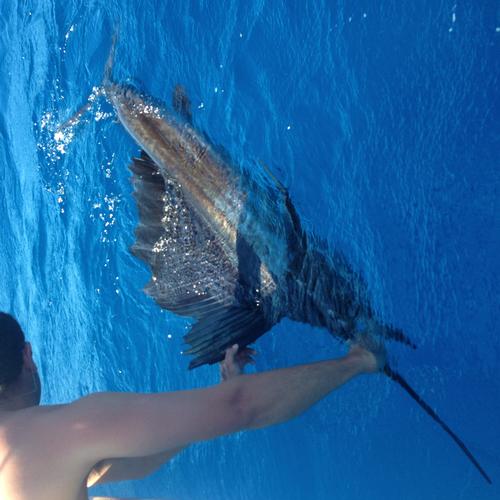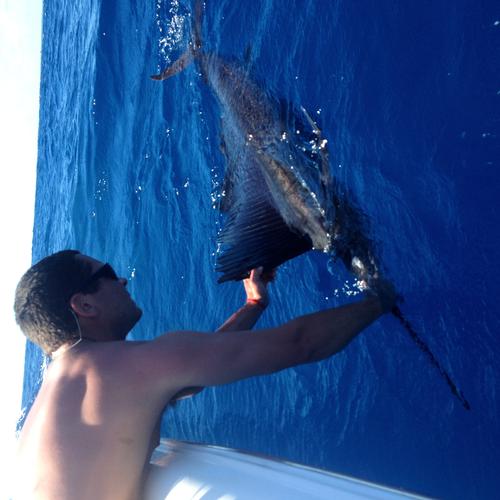 ---