"Team OIFC Offshore- Venice, LA report" | OIFC | 10/27/14
Thanks to Capt. Barrett for the awesome recount of his adventures in Houma. Reading his reports and listening to stories reminds me so much of the first 10 years of our King Mackere tournament fishing adventures. We learned new things with every adventure, experienced highs and lows, and through patience, persistence and the unrelenting committment to accomplishment of the objective, we have had fair success.
Thus I am inspired to give the recount of Team OIFC Offshore in our trip to Venice, LA. The main purpose of this trip was to shoot new episodes for next season's No Limits Fishing TV show. Capt. Barrett and I have been hosting the show for 2 years now, and if you have not checked it out, visit www.NoLimitsFishing.com . Goal 1 was Yellowfin Tuna. Goal 2 was King Mackerel. Goal 3 was to get Barrett to shoot down after the Houma tournament and do a Redfish show.
Goal 1 recap- Reports were that the Yellowfin bite had been slow. Winds were NE at 15-20 and the locals do not like wind. However, the Tuna grounds in October are only 10 miles off and they are land protected, much like a north wind at home in OIB. We figured to be dealing with 2-4' chop, so no biggie. The problem was finding fish. We started by trying to net live Mullet as they are often the best bait for big Yellowfin in October. We struggled, throwing dozens of times with only a handful of 10-18" mullet. We decided to head out anyway. Honestly I had no clue where to go really. We started running offshore to the area where we caught the fish the year before; that was all I had to go by. We got out there and then we stop and look around- "now what". This is my typcial approach as my head aches with trying to figure out where to go and what to do. I decided to toss baits in at the nearby rig just to have time to thing. Nothing. However, I look off in the distance and see 4 frigate birds circling. One thing about fishing, never ignore the birds. We picked up and headed that way and on the way we see several large Yellowfin Tuna busts. We got close and deployed but the birds moved. We put our bridled live Mullet back in the well on the ready and ran to the birds and crashing fish again and deployed. This time we got bit. I locked up the 50 wide and she was rolling with 25# of drag. Then after 100 yards or so it was gone. Broke leader 130#. We had another fish take a lighter setup with 80# leader and broke again. Through a series of swings and misses and mess ups we spent our few live Mullet and there we sat. The Yellowfin were not consistent, but a strong current edge had formed and I was marking fish in it at 50'-150' down. I was not sure but I felt like it might be Yellowfin. Now I was at a loss as I thought we were with the fish but we had no bait. I was just starting to leave to go run back in to try to get Mullet again when I remembered we had boated a 20# Blackfin Tuna on one of the Mullet. Sometimes you have to sacrifice a little for the greater good. I made the call to chunk up the Blackfin and see if the technique of chunking might get us something going. Honestly I had never done this before, only seen it on TV. We cubed up the Blackfin into 2" squares and Capt. Derek began tossing a few over at a time. I swear to you less than 2 minutes later I look down and there's a 100# tuna swimming through the chunks slurping them up. Rube had a chunk on his TLD 30 outfit and the Yellowfin swam up and took it right at the boat. We were on again. This time Rube backed off the drag some and we played the fish out and boated our first Yellowfin- right at 100#. By this time the current edge was getting stronger and the activity on the surface was picking up. We pulled back up and went to chunking again and within minutes we were on again, and again, and again. We caught and lost fish. There were also some JUMBO sharks down there that ate some of our baits which led to broke leaders and false bites. But one thing was that it was obvious all those marks on my Simrad screen were in fact tuna below. There was a rig less than a mile away so I decided to run to it to try to jig some Blue Runners. We grabbed a dozen or so and then hauled boogy back to the break and put up the kite. I rerigged with 200# leader as it was going to be out of the water anyway-- WHAM! We literally had the kite out for maybe 20 seconds and Derek was tied onto a good one. He boated that fish at a solid 125#. We caught another on the kite and fought and lost and fought and lost and caught.......... I'm telling you that Yellowfin are some tough fish. I think they are tougher than Bluefin. We capped off the day by letting Chris Campbell, camera man extraordinaire get tied up to a big one. He grabbed hold of a 50w smoking line off and thought he had the big one. Well, an hour later he put a 12' Bronze Whaler shark to the boatside and that was all we had left in us. The current edge had broken up and the sharks seemed to be taking over. When we got back to the dock, our catch caught the attention of charter guys as we were suddenly very welcome guests; so long as we told them everything we knew. Anyway, Chris got some good footage and we think we got enough for a couple of good Yellowfin shows.
Goal 2- I have been wanting to get the King Mackerel fishing on film that we talk about so often in fishing tournaments down in that part of the world. The seas were flat calm this day and we began the process of running from rig to rig looking for the action. We found fish on our third stop in 70' of water in an area where we typically find good Kings in the Fall. Our first fish was easy over 40 and we missed two more bites at the same time. We were on some fish and now it was time to put on the show. We proceeded to find the hot corner where the Kings were biting and honed in on them and went to catching singles and doubles on most every pass. Most all of the Kings were in the 25-35 pound class. Our last fish was one of the biggest at 40+ pounds again. Through this Chris also was able to fly our film drone to get some cool footage from above us fishing, the oil rigs and us catching fish. It should hopefully be a cool perspective. We probably caught 15 or so Kings which should make for another couple of strong shows. Of course in the midst of all this fish action is GooRube doing his thing and us doing our thing, whatever that is -- so there is quite a bit of color mixed in to spice things up.
Goal 3- Capt. Barrett and wife Stephanie, hot off an "almost"/"should have" win at Houma guided Chris through some super skinny waters around Venice. Barrett had not scouted the area at all, so he was in the blind but he did find some Reds that made for good sight fishing and good filming. Chris again launched the drone camera and I saw some of this footage of Barrett running hit boat down creeks barely as wide as the boat - it looked awesome.
AND SO....... We accomplished all goals we sought out to achieve in catching fish on camera. And let me tell you, that is not an easy thing. Fish know when a camera is on board and it makes fishing HARD! I'd say we did not see epic conditions in any of the fishing, but we saw very typical Venice, LA fishing. I'd give us an 7.5 out of 10 score for fishing action. The only problem now is that you have to wait all the way until next May to see any of this footage. Our current season is finishing up airing now with the last original episode of season 2 going out next week. We will then have new content for 12 new episodes starting in May. I'm sure Chris will put together some highlights and cool teasers in the mean time, so keep an eye out for them.
Next week we head back to Venice to do a little prefishing for the SKA Nationals and then we head to Biloxi to compete. Many local teams are making the trip as well, so I am hoping we can work together to bring the trophy back to the area. Keep it local!
- Capt. Brant McMullan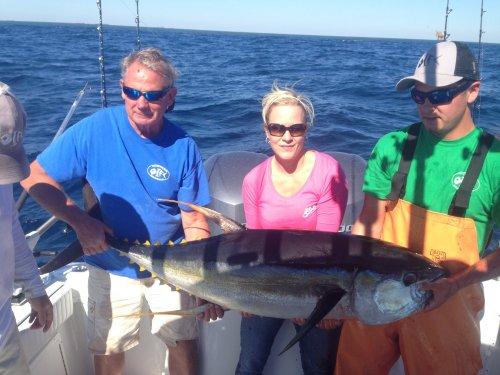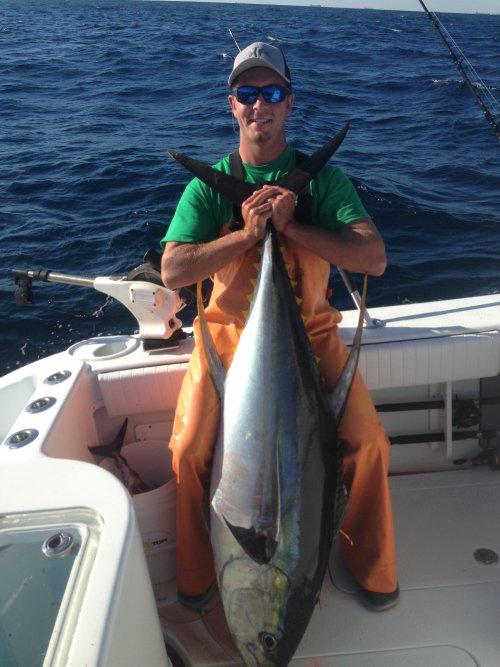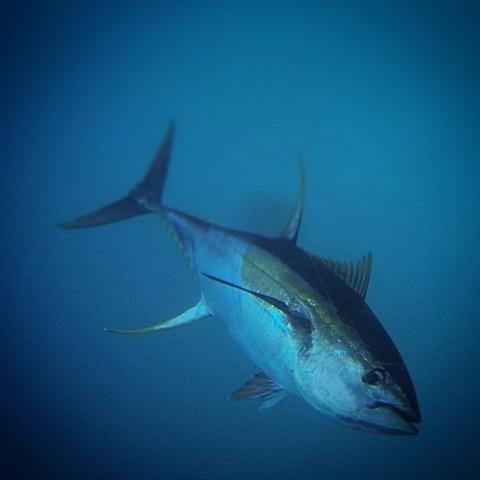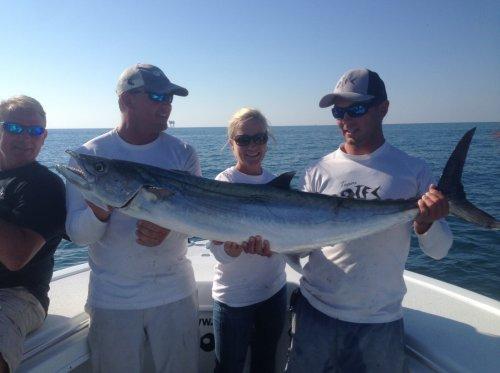 ---