"Report" | OIFC World Cat / Carolina Cat | 07/21/09
pictured below:
top- Mackelfresh family from Charlotte, nice AM trip with me on Sunday- big fish 26+ pounds
2nd to top- 6 year old David Ratley got some help from grand dad Dan Ratley, Tommy Helms and captain Tommy Litton of the Superficial in catching this citiation size 34 pound King at the 390/390.
The offshore fishing this Summer has been nothing short of phenomenal. The weather has been cooperative and the Kings, Mahi and Cobia have been available for anglers live bait fishing from 5-20 miles offshore. As I said last week, I think a key ingredient to the exceptional fishing this Summer has been the abundance of Menhaden along the Brunswick County beaches. If the food is present, the fish will not be far. Beyond this, the availability and ease to which you can find and net Menhaden to use for fishing is at historic levels. For over 15 years I have operated a charter fishing business from Ocean Isle, and never have I seen Menhaden so plentiful. Having live Menhaden to use for bait almost always makes a day of fishing more successful and certainly it increases the size of the fish you will catch. Charter fishing has been great for our customers and satisfied customers equals returns visits, which means more visitors to the area. Our fishing has always been good, but I am sincere in saying it has gone to another level. Hopefully it will continue and area visitors and home owners can partake in this great fishery that is once again developing off our beaches.
This past week saw the return of the Mahi and Cobia. We had a great June and early July for catching a mix of Mahi, Cobia and Kings while fishing the 50-70 foot depth range, but the last couple of weeks, the Mahi and Cobia pretty much disappeared the Kings were left to rule. However, I won't go further without mentioning the influx of Sailfish that also began around this time. Just last week, I know of a dozen Sailfish hooked by live bait fishermen, including Yorke Pharr of Ocean Isle who released two Sailfish over the weekend while live bait fishing in 60 feet of water. Midweek last week the Mahi and Cobia began to show again and not a day has gone by that one of our charter boats has not brought back at least one or both species, as well as still releasing the occasional Sailfish amongst the red hot King Mackerel bite. Hot fishing spots have been the Shark Hole, 65 foot hole, 70 foot hole, 390/390, and Jungle. I personally haven't been off to the 100 foot depth range to do any Grouper fishing , but I understand they are biting pretty good around the southwest Tower bottoms in 95-120 feet of water. In addition, the Gulf Stream trolling will still produce Wahoo and Mahi. From now through September is your best chance to find Sailfish and White Marlin in the Stream as well.

- Capt. Brant McMullan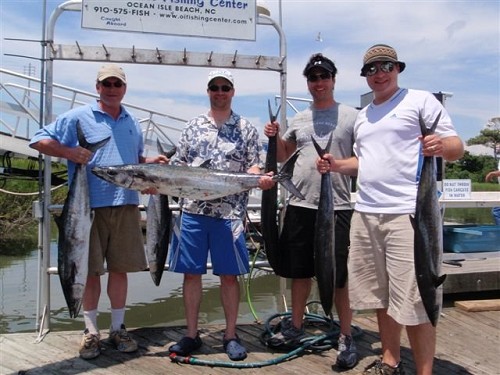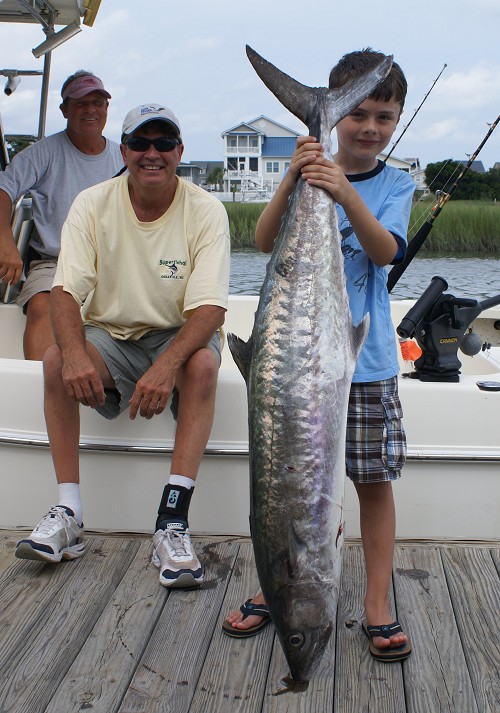 ---