"Dylan's First Sail" | OIFC World Cat / Carolina Cat | 10/05/09
As told by Jim Bowen:
My son Dylan caught his first sail at the Shark hole on Friday during the tournament. Took us a little over an hour to get him in the boat. Also, at the jungle on Saturday, we caught a gag grouper on the outside line, top water on a pogie.. 2 cobia also on top with pogies, a huge black sea bass on the down rigger, and limited out on kings both days most in the mid twenties. We cooked up some mighty good food Sat night… picked up 7 lbs of shrimp at Holden Beach off the shrimp boat and went to bed early!!
**I am told the sailfish swam off without a problem, evidently ready to head back to an exciting day of balling all that bait at the Shark Hole!**
- Capt. Chris Burrows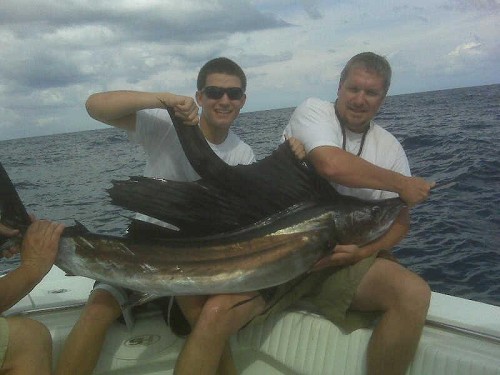 ---