"Bone Crusher Strikes!!!" | OIFC 1- 36' | 08/07/10
Brandon "Bone Crusher" Sauls struck a major blow today when he weighed a 7.6 lb flounder in at the OIFC to take 2nd place in the OIFC Rodeo just 2 tenths of a point behind the other half of the OIB Inshore Mafia... Kyle Hughes. As usual he has quietened the crowd, and is probability not done!
The "Crusher" said "I walked down the hill, just like the old bull and showed the young bulls how its done"! Let's not forget that the "Bone Crusher" has been around for a while and holds many championship belts. The OIB Mafia will not be easy to beat!
Now the gauntlet has been thrown the challengers have to step up to the plate and show what they are made of. This may be the beginning of an epic inshore battle.
However as many athelets have said.."2nd place is 1st loser". Kyle better watch out! Stay tuned!
- Capt. Rickey Beck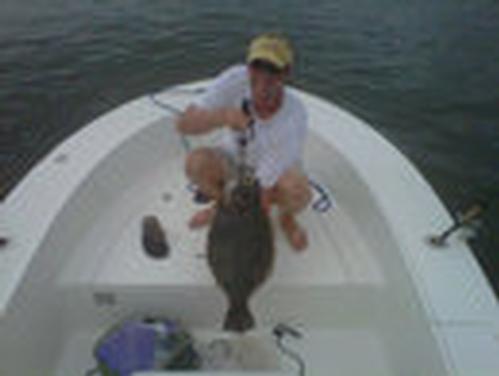 ---