""Spanish Attack"" | OIFC World Cat / Carolina Cat | 04/26/11
Capt. Charlie Wilson and myself headed out first thing this morning on a half day nearshore charter. We had Mom and five kids on board. How Dad pulled that one off? I don't know...I should have taken notes.
It wasn't long before Capt. Wilson had us on the fish. We caught several blues and the spanish started in on the action as well. The little fellows wanted to head for deeper water to maybe catch a big sea monster. We headed on out towards the 460. We marked some great bottom and what looked like a big school of black sea bass. We were getting a lot of nibbles, but the action was a bit slower than expected. We did land some nice black bass, but the little guys got tried of holding on to the rods. Capt. Charlie and I elected to troll in from the 460 letting the crew sit back and relax as we headed home. We caught two of our nicest spanish right around the Shallotte ledge area. We had 10 keeper spanish making a great meal for our crew tonight.
Then the phone call from the boss. Back out on a 2 hour trip! I love it! Scott and his wife brought there two kids out to catch their first fish with us. Benton caught his first bluefish and he wasn't done there. We landed several more blues and some more spanish. All in all a great day to be on the water. Looks like we got the fishing done just in time. As the rain has just started coming down here at the OIFC. I hope our boys are get'em in the stream and have a safe trip back home this afternoon. Stay tuned for Capt. Steele's stream report. See ya on the water!
- Capt. Jacob Frick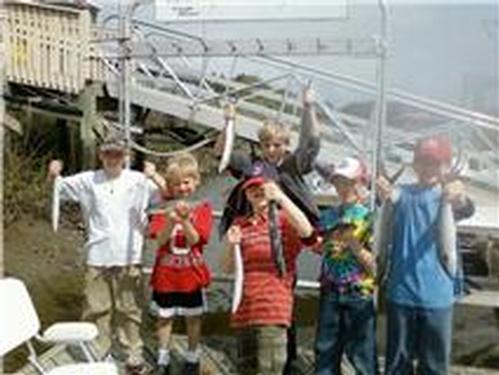 ---