"Don't Give Up On The Stream" | OIFC World Cat / Carolina Cat | 10/19/11
The title came from Bob Newell's report of a trip he, Johnathan Olgesby, Andrew Sanderson and Matt Moore took on Bob's Black Dog.
They were all geared up for wahoo, but put one TLD 25 with a circle hook on board. They caught a nice wahoo and some slinger mahi at the Steeples in the morning along a weed line in 78 degree water. They decided to move at lunch and found nice 80 degree blue water at the 100/400. They set out wahoo gear and worked the ledges. Having no luck, they decided to leave at 3. But as they were getting ready to take up the sail fish began showing up in the teaser and hitting planer rods, wire, you name it! But they were skunked, going 0-4, missing strong hook ups with j hooks. One of the crew, Johnathan started prospecting and sure enough fish on!! with a perfect drop back.
As Bob reiterated, don't give up on the stream!
Thanks for the report Bob!
- Capt. Rickey Beck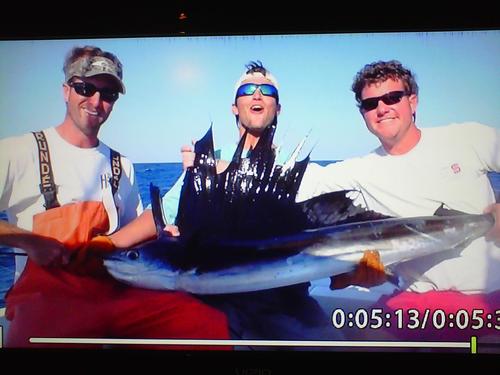 ---