"Mac Daddy's Sail" | OIFC World Cat / Carolina Cat | 08/01/11
Captain David Kiser and Jim Kiser of the Mac Daddy Fishing Team along with Kevin Smith made a run to the Horseshoe Saturday morning.aboard their 23 ft Sea Fox. They were pulling ballyhoo on Islanders at about 6 knots when they hooked up with 2 sailfish back to back within 30 yds. of the boat. The 1st fish was brought aboard for a photo op while the 2nd shook the hook after a good run. Things went dead after the action. They were slow trolling when they hooked up to and landed yet another sailfish. The guys have brought home mahi every trip to the Horseshoe except this one. But they aren't complaining.
Capt. Jeff Beck and I have hooked up with a sailfish. Nesbitt Nobel went 2 for 3 on sailfish. It would be a pretty sure bet that if you went to the Horseshoe area you'd hook one up yourself!.
Thanks for the info. guys.
- Capt. Rickey Beck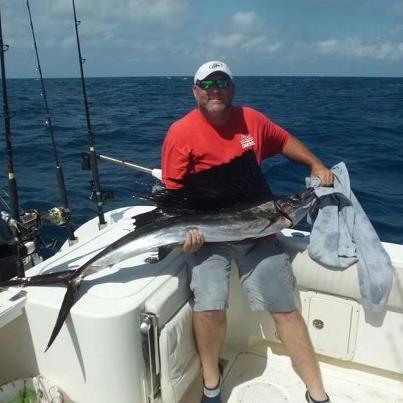 ---