"Kings And Spanish For A Day" | Tiberias - 22' | 10/01/12
The King bite REALLY turned on Saturday just in time for the Rumble In The Jungle. But not everyone fished the tournament. Several folks dropped by the OIFC and Dr. Terry took pictures and information for the report.
The spanish bite has been extraordinary for the past couple of weeks right on the beach. The 1st pic is of Christa Lee with her 6.8# citation spanish. Christa was fishing aboard the E Z Now and hooked her spanish with a naked pogey at the 90's,
The 2nd pic is of kings from the shark infested waters at the Yorke Hole. Curt O'Donnell, Chris O'Donnell and Vicki Ayers caught 6 kings Saturday after 11 am aboard their boat "Captain's Choice". They were using medium balleyhoo with skirts. They caught all their kings on top and near the prop wash.Picture 4 is of 'Team Hard Knot Life" made up of of Mike, Taylor, Casey and Drew. They fished the Shark Hole and caught 3 kings (20, 15, and 12#'s, and 2 cobia on of which was a citation 42# fish.
Picture 3 is of Bill Caldwell and Kenny Clark with one of three 40 + lb. cobia while fishing the Rumble Saturday. They were near the Shark Hole. Their kings were too small but the guys will eat good.
Picture 4 is of team "Hard Knot Life" who caught 3 kings, a 20, 15 and 12 # and 2 cobia, one being a 42# citation fish while fishing the Shark Hole.
Picture 5 is Robbie Holshouser, Brad Durham,and Ryan Smith with the fish they caught Saturday.
Thanks everyone for your reports and for weighing your fish at the OIFC. A special thanks to the OIFC's Dr. Terry for his on dock reporting and pictures.


- Capt. Rickey Beck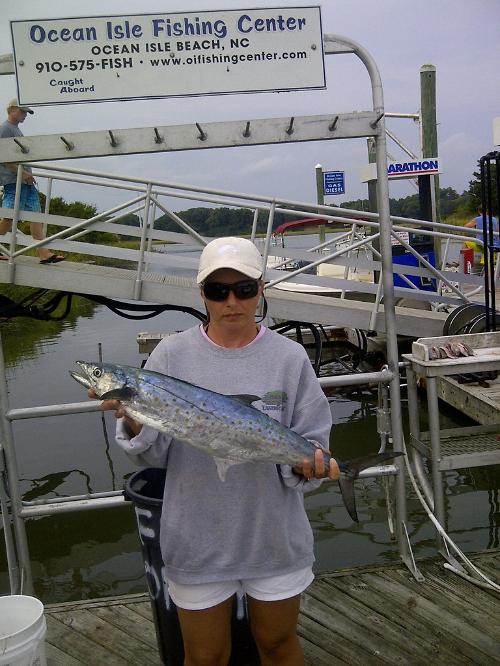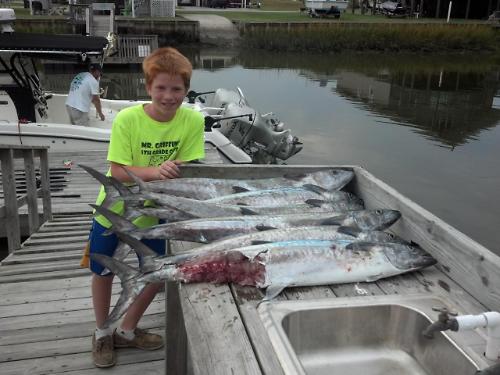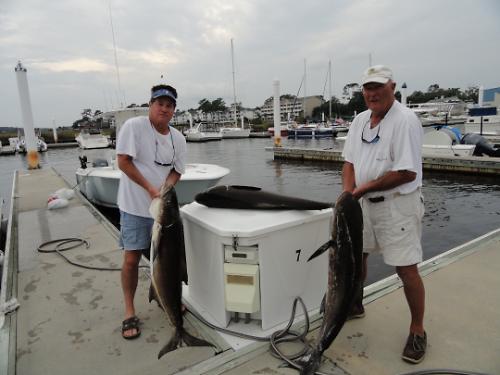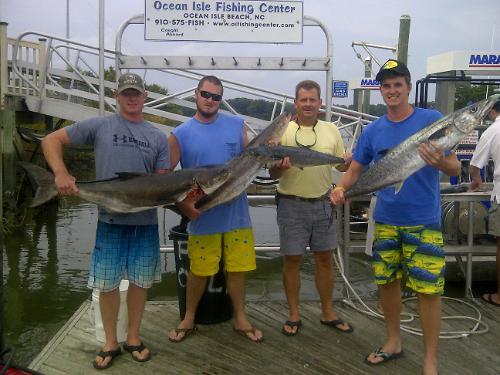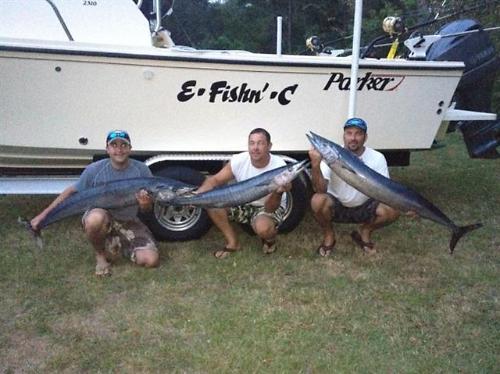 ---