"Flounder Tournament?" | Tiberias - 22' | 05/28/13
The flounder bite has really heated up just in time for the tournament this weekend. What tournament? The Fisherman's Post Flounder Tournament hosted by Fisherman's post but held right here in our backyard. Visit www.fishermanspost.com for details about Ocean Isle's Inshore Challenge held this weekend out of the Ocean Isle Fishing Center.
Here is a picture to get you all worked up. I picked away with several questions trying to get the best information about this fine catch. Information was a little vague as expected with a tournament on the horizon. The Lefler family is known for their awesome floundering abilities. See you fellows on the water!
The bait has arrived and the flounder have followed. Menhaden bait pods can be found anywhere in the waterway between the OIB bridge and Sunset bridge right now. These larger baits are perfect for targeting the bigger flounder. Come on out and join us.
- Capt. Jacob Frick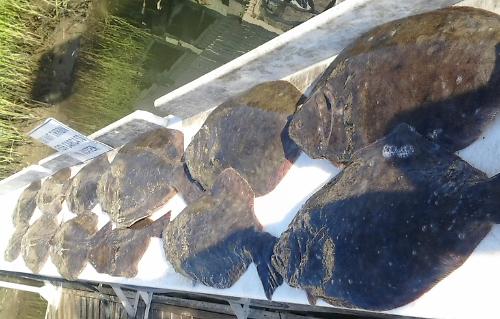 ---