"S.H.A.R.E. " | Do Work / OIFC | 07/18/15
After spending Thursday and Friday assisting Bobby Lovinggood repairing the Do Work, the crew and I were ready for redemption. Bobby was as anxious as we were. In case you didn't read my adventure, I thought I had damaged the lower unit on the Do Work messing with a shark. When Bobby and I got into the motor we found a hairline crack in the oil pan. We worked feverishly Thursday getting her ready to go. The only problem was, there was not an oil pan to be be found. SOOO..believe it or not we JB Welded the crack. I ran the Contender through her paces Friday afternoon and she held. Poor Bobby was on pins and needles all day waiting for me to call him. End of story, thank God and JB Weld she held!!!
The crew was minus Jon Hayes but we were joined by Courtney who has an eagle eye for finding bait. Scary thing was she spotted it in less than 4ft of water, in the breakers off Holden Beach with ME at the helm. I stuck our nose in, Capt. Jeff made one throw with our Capt. Brant's Heavy net and I was throwing the 225's in reverse and getting out of there. The whole time I was making diamonds, if you get my drift.
Jeff had a game plan and we stuck with it. The ocean was beautiful so we hauled the mail to the 17 mile rock and were immediately covered by amberjacks. The decision was made to push out. The next stop was unplanned and was a mark Jeff had made a while back on the machine in about 90 ft of water. As we passed over it the machine lit up with bait so we decided to give it a try. I am glad we did. Camdyn hooked up with a 24# king on her pink custom rod which always seems to be the hot stick. I don't know how long she fought that king but when her Dad sunk the gaff and flipped it in the boat, that 9 yr old was shaking she was so excited. We hung out for a few hrs longer and caught another, bigger king and even a mahi. Then the bite stopped.
It was getting late, so we held a team meeting. Do we push a little further out and cut our fishing time or jump the shoals and fish our way towards the scales? The decision was made to push out to a nearby mark named "Rickey" on our machine. This was a spot where we'd had luck in the past. We were not there 10 minutes when a long line screamed. Jeremy Phillips snatched the rod and went to work. It was obvious we'd hooked a nice king. After a while Dr. Jeremy gave the PINK rod over to me. I think my years as a flounder fisherman has instilled some light touch skills that work well on a king that is being difficult to gaff. The water was clear and we could see only one hook was holding him. Everytime he'd see Jeff with the gaff he'd run. Finally, Jeff grabbed our 12 ft gaff, that combined with is monkey arms proved too much for the biggest king of the day.
We put him on ice and put the Do Work in the wind. At 4:45pm Camdyn held up our number for the check in boat. WHEEEW!!!!! We decided to weigh our 2 bigger fish today. There is no guarantee of tomorrow. We weighed a 24.56 & a 25.28 for a total of 49.84 lbs.
Team Do Work is pleased. Good luck to everyone fishing Sunday. Stay safe and tight lines.
- Capt. Rickey Beck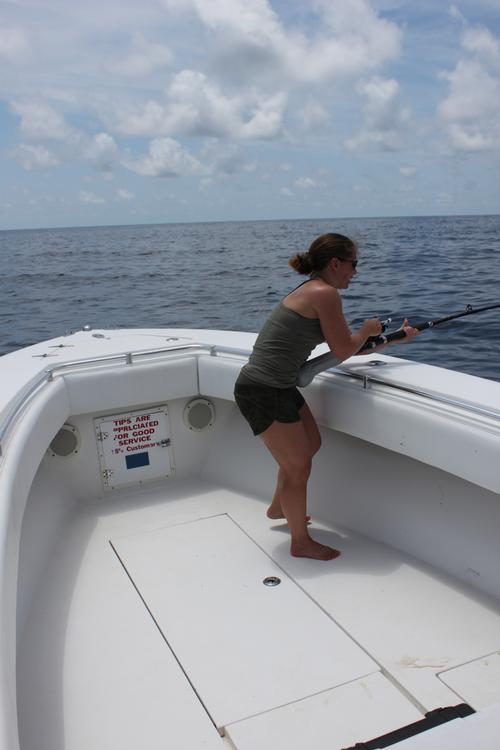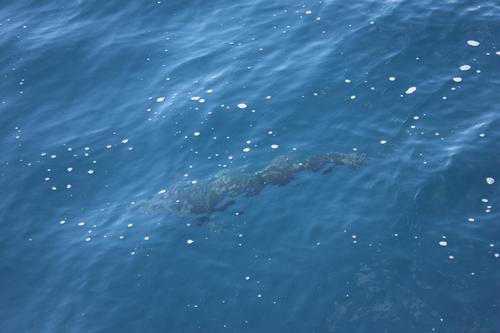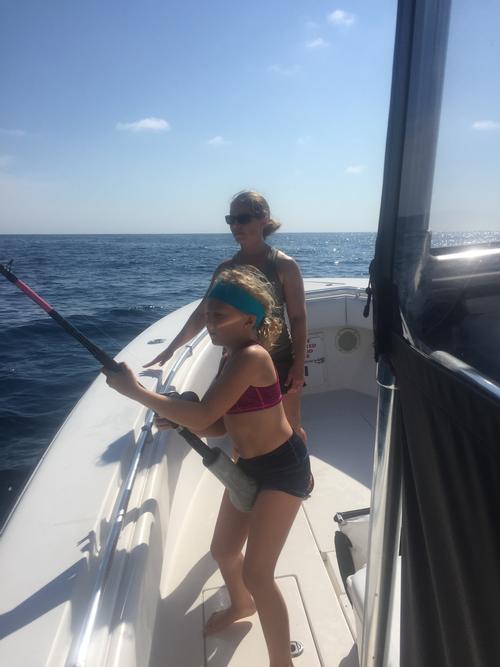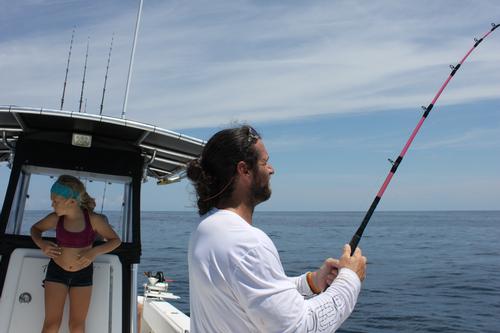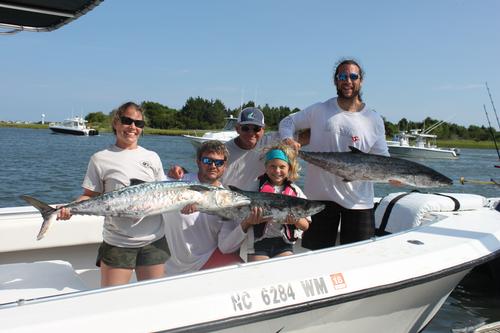 ---