"Jolly Mon Goes Racing" | OIFC World Cat / Carolina Cat | 04/14/10
The ASK A CAPTAIN menu button is up and running and I'm fielding questions. Try to keep questions specific for best answers, but the service is there. And for all you funny guys out there; don't ask a question unless you want your name attached to it.
Been pretty quiet here. It was lively last week with the holiday and Spring Break, but the fosset has been turned off. The weather has been good, with relatively light north winds. Offshore its been a bit rougher, which has kept us from heading out just to mess around. We have been working on the nearshore Sea Bass a good bit. The kids are loving it.
I am finalizing plans and sponsors for the Masters Series, Far Out Shoot Out and Jolly Mon; stay tuned for information on the events.
Now for the exciting news concerning the Jolly Mon. The Jolly Mon King Classic has its own race car. Jolly Mon Racing was founded this off season and is sponsoring a late model race car that runs in the NASCAR WHELEN series at Myrtle Beach Speedway. The Jolly Mon car is #02 and captained by Justin Millikin. The car owner is local celebrity Jamie Millikin and crew chief is "Tiny" Guyton. The head mechanic is Willie Grainger. And I am the fan club director.
The Jolly Mon car races pretty much every other Saturday at Myrtle Beach Speedway. Races start around 8pm and run to around 11pm. And if you think for a second this stuff isn't real, you need to make a visit. These cars are fast, running up to 100 mph on the 3/8 mile track; very close to the current Nationwide Series cars that are run today. Thus far, Justin and crew have run in 4 races this season. He has 2nd, 5th, 2nd and 6th place finishes thus far this season. A win has eluded us, but it is very close. Currently the team sits in 2nd place in the track champion points race, which is the ultimate goal.
Jolly Mon Racing will be continuing on their quest for a win and eventual track championship. You are invited to attend the races, and I will keep the schedule posted via this report so you'll know when the Jolly Mon car is racing. The next race is scheduled for Saturday, April 24th, so come on down and watch the show. In addition, the team and car with hauler will be at the Jolly Mon King Classic with custom apparel and tours of their equipment. Stay tune for more-- pictures of team logo and race shots below.
- Capt. Brant McMullan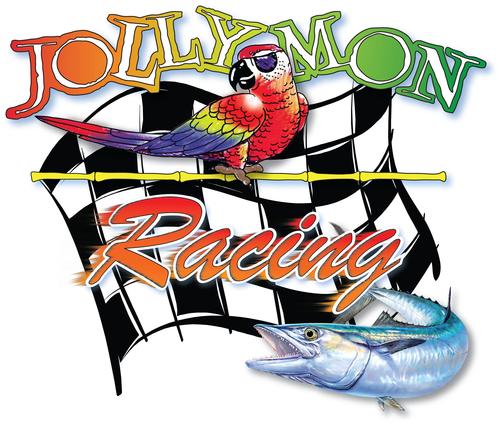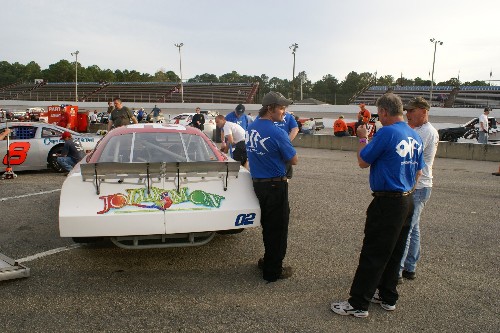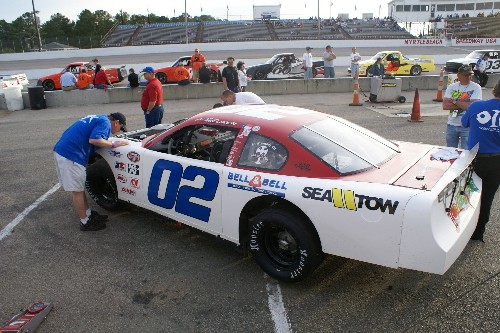 ---