"Back to the Marsh" | OIFC | 08/04/16
It's been a while but I'm back in the marsh of southern Louisiana chasing redfish and boy does it feel good. I had to put my redfish tournament career on hold for most of the season due to work, kids, & life. Traveling back and forth to the Gulf from Ocean Isle was tough on the schedule. Fishing those one man tournaments alone was extremely difficult and frankly wore on me mentally. So I opted out of the HT Elite one man events this year and instead decided to take a more relaxed approach and fish the tournaments that fit the schedule.
I left out of Ocean Isle on Wednesday and made the long tow down about an hour west of New Orleans to Houma, LA. There is an Inshore Fishing Association tournament this weekend that I will be fishing. This time I am teaming up with one of my HT Elite competitors, Jay Cedotal, from Louisiana. I'm eager to hit the water with someone else on the boat. The one on one conversations I've been having with myself for the past few years fishing alone are getting old. Jay is a top redfish angler so hopefully I'll be able to gain some knowledge and confidence after fishing with him.
After making the long trip down yesterday, I got up early this morning, put the pieces back together and got on the water around 7:30. With Jay unable to go today I was scouting by myself again. Perfect weather conditions made getting back in the swing of things much more enjoyable. It wasn't long until I was creeping up a shoreline with slick calm and sunny conditions when a square headed brute redfish started pushing a wake toward me from about 100 yards away. I went ahead and got the jitters out of the way by first casting with my line wrapped around the rod tip, then backlashing, and finally nearly falling off my tower. I eventually settled back into the groove and caught a ton of fish today and had a ball. All the fish were 25" to 30" and weighed between 6 and 12lbs.
Tomorrow Jay and I will scout one more day before fishing the tournament Saturday. It was great to be back on the marsh today. Caught tons of fish, saw more and the first boat I saw all day was the one I towed in on the way home. Building up that good karma!
- Capt. Barrett McMullan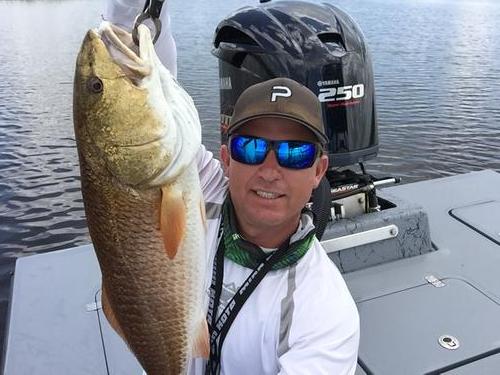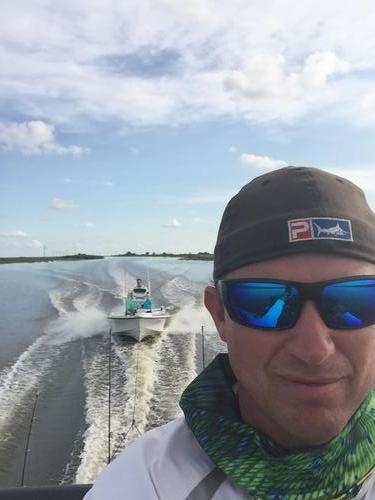 ---