"Kingfish!!" | OIFC World Cat / Carolina Cat | 06/29/11
Wesley Thomas, Kevin Beverley, Ryan Rodgers and Michael Beverley headed out king hunting this weekend. On Sunday they found bait with no problem. Somewhere along the way and over no structure they decided to let lines out. It was a good thing. The action was fast and furious. After catching 4 kings they decided to head further out to catch some mahi. There was no action there so they returned to their king hole. They boated a smoker in the 30 lb range.
Come Monday the guys headed back to the same numbers and found the bite was still on. Their best luck was on Jr. Islanders. The color didn't seem to matter. By 11 o'clock they had met their 3 man, 9 per boat limit on kings.
Wesley sent some cool pics, but unfortunately they were in the jpeg format so I couldn't use them. Hint, hint.
- Capt. Rickey Beck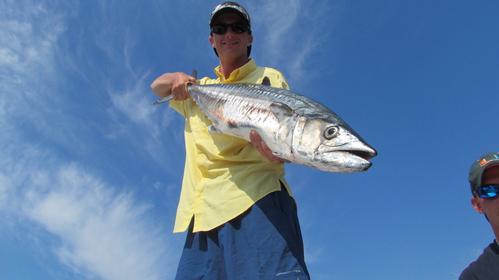 ---