"Today's Stream Report" | OIFC World Cat / Carolina Cat | 12/29/11
The conditions this morning were great as we arrived to the 100/400 with flat calm seas and water temps of 73-74 degrees- apparently the fish didn't get the memo? We set out and after about 20 minutes a weighted line was taken and we were hooked up. John Richardson Sr. went to work and after a hard fought battle, landed a 40.5 pound Wahoo. The day was young and things were looking up. From there however, the action go SLOW. We caught quite a few small False Albacore on the tuna feathers I had set on the long riggers and we pulled off a good Wahoo bite, but by noon I was struggling for answers. I made my way to the Black Jack hole which was now vacant as all the boats that started there in the AM had moved on to the Steeples. The winds had picked up to 15kts or better and the sharp 2-4 foot chop made trolling a bit tougher. As I pulled down "main street" I noticed a slick on the water and made a turn, passing downwind and catching the unmistakable scent of fish. As I circled back into the sea the long rigger feather was taken and this time by a decent fish. John Jr. went to work and after a tense boatside "tuna style" struggle, he brought a nice Blackfin aboard. It was the fourth quarter and we were in rally mode. But it was getting pretty sloppy. We set again and made another pass up main street and just as I reached the top end the planer rod went off and we stayed connected to an obvious high-speed Wahoo. John Jr. again did the honors and angled a 39.6 pound Wahoo to the gaff. Now we were moving in the right direction. We had about 30 more minutes to fish, and one more good fish would put the ledger back in our favor. Another pass up main street and the planer rod again went off, this time however it was the oh too familiar screaming reel followed by sudden silence- pulled hooks. Arghhh! We reset and fished a bit longer, but did not get another shot. We ended up with 2 nice Hoos and a Blackfin - I think we had in total 7-8 solid Wahoo bites, which is pretty consistent with my .300 Wahoo batting average. The Richardsons were great sports and they never lost hope and stayed confident. It was a good day of mediocre fishing that at least ended on a relative up note. Not sure what it translates to for 2012, but I'm sure its my last offshore trip of the year.
It was nice to see quite a few other fishermen on the water in the Stream as well. The action for everyone seemed pretty consistent, with the Steeples sounding like the best, albeit not hot.
I wish everyone a Happy New Year and hope to see more of you on the water more often in 2012- make it a resolution- GO FISH !
- Capt. Brant McMullan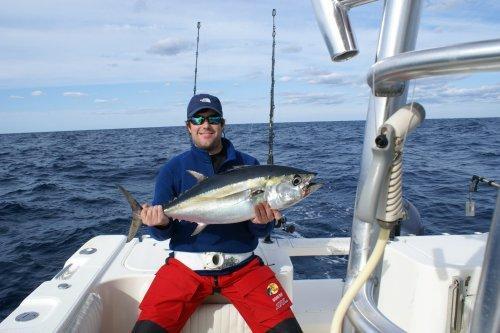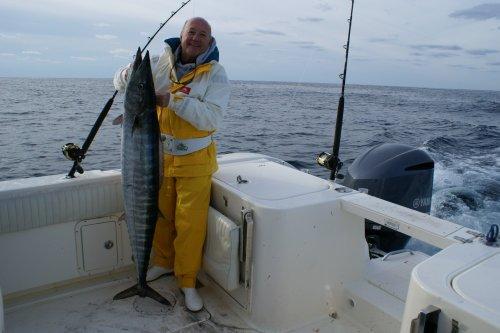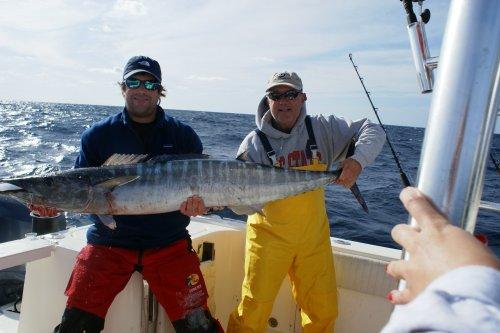 ---