"U. S. Open Recap" | Do Work / OIFC | 10/06/13
The week of the U.S. Open was eventful to say the least! My week started Tuesday when I received a phone call telling me that the lower seal of my starboard motor was leaking. So we made a phone call to Bobby Lovingood and he responded right away and solved the issue. The same day Capt. Rickey did his once over inspection of the Do Work and found a slight oil leak in the port motor! I'll skip telling what my response was when I found that out, but the ones who know me will have a good guess. Once again a call was made to Bobby Lovingood and he responded right away to fix the leak. So a special thanks to Bobby Lovingood! Without his assistance, none of the rest of the story would' ve ever happened.
The Do Work/OIFC team consisted of Capt. Rickey aka Papa D (we all know him), Steve Lanier, Amanda Bennett (OIFC Staff), Ben Morris (OIFC Staff), and myself. Courtney and Camdyn had to sit this one out. They had to go to Durham and represent us at a family reunion and birthday party. I had a spot in mind in about 65 foot of water to start the fishing on Friday morning. We loaded the Do Work and pulled away from the dock and took our time getting to the Lockwood Folly Inlet to check out. Once we made our way through the check out, we found our bait just down from the inlet. With one throw of our Capt. Brant's Custom Cast net, we had all the big pogies we needed. I then turned the Do Work offshore and away we went. We arrived at our spot around 8:00 a.m. The crew put the baits out and we began to troll. At 8:45 everything went WILD! We had a triple header on and all the fish seemed to be a good class of fish. I knew the one Papa D was fighting was the one we wanted. Lucky for us, all the fish ran in opposite directions. The first two fish were landed and all focus was put on Papa D's fish, which struck a naked pogey. He battled the fish like a pro, and once the fish came into gaff range Ben stuck it and she was brought on board. Hugs and high fives were given, and our fish was iced down. We continued to catch a good class of fish for the remainder of the time we spent out there. The anticipation finally got to us and we had to go weigh. So around 11:00ish we pulled all lines in and headed towards Southport. Once at the scales, we discovered that our fish weighed 35.45. Once again hugs and high fives were given. We paused long enough for a quick photo op, then loaded back up and headed to the same spot to try and better our fish. Once we arrived back to the fishing grounds, we learned that the bite had slowed. We continued to fish and were picking at a few fish. Ben was putting a bait back out when it got absolutely SMOKED. It was like nothing I have ever seen before. The fish stripped several hundred yards of line then did a complete circle around the boat and headed off shore. I would've bet you at the time we hooked a submarine. You could hear the line cutting through the water and it was making a wake. Ben fought the fish and eventually it was brought in close enough to be gaffed. YES, wahoo steaks for everyone. The fish was iced and later weighed at the OIFC where it tipped the scales at 44 pounds. For everyone wondering, did I get excited when the fish hit? YES! At the end of day one, we had a 35.45 KIng at the scales and a 44 pound wahoo on the dock. What a great day! The team did awesome for the first time fishing together. We landed every fish we had on with the exception of one. That included a triple header where one fish was 35 lbs. along with several double headers.
Day two was no where near as exciting on the fishing scene as Friday. We checked out and finding bait was no problem again. We headed to the same area hoping for the same action. The action was just not there. In the famous words of a good friend of the mine, "it started off slow and just tapered off from there". We only had one strike. It was a good one on the down rigger, but the wire broke. We then jumped around to several different water depths and only caught one Spanish Mackerel all day. We then pulled lines in and headed to the dock to prepare to head to Southport to see how Team Do Work/OIFC finished.
Now here's where the day two excitement begins. We look at the board and see where we finished 8th overall, 2nd place lady and won a special weight. Once again hugs and high fives were passed around. What a great feeing it was, one I will never forget. It was nice seeing all the local teams receiving awards and seeing the OIFC name on the leader board several times. I would like to thank everyone for the calls, texts and handshakes of congratulations. I would personally like to thank all the members of the team, Papa D, Steve Lanier, Amanda Bennett and Ben Morris, you did awesome! A special thanks goes to Ocean Isle Fishing Center and the McMullan family, Dr. Jeremy Phillips of Elite Performance Chiropractic, and Bobby Lovingood. They are the ones who have taught me a ton and help keep Team Do Work/OIFC on the water. That's our recap of the 2013 U.S. Open, can't wait to see everyone at the Fall Brawl next weekend!
- Capt. Jeff Beck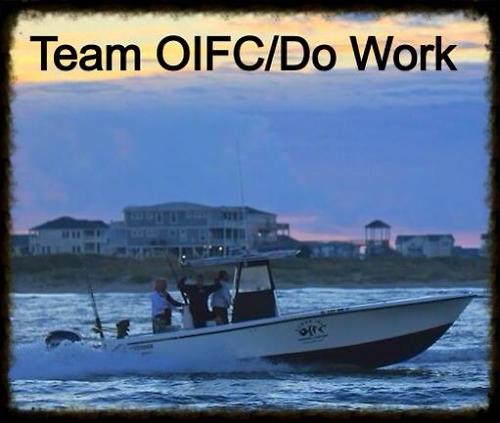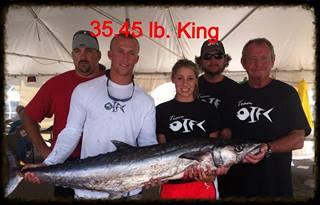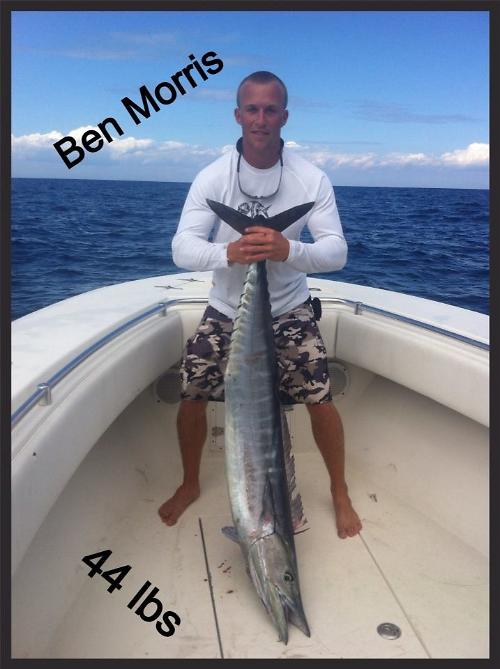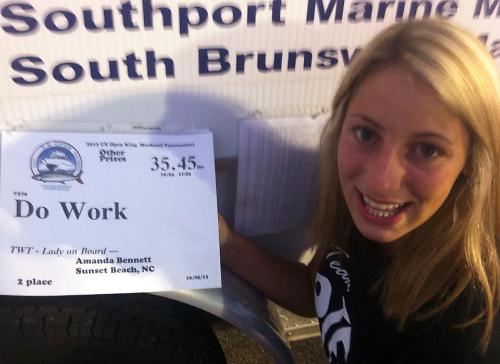 ---