"Backwater School" | Tiberias - 22' | 04/16/14
May 2nd land class 5-7pm...May 3rd full day of fishing. Currently two spots have filled for this class. Who will be the third? The cost is $225 per person. The focus of this class is to learn when, where, how and why to fish certain techniques. We will certainly do our best to catch fish, but the focus is on the process to become a more confident fisherman. Get more confident in making a move or changing your approach. Learn to search out new areas and fish them effectively with confidence.
The latest fishing action has been focused on the redfish. Trout are moving around and should get more active in the next few weeks. Flounder have started to make a showing in the Cherry Grove area and that action should get closer to home in a week or so. Peanut menhaden started to flip in the waterway around Holden Beach this past weekend, but this cold front might have pushed them deeper. They will be back soon. It is all coming together slowly but surely. See ya on the water!
Jack Ellis with a stud 30 incher caught just before this cold front hit us. Jack was fishing with blue crab on a 3/4oz. carolina rig when this redfish hit in just inches of water. It was quite a sight to witness, Jack!
- Capt. Jacob Frick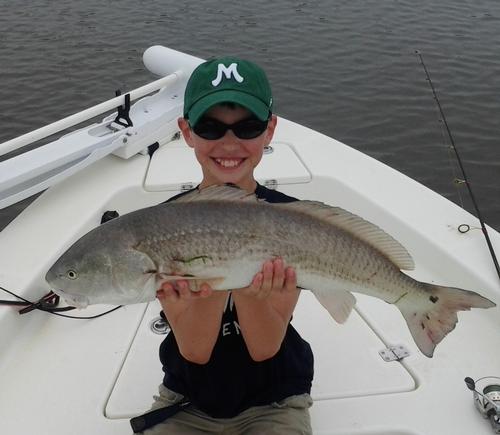 ---