"VA Beach Adventure Continued" | OIFC | 09/14/14
OIFC charter crew members- Capt. Chris Dew, first mate Aaron Dew and first Ben Morris joined my son Brayden and I aboard the Team OIFC boat for a day of White Marlin fishing out of VA Beach. Barrett and I fished up here last week and had some decent success catching White Marlin. I was not satisfied as I would like to hone skills in this style of fishing. It is so very different than we have out of Ocean Isle, but actually very similar to fishing that many travel to distant foreign lands to experience.
We cleared Rudee Inlet around 6am and pointed the bow of the 32 Yellowfin due East 64 nm. The wind was dying down and was blowing around 10-15kts. There was still a residual sea from the previous winds and we trudged ahead a 25-27knots to make it to the fishing grounds; the further we got the better the conditions got.
Upon arrival we set a spread of squid teaser chains and circle hook Ballyhoo. None of the crew had experienced this style of fishing before. I did my best to explain scenarios, albeit my experience is not worthy of much direction. About 30 minutes in all the direction went out the window as a White pulled in on the starboard teaser and proceeded to beat it to death. I was yelling orders, which by the time they cleared my tongue were now irrelevanet. The White never turned focus off the teaser and after a couple minutes got bored and left. We again kept on and then again the next fish on the teaser. Tangled lines, people falling, me yelling...... it was just as it should be. Somehow though OC had picked up the long rigger bait and after the White made a mockery of the teaser bait guys, he fell back onto the long rigger and found a hook. We caught and released. We reset and again same game.... we did not get good, but we did get better as time progressed. We caught 3 Whites in total while trolling ballyhoo. One came off the teaser and the other two came off the long riggers after we swung and missed on the teaser bite. I know on at least two of the encounters we had more than one fish in the spread. We also stopped to try the live bait style for Whites that is being done up here. We jigged Tinker Mackerel from 350 feet down and bridled a spread and began slow trolling. We are experienced live bait fishermen, but the White Marlin again made us look silly. As best I can tell there was 3 or maybe more Whites that came in and tied a bowtie in our lines and left us scratching our head. However, I had boobie trapped a downrigger bait with automatic drop back which caught one of them by surprise. We caught and released one before choosing to get back to Ballyhoo fishing. At around 5pm we had just released our 4th white and I set our single large MoldCraft chugger in the middle of the spread and put it in the T top rod holder. This large lure is designed to act as a teaser and it is also set to entice a Blue Marlin. I had hardly set the rod down when it bent over and line began spooling off at a moderate rate. OC grabbed the rod. Nothing unusual; I just figured a White had grabbed it and got the hook. Then out of the water a 300+ pound Blue surfaces and then erupts straight up in the air. Things spead up after that- on deck and on the reel spool. I'm shouting orders, line is screaming off..... we were making a turn on the big Blue to get off the bow and slow progress. And although we were losing line fast, we were doing pretty good- and then the line parted. Darn it! The fish had a few hundred yards on us and the line was 60lb and it had been through a lot of fish over the Summer. It was heart breaking to lose the fish, but what a thrill. I had set aside a TLD30 for the Blue Marlin reel, but I think that will be rethought. I have a bad habit of underestimating the tackle needed for certain species. Thus it will be a 50W for the next outting.
We ended up with 4 White Marlin releases out of maybe 12 or so Whites in the spread and a miss on a Blue Marlin. That is not great catching, but it is great fishing. And like anything who seeks to be better at anything, experience will make the difference. Thus, my team has headed home but I'm staying and a new crew will be here in a day when the next weather window opens up. Stay tuned.
It is typical though that I would leave OIB and the weather would be great and the fishing great too. The Kings seem to be showing themselves as the weather and water are finally clearing up. And the Wahoo fishing has been red hot on the break. The Winyah Scarp has had some good fish as well as the areas North of the Steeples. These Wahoo come and go, so they can be anywhere on any given day.
- Capt. Brant McMullan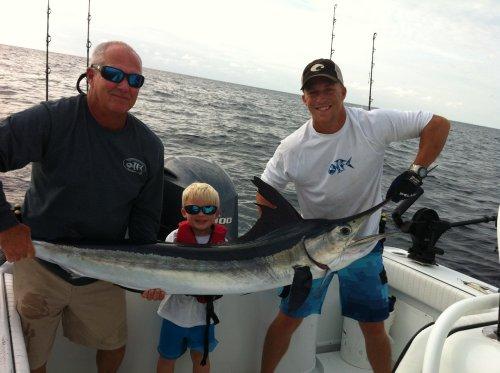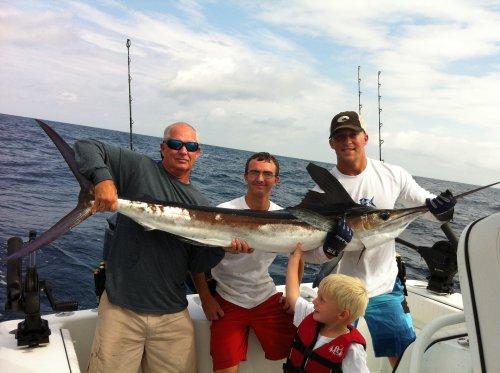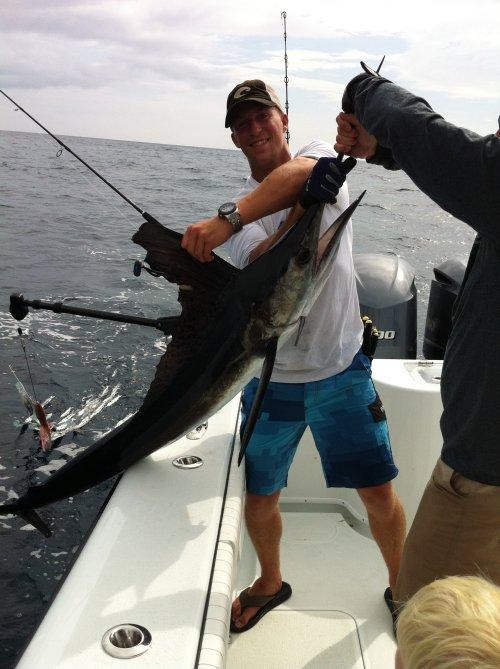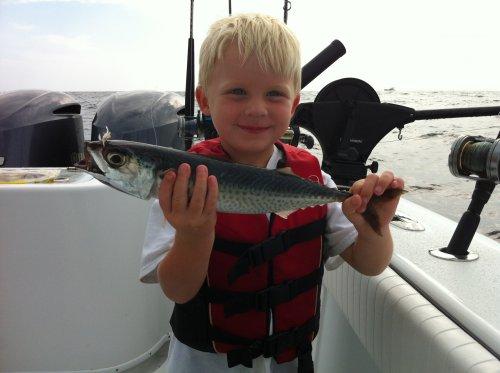 ---