"Rigging Live Shrimp" | Do Work / OIFC | 11/28/14
~
How to Rig Live Shrimp as recommended by the pros at the Ocean Isle Fishing Center.
The lowly shrimp may be the most commonly used bait south of the Mason-Dixon line. Aside from being fairly cheap and easy to keep alive, these prolific crustaceans rank high on the menu of many popular inshore species, including grouper, bonefish, tarpon, snook, seatrout, redfish and jacks. Here are several ways to rig a live shrimp for fishing in different situations.

1. If you intend to drift your shrimp in the current or suspend it below a float rig or popping cork, you'll want to take advantage of its natural kicking action, which often pushes the strike button of many game fish. The best way to do this is to hook the shrimp through its carapace. However, it is important to avoid the shrimp's stomach and pancreas, which appear as two translucent dark spots. In version one, the hook is threaded crosswise through the carapace, just under the tip of the shell.
- Capt. Rickey Beck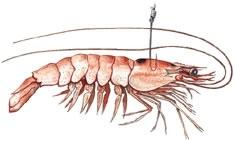 ---