"VA Beach Recap" | OIFC | 09/06/14
~~Back at home today after two days of white marlin fishing out of Virginia Beach. Capt. Brant and I heard there was a strong bite of white marlin going on earlier this week so we took off out of Ocean Isle Wednesday afternoon with our sights set on Oregon Inlet. After more investigation we found out the bite was better further north so we altered course and headed for VA Beach. It's about a 6 hour tow from OIB. For some reason going north 6 hours seems like a much bigger deal than going south. I can tell you the landscape and people sure change a lot more going north vs south.

We woke up early Thursday morning and put the boat in not really knowing where to start. We put in at Rudee inlet at the Virginia Beach Fishing Center but it didn't look like there was much activity around the docks. We finally decided to head offshore around 630am and hope we would find the fleet. Apparently they leave the dock really early around there so missed our chance to latch onto the charter boats. Nevertheless it was calms seas and we had mobility so off we went at 50mph due east toward the Norfolk canyon with white marlin on our mind. We came prepared with all the high level white marlin gear we've heard about (dredges, teasers, dink baits etc). After about 65 miles of running offshore we began to see boats in the distance it quickly became apparent we were in the right place. We stopped on the outside of about 30 charter boats who were chattering on the radio about how the bite had been very good in previous days but starting off slow this morning. As we organized our gear we heard several boats catching white marlin and a few blue marlin we're being battled. Getting a white marlin trolling spread in the water is no small task. Between the dredges, squid chains and hooked baits, there is a lot of rigging involved. We put the boat in idle ahead and as we completed rigging each step we'd put it behind the boat sort of setting the stage for when we'd actually start actively trolling/fishing. The first thing in the water was a squid chain and keep in mind we are just moving forward at idle speed, not trolling speed. I went back to rigging the dredge and about 2 minutes later Brant was working on getting the riggers set up and he shouts, "there he is". I'm confused as we haven't really started fishing. "There he is? What!" I look up and about 20 ft behind the boat I see a bill and dorsal fin going nuts on our squid chain. We go into a Chinese fire alarm trying to get a hook in a bait so we can get it in front of the white. We finally did but he wasn't keen on our bait just preferred to destroy our teaser. After a few minutes he swam off. 0 for 1.
We got our spread together and began fishing a short time after our first encounter. It wasn't long until we had two more whites come up on our long riggers. Brant fed one and we were on. The fish was angled, posed for pics and released. 1 for 3. Success! We had officially left our neighborhood, travled to a new place with an objective and accomplished the goal. We're thinking this is easy, now let's put some numbers on the boat. As is typical with that frame of thought, the bite totally died. The fleet was moaning about how bad the fishing was as apparently they were all catching double digit whites leading up to the day. What was interesting was observing these local boats. Like is always the case, these guys had it dialed in. We were under the impression white marlin fishing was a trolling fishery but up there these guys were into a new tactic of live baiting. This was right up our alley. So after a few hours without a bite, we studied what they were doing and dropped a jig 400 ft to the bottom to try and jig up live bait. Sure enough, we found jumbo tinker mackerel were thick on the bottom. This is why the fish were there. We quickly transitioned to live bait gear and we were fishing. It still wasn't hot and heavy but we finally did get another couple bites and landed one white before the end of the day. 2 for 5 was the result. We had learned a lot and still had a lot to learn. The plan was to try again in the morning for a half day. Day two report coming later. No Chris Campbell on board so these few pics and vid is all we have for now.
- Capt. Barrett McMullan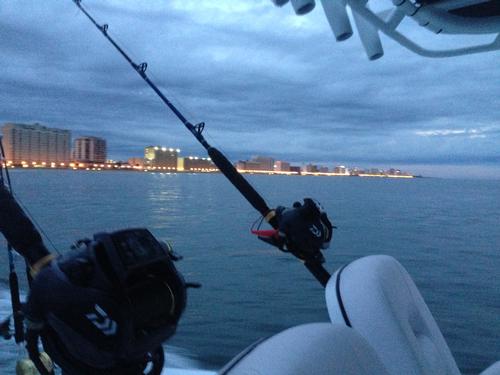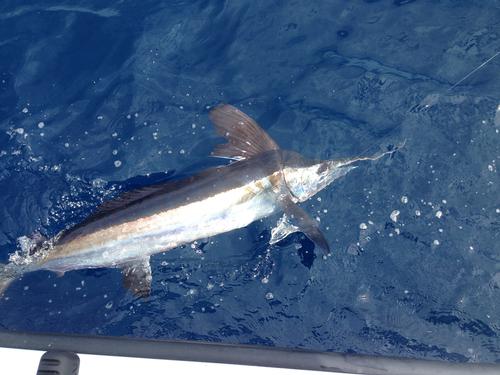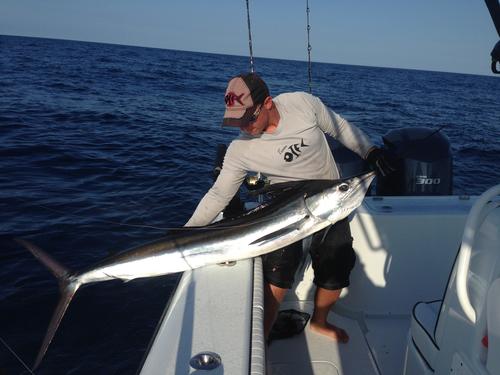 ---