"IFA Pro AM- Slidel" | OIFC | 09/13/14
I've been off the radar lately. Between work, travel, babies and fishing it's tough to slow down long enough to post a report. To catch every one up on my latest fishing adventures I'll go thru the last couple days. With my HT Elite one man redfish tournaments wrapped up for the year I had a hankering to get back to the gulf and hunt redfish. I got the chance when I was able to get into the Inshore Fishing Association's Pro Am event being held in Slidel, LA this weekend.
I am here as a co-angler which means essentially I am filling the role of amateur. 20 Pros are randomly paired with 20 amateurs and then shuffled each day. It's every man for himself but the pros are competing against pros and amateurs vs amateurs with one pro and one amateur on each boat. As the co angler or amateur there's really not a whole lot you can do to influence the success or lackthereof your day. It's also kind of nice because you have no responsibilities either which is perfect for me on my currently busy schedule! No prefishing involved for me on this deal. Just roll into town, go fish and let the cards fall.
Day one I was paired up with Rob Ferris, who ironically is an old king mackerel tournament guy from NC (Mad Mouse Team) who has converted to redfish. We fished the Biloxi marsh and had a fair day. We were able sight fish some and managed to scrape together a 2 fish sack of 13.11. After day one I was in 9th place. The top 10 boats at the end of day two move onto the final day of fishing on Sunday.
Day two, today, I was paired with Louisiana guide and redfish tournament legend Eddie Adams. He did not dissapoint. I saw parts of Louisiana today that I'm not sure too many people have seen. We ran through bayous no wider than a parking space at 55mph, weaving through the marshes, bayous, lakes, ponds and rivers until we reached our fishing destination. We fished some absolutely perfect conditions in gin clear water. Unfortunately most of the fish he was on had disappeared. We worked hard all day and had about 11lbs in the boat which wasn't going to do it for either of us. I will admit Eddi caught most of the fish. The guy has eyes for redfish like I've never seen. With about 15 minutes left to fish before we had to go, patience and perseverence paid off. We (he) nailed two quality fish. The first was a stud that barely measured and ended up weighing 8.84lbs. The second fish was 7.47 which gave us over 16lbs for todays sack. It was good enough to put him into second place for the pros and me into 3rd place on the amateur side.
Tomorrow is the final day of fishing and the top 10 pros and amateurs will be on the water. I'm teamed up with another top redfish tournament pro, Fred Myers from Pensacola. In all honesty the success in the tournament is not too important to me. Getting the opportunity to fish on the same boat as some of the best in the business is what it's all about.
- Capt. Barrett McMullan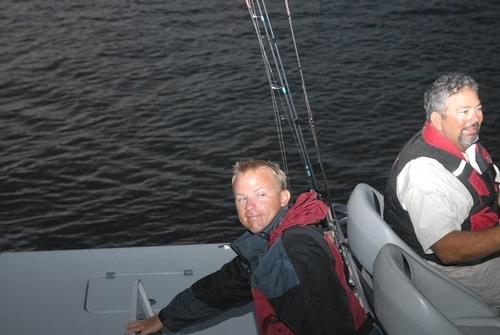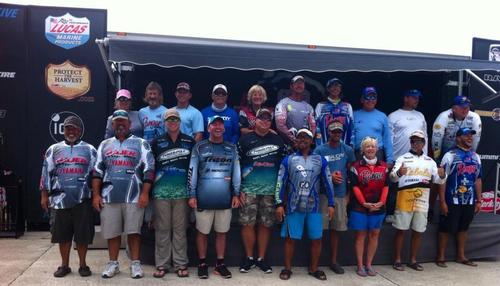 ---