"IFA Houma Prefishing Day 2" | OIFC | 10/22/14
~~So after my day yesterday and theorizing the fish here locally are "beat up" I decided I needed to expand my search area. From Houma, I am roughly 100 miles west of Venice, LA, which is the area where traditionally the heaviest slot reds live. Most of the redfish highliner anglers will likely be heading that way. I haven't fished too much around Venice so I was a bit reluctant to make that run today. Additionally with all the northeast wind the already shallow waters around Venice will be even skinnier as the wind blows the water out of the inshore ponds. But still, I studied Google Earth last night and made a plan. I dropped the boat in early this morning and proceeded about 1/4 mile to the first swing bridge I had to pass on the way to Venice. As is typical with trying to plan too much, my plan was over before it began as I found out the bridge would not be opening until 8am so the school buses could get through. Go figure. So what does Team OIFC do in a spot like this? True to reputation, I reversed course and ran 100 miles in the opposite direction of the rest of the fleet and my original plan!

As I've said before, it's an adventure and this one was just getting started. Taking a 100 mile run through the Louisiana marsh is not a simple deal where you plug in a waypoint and sit back as the miles click down. It's hair pin turns, gate jumping, broke down oil rig dodging, weeving around gators, and running wide open in 8" of water. About half way to my destination this morning my mind started drifting and the next thing I knew I was high and dry in the middle of the Atchafalaya Bay. I was running 50mph and started bumping so I hammered down thinking I could swerve out of it. Negative. I piled it up....bad. So what do you do in a situation like this? First move, check cell phone for service. Nope. Any boats in sights? Nope. This was one of those bad groundings. I wasn't in a tight ditch with land nearby. I was in the middle of huge wide open bay and never considered there'd be a mud flat in this big body of water. You'd never know either as the water looked like chocolate milk. Ok, next step is to see how stuck I am. Can I power out? Nope, 4" of water. At this point I stopped, took a deep breath and tried to think my way through the situation. I could see a crab trap about a 1/4 mile perpendicular to the boat. I noticed the trap wasn't sticking out above the water so I knew the depth had to be at least 2' (the height of a crab trap). That's a good piece of info. I knew if I might be able get out and push the boat in that direction. Did I mention it was blowing 20 knots from the north east? That complicated the matter a bit. Anyways, I got to thinking about a time when Brant, Rube and I piled up the 32' Yellowfin in Drum Inlet and the technique we used to get out of that jam. Here's another good piece of info if you ever get stuck. When you try to power out and you put it in forward, it drives the stern down which is already the lowest point of the boat. However, if you put the engine in reverse it actually drives the bow down and lifts the stern. So putting the main engine in reverse and then turning the trolling motor backward on the front and turning it on wide open, I was able to drag the hull across the mud until I reached the crab pot I had seen and the deeper water. Wow. That was close!
Onward and upward. I kept on and made it to my fishing area another 50 miles away. The good news is I found fish and my theory of less pressure would equal more aggressive fish. The bad news is the fish are wanting to hang in very shallow water and just can't get the boat as close as I need to. It's a matter of a couple inches of draft.
Tomorrow is my last day of prefishing. I've got one more area to look at it in the morning. If that doesn't pan out, I'm likely to make that same run again that I made today. I feel better about taking my chances with the shallow water and no boat pressure than banging it out with the rest of tournament here. I hate I didn't make it to Venice. The winners will likely come from there. I'll have to put that on the list for my next exploration mission.
Now that's a smooth skeg!
- Capt. Barrett McMullan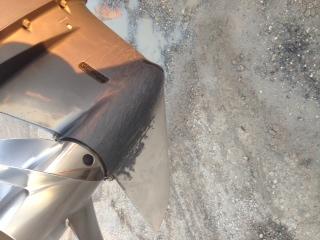 ---