"Guide Service" | OIFC 1- 36' | 09/25/09
The OIFC offers a Guide Service for those who want help in learning to operate their boat or fishing using their own boat and equipment. Simply put, for $30 an hour one of the OIFC's licensed Captains will go with you on your boat and show you the ins and outs of boat operation, fishing and fishing equipment. In return you will get a gift card for $15 per hour to the OIFC. A pretty good deal.
Kris Thompson, Billy Thompson, Kris' son in law Scotty Benton and his wife Sarah, all of Rockingham and Holden Beach, NC, took advantage of the OIFC Guide Program today, with Captain Jeff (Get Busy) Williamson working with them on their sweet new 21' Carolina Skiff.
Jeff showed them how to catch pogies with his Captain Brant's Custom Pogy Net in 20 ft of water just east of the "High Hill". They then fished the Youpon Reef and just off the Ocean Crest Fishing Pier. Captain Brant reported several kings being caught at the pier lately The group caught kings and spanish. Afterwards they came back to the OIFC where Jeff instructed them on how to clean the fish. A friendlier group of folks would be hard to find. They enjoyed fishing with Capt. Jeff Williamson (who wouldn't?) and the OIFC appreciates them choosing us to help them out.
You'll notice Captain Jeff just had to be in the picture. And yes, he is holding his stomach in!
- Capt. Rickey Beck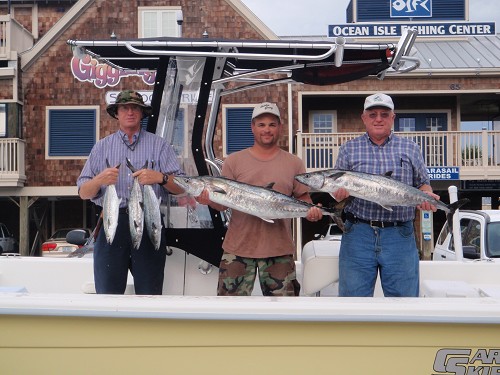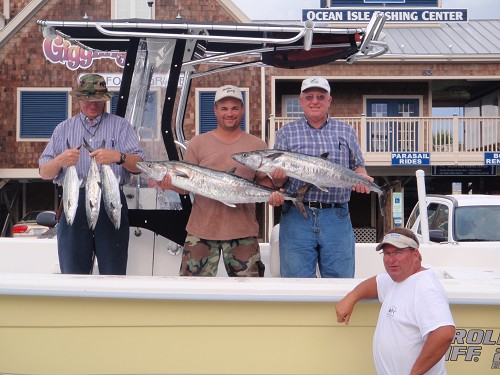 ---