"Lobotes surinamensis" | OIFC 1- 36' | 10/28/09
Just after everyone had finished weighing in their kings for the Fall Brawl Richard Keck walked up from the docks carrying a big brown fish which was obvious to the crowd, not a king mack!
Richard walked up to the scales, and Rube weighed the fish and identified it. The ole'Lobotes surinamensis weighed 12.10 lbs. Good sized fish. Rube went on to explain that though caught in our waters it was uncommon to see this tasty fish.
The big fish with what appeared to be three tails is usually an incidental catch while the angler is fishing for something else. It's very often thought to be sick and thusly released because it floats on it's side. Looking a lot like a flounder, it generally hides under something, like weed, waiting for a bait fish, then darts out quickly and drills it for dinner.
Richard as fishing the Youpon with a pogy when he ran across this triple tail. No, I'm not that smart, out of curiosity I Googled triple tail before writing this post.
- Capt. Rickey Beck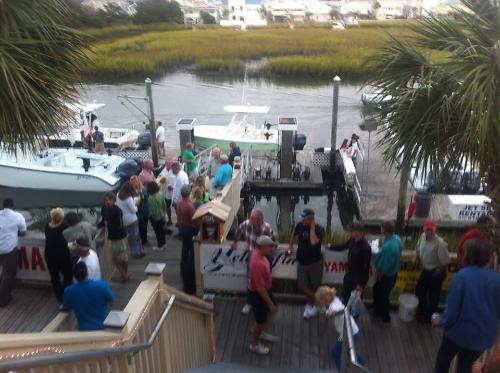 ---