"Mission Statement" | OIFC 1- 36' | 07/31/09
The OIFC Mission Statement says in part, and not to quote it, but that the Fishing Center will be a source of fishing info. and assistance.
We received an email from Ronnie Gleason, captain of the We're Not Worthy which exemplifies our commitment to the mission statement. Capt. Ronnie told of getting fishing info from some of our Captains on the dock one day. The next day, one of our Captains caught a bunch of pogies and shared them with the We're Not Worthy. Then they tagged along with our boats fishing and landed a cobia, some kings, one weighing 24lbs and some sharks. Check out their picture!
This report is not to brag, but is to emphasize that the OIFC is committed to helping anglers have more enjoyable and productive fishing experiences. Also, thanks Ronnie for your email and continued good luck with your fishing.
- Capt. Rickey Beck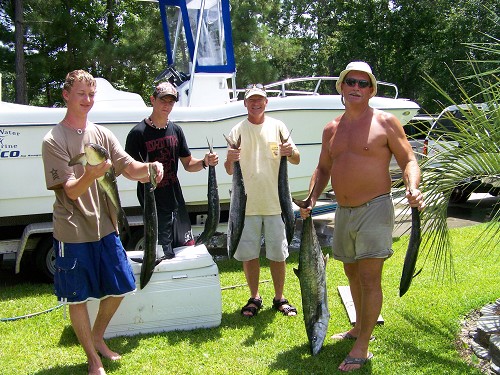 ---