""Trick or Treat"" | OIFC World Cat / Carolina Cat | 10/31/09
Bet these kings, grouper and AJ's wished they hadn't been tricked into treating themselves on the pinfish Captain Roger Gales, Bob Newell, York Pharr and Ned Garber were fishing with aboard Bob's Regulator today. They were fishing in 70 ft. of water when Bob caught the citation 32.7 lb king and Ned caught his 32.1 lb'r. I'm sure they wish they'd caught them last weekend for the Fall Brawl.
Not to be outdone, Captain Brant and Captain Chris Dew landed their own kings at the Jungle. The Captains reported swells of around 4 ft.
Captain Jeff Williamson had an inshore charter today and boated gray trout, speckled trout, reds and one extremely dark colored flounder.
The fun of fall fishing is upon us and should be around for awhile!
- Capt. Rickey Beck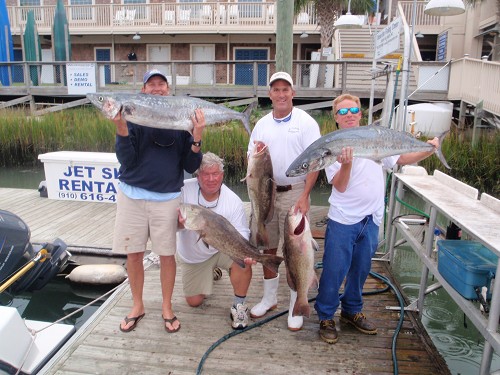 ---