"OIFC.com King Mackerel Tournament" | OIFC 1- 36' | 10/08/09
The 2nd Annual OIFC.com King Mackerel Tournament is coming soon. The competition will commence on November 7th, 2009 and run through November 15th. Teams will be able to register online ONLY at www.oifc.com/tournaments beginning Monday October 12th. Registration will remain open throughout the tournament until Friday November 13th at 11:59pm before the last weekend of fishing.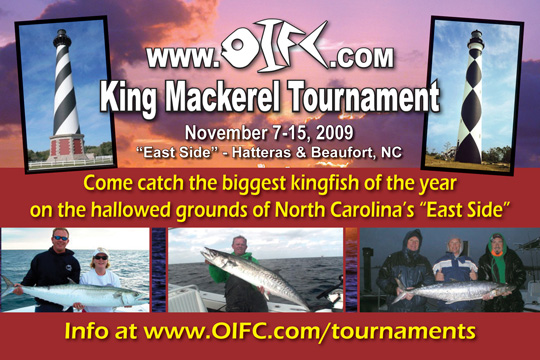 The purpose of this event is to provide a competitive arena for fishing teams at a time and place where the kingfish bite is at its peak. From Cape Lookout to Cape Hatteras in early November the kingfish are plentiful and they are LARGE! Fish from 30 to 50lbs are common and watch out for the ocassional giant bluefin tuna mixed in. The second idea behind this event is to promote the Ocean Isle Fishing Center's online webstore www.oifc.com/fishingstore. Capt Barrett, Capt Brant and the OIFC staff hope fishermen will take a few minutes to look around the webstore and give us a chance to earn your business. There is a plethora of custom products that are a must have for late fall North Carolina king mackerel fishing. Some of which products will be put on sale beginning Monday the 12th until the tournament.
This is a pick 2 out of 9 day format tournament. Teams must declare their days of fishing be 6am of the day they will fish by calling the declaration hotline at (910) 253 3474. The phone system is set up for teams to leave a message declaring their day. The time of the call will be automatically recorded. You MUST declare your day in order to weigh a fish on that day.
There are two weigh stations available for this event. The first weigh station is located at Hatteras Landing Marina in Hatteras. Billy Webster is the harbor master and will also serve as weigh master. Billy has been kind enough to put together special accomodation packages and dockage rates for tournament competitors. I highly encourage anyone fishing this event to make the trip to Hatteras. The fish are typically very close to the inlet and fishing Hatteras in the late fall is a "cultural experience" everyone needs to experience. To secure your accomodations and dockage contact Billy direct at (252) 489-0458. Make sure you let Billy know you are fishing the OIFC.com KMT. For anyone unsure of navigating to Hatteras contact ME.
The second weigh station is at Town Creek Marina in Beaufort. Shae Lewis will be the weigh master in Beaufort. Town Creek has a newly built boat ramp perfect for large center consoles. They also have plenty of overnight slips, ice and other supplies for kingfish teams. Call (877) 347 4869 to arrange dockage.
Early entry opens Monday October 12th and remains open until 11:59pm Friday November 6th. The cost for early entry is $300. Late entry will remain open during the competition until 11:59pm on Friday November 13th. Late entry is $350. There are also two $200 OPTIONAL TWT's available. There is a big fish TWT and an aggregate TWT. The winner of the general tournament and the aggregate TWT is the team that posts the largest combined weight of two kingfish, one per day. The general tournament and the TWT's will payout the top 3 places. 1st- 50%, 2nd- 30% and 3rd- 20%. This is a 100% payback event less operating expenses. Operating expenses shall not exceed 10% of entries. More boats = more payout. The payout will increase with every additional participant.
Additional information on RULES, REGISTRATION, RESULTS, and other general tournament information is posted on the tournament home site at www.oifc.com/tournaments.
IMPORTANT INFO:
When: November 7th - November 15th, 2009 (Pick 2 days)
Where: Hatteras Landing Marina weigh-in and Town Creek Marina, Beaufort, weigh-in.
Notes: Register online ONLY at www.oifc.com/tournaments.
Notes: Early registration is $300. Late Registration is $350. Two $200 TWT's available
Notes: Enter throughout the event until Friday, November 13th, 2009 before the last weekend of fishing
Notes: Contact captbarrett@oifc.com with questions
Notes: Shop online at www.oifc.com!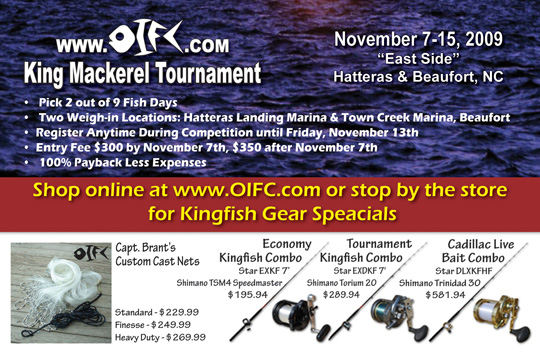 - Capt. Barrett McMullan
---