"Julie's Sailfish" | OIFC 1- 36' | 09/22/09
The OIFC received this email from Sylvia White. She did such a great job describing their fishing adventure I thought I'd pass it on in total. Thank you guys for sharing the story.
On Sept 12th four couples from N.C. (Charlotte, Mooresville and Jackson) and the owner of a 31 ft. Cape Horn, Julie Washam, and her son joined at Ocean Isle Beach for a week of fishing, eating and playing poker. The very first day the fishing wasn't too productive except for catching a large king and large spanish. Butch Hough tried his best to put us on some fish, but they were just nowhere to be found until we went to the Shark Hole where a sailfish was hooked! What an exciting time it was for all in the effort to get the fish in the boat. He gave us a thrill when he tailwalked across the water numerous times. It was a rare and beautiful sight.
Julie Washam, after fighting the fish for 45 minutes somehow managed to tire him out and reel him on in. The fish was almost lost 3 different times in his valiant fight to free himself. He tangled up fishing lines and swam dangerously close to the motor, but Julie was persistent in her quest and finally overpowered him.
It was a great moment as everyone scrambled to get the fish back in the water after quick pictures and unhooking him. He swam off as if he'd never been hooked. What a powerful and beautiful fish!
The fishing the rest of the days was sporadically productive. 53 spanish were caught close to shore midweek. Another the day the group went to the Raritan, the Horsehoe and the Tower which collectively yielded 6 large kings, 2 dolphin and several amber jack. On Friday 6 big kings and 4 spanish were caught at the 90's. By the end of the week, everyone had coolers full of fish. The weather all week long couldn't have been better except for the wind out of the northeast. The bait was plentiful and easy to find. It was an awesome fishing trip!
- Capt. Rickey Beck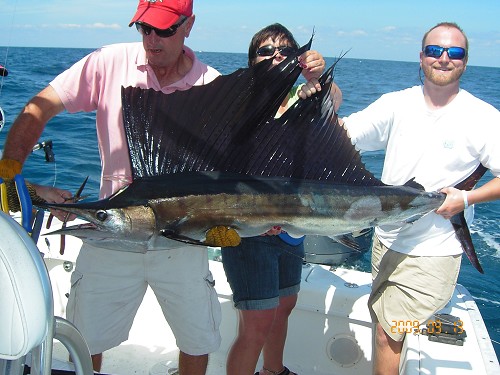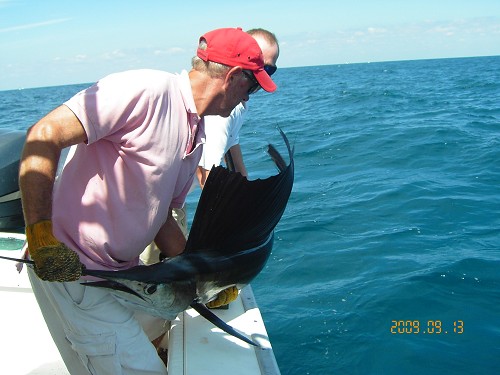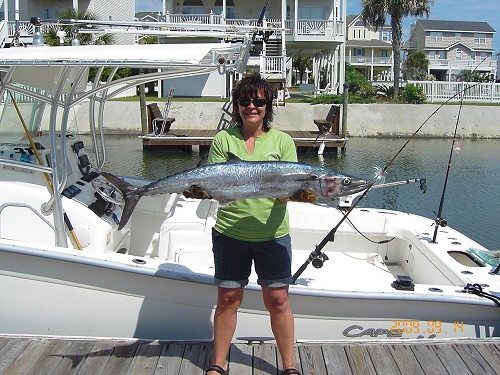 ---