"Final Bluefin Seminar for '09" | OIFC 1- 36' | 12/13/09
The 7-10 day forecast says Tuesday, Wednesday and Thursday are going to be very fishable. Then, of course, the weekend is predicted to go straight ....well downhill. Captain Zach and some others are planning to go to Morehead today and we'll get reports from them.
The last of four OIFC Bluefin Seminars was held today by Captain Brant. These seminars have been chock full of information which should make everyone a better bluefin angler. Today's Seminar was attended by around twenty people Thanks to everyone who attended the Seminars.
For those who missed the USCG Vessel Safety Inspection, you may contact Larry Coble at 910-619-1274 and arrange an inspection. Larry is authorized to inspect recreational, charter and commercial vessels. I cannot stress the importance and benefits of this program. Also a big OIFC thanks to Larry and his assistants for their inspections and the program they presented.
As an aside, we've had several people ask for horse ballyhoo. Our large ballyhoo is the same as horse. We sell the two pack of large which is less expensive than the single pack of horse. This is the same ballyhoo Capt. Brant used last year and will use this year.
The reports have been covering bluefin exclusively lately. However this time of year is a great time to king mackerel fish around the Tower, and inshore, the trout bite is on. You don't have to be a bluefin fisherman to enjoy the fishery in our area. However, if you want to try your hand at bluefin and don't have the equipment, or just aren't comfortable with your skill level, you make want to try one of Captain Brant's bluefin fishing charter specials. Take a little time during the holidays to come and join us.
- Capt. Rickey Beck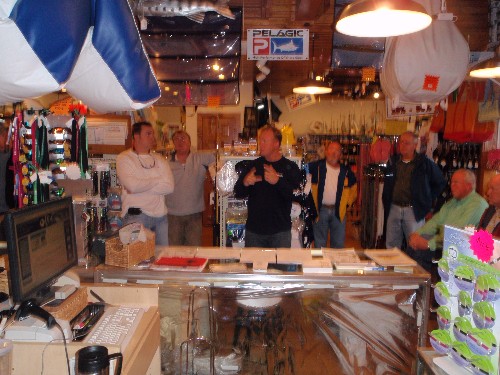 ---