"Life Saver" | OIFC 1- 36' | 09/07/09
Rainy, travel days often make for slow days for the Fishing Report. However it never fails that good friends and excellent fishermen save the day.
That's exactly what happened when Tommy Helms contacted me with a story and photographic evidence of a trip he and another good friend Tommy Lytton had Friday. The bait was thick and they had all intentions to go drum fishing. But for some reason they decided to give flounder fishing at an AR a shot. Good decision!!!
Tommy said they were drift fishing and discovered a spot where the flounder were stacked on each other like roofing shingles. He said that in total they caught about 50 fish, and threw back more flounder than he'd ever thrown back in his life. They had a friend with them who'd never flounder fished. I hope he doesn't think this is the norm. Check out the picture...it looks like someone tiled a floor with flounder.
- Capt. Rickey Beck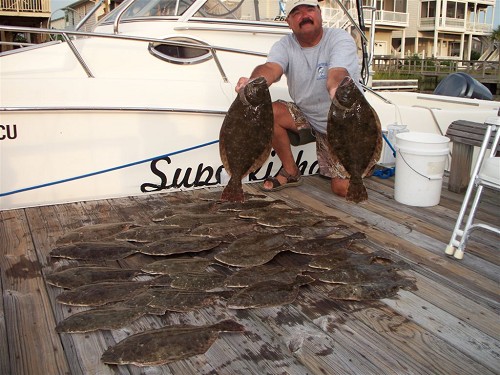 ---