"Happy Birthday!!!" | OIFC 1- 36' | 09/03/09
Happy 30th birthday to our own Captain Chris Burrows!!! How much you want to bet this report get edited?
The red drum are still at it. Captain Jeff (Get Busy) Williamson and Captain Jeff Beck again slayed the drum today. The flounder also decided to get in on the action. They were not the only ones getting in on the bite and their not so secrete secrete hole was not the only location of the bite. Locals attribute this hot action to the recent mullet run. Also, shrimp are again plentiful in the creeks and natural canals.
Off shore, I received a reliable report of a strong mahi bite near the Steeples. However the predicted north east wind may shut this bite down. The weekend prediction indicated the off shore seas to be bumpy. But the very near shore will probably be protected from the north wind by the islands. Often you can get a clear shot of the sea conditions by taking a look when crossing the Ocean Isle Bridge.
None the less, if you can't get off shore, the in shore action promises to be hot. Note: Captain J. Dogg Williamson should be sending me pictures of today's action and I'll post them when they arrive.
- Capt. Rickey Beck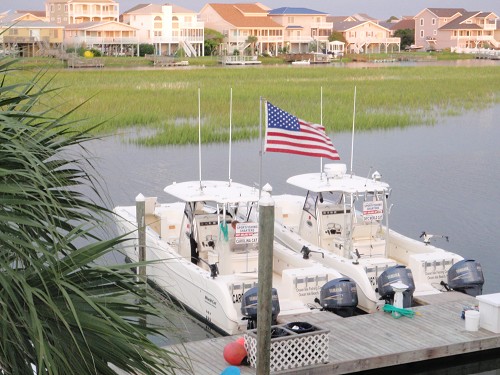 ---