"HALFTIME REPORT- Far Out Shoot Out" | OIFC | 05/14/17
HALFTIME UPDATE - FAR OUT SHOOT OUT- Tuna, Dolphin & Wahoo Rodeo
As of Saturday, May 13th, halfway through eligible competition days -
1st overall- Sea P.A- 70.25, 2nd overall- Reel Fast- 58.35, 3rd overall- OIFC Carolina Cat- 55.8
1st Mahi- Get Floor'd- 33.25, 1st Tuna- MacAttack- 25.3, 1st Wahoo- Wasted Time- 25.45
For all weigh-in results and to see whose in and whose not- go to www.OIFC.com/FOSO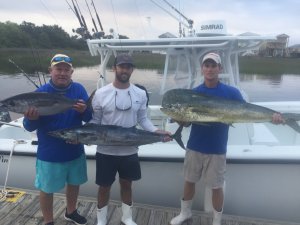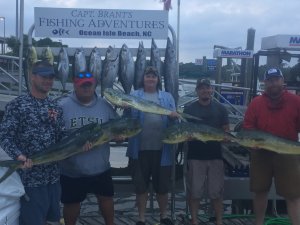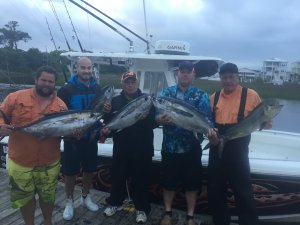 -ENTRY REMAINS OPEN THROUGH FRIDAY, MAY 19th- Enter On-Line www.OIFC.com/FOSO or visit the Ocean Isle Fishing Center
-Fishing is 1 out of 15 possible days (Saturday, May 6 to Saturday, May 20, 2017)
- AWARDS BREAKFAST at the Ocean Isle Fish Company , Sunday, May 21st @ 9am
- Register by dropping entry at the Ocean Isle Fishing Center, mailing to: FOSO- PO Box 895- Shallotte, NC 28459 or Enter On-line CLICK HERE
-You have until 8am the same day you plan to fish to declare your fishing day. Call (910) 253-3474 to declare.
-Meatfish TWT- $200 (based on largest fish weighed in tournament- Pays 1st-3rd)
-High Roller TWT- $500 (based on overall aggregate of one fish per species- Pays 1st-3rd)
-Lines in 8am- Lines out 4pm -- Must be to scale by 8pm
VISIT FAR OUT SHOOT OUT WEBSITE FOR COMPLETE EVENT DETAILS AND ENTRY- CLICK HERE
---
AVAILABLE OIFC FISHING SCHOOLS
August 26- Grouper Fishing- 2 spots
September 4, Kite Fishing- 4 spots
** Call 910-575-3474 to book **
---
Inaugural Ron McManus Memorial Fishing Tournament Slated for Memorial Day Weekend
North Myrtle Beach, SC— The Inaugural Ron McManus Memorial Fishing Tournament, a fundraising fishing tournament honoring North Myrtle Beach businessman and avid fisherman, Ron McManus, is scheduled for Memorial Day Weekend, May 26-28, 2017, at Harbourgate Marina in North Myrtle Beach.
The Ron McManus Memorial Fishing Tournament, whose major sponsors are Sandhills Bank, Sportsman's Choice, Mama Jean's, Captain Archie's and the City of North Myrtle Beach, is the first of what will be an annual mixed species fishing tournament and fundraiser that attracts fishermen from all over the United States. This two-day tournament will also feature the 2017 Flounder Frenzie sponsored by the North Myrtle Beach Chamber of Commerce.
Entry fees for the Ron McManus Memorial Fishing Tournament are $100 for the Inshore Division, and $200 for the Offshore Division, with additional fees for the Flounder Frenzie. The event features over $20,000 in cash and prizes. Proceeds from the tournament benefit the Ron McManus Artificial Reef Foundation which supports PA-04, the Ron McManus Artificial, located five miles from the Little River Inlet's south jetty.
When Ron McManus organized the Dixie Chicken Funament in 2000 to honor his friend and fishing buddy, Jim Caudle, he had no idea that it would become one of the East Coast's most popular fishing tournaments. Nor did he realize the impact that the tournament would have on South Carolina's economy and its ecosystem. In less than a decade, the proceeds from this small but powerful tournament turned the Little River Inshore Reef, renamed the Jim Caudle Artificial Reef, into South Carolina's second largest and most visited artificial reef, a ranking still maintained thanks to Ron.
The Dixie Chicken ran for 10 years cut short by Ron's illness and subsequent death.
Now, it seems only fitting that the tournament be reintroduced--this time as the Ron McManus Memorial Fishing Tournament honoring Ron and the good work that he has done. While the name has changed, some things remain constant--take for instance the fun and comradery, not to mention the excellent fishing.
"Nothing would please Ron more than to know that this tournament is being held in his honor," said Chip Floyd, Tournament Director. "Ron's spirit lives among us."
For details on the Ron McManus Memorial Fishing Tournament visit ronmcmanusreef.com/fishingtournament or call Tournament Director, Chip Floyd at 843-597-3479
- Capt. Brant McMullan
---