"Terrific Tuesday" | OIFC World Cat / Carolina Cat | 01/22/10
This past Tuesday was most definitely a day of action. Yesterday the OIFC did a report on the Getting Jiggy's trip and now we've got a report and pictures from a couple of the boats who were at the Blackjack, or at least in the area.
First there was the "Big Whiskey", a 22 ft single motored boat captained by Chris Campbell along with buddies Austin Eargle and Adam Witt. This was Adam's 1st offshore trip so Chris was determined to put him on some fish. They left the Ocean Isle Marina around 4:45 am and picked their way through the Shallotte Inlet, which had to be an adventure in itself. About 45 miles out they saw signs of what Chris felt may be bluefin. But as he was not equipped they continued to the Blackjack area.
Chris ran across a group of boats working the 100/400 area. The water temp was 68-69 degrees. He started working there and made his way towards the Blackjack. Their 1st strike was about 9 am when a wahoo short struck on a ballyhoo with a black and purple skirt.. Not wanting to suffer another short strike Chris rigged a double hooked ballyhoo, put it with a red and black skirt, dropped it about 50 ft in a area where he'd marked action earlier, and let the good times roll. Within 2 minutes the down rigger popped and the reel began screaming! Adam took the rod and after a 20-30 battle, the big wahoo was close enough to the boat to be gaffed. The fish darted under the boat, Chris took a chance and struck with the gaff without a good view of the 'hoo. Luckily he was dead on. They boated the fish which wouldn't fit in his fish box, so they iced it on the deck and headed home.. Great fish, great story and thanks Chris.
Also below is a picture of Joey Crisp, of "Team McKee Craft" and his 44 lb wahoo. This was Joey's 1st wahoo, and it too was caught at the Blackjack on Tuesday.
- Capt. Rickey Beck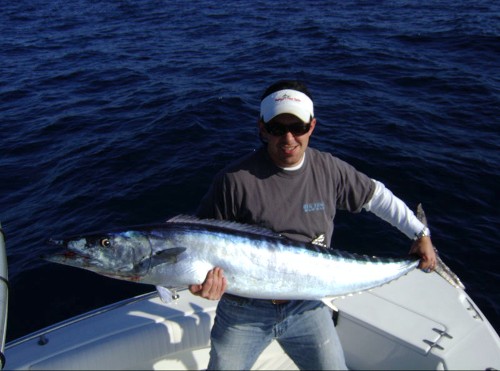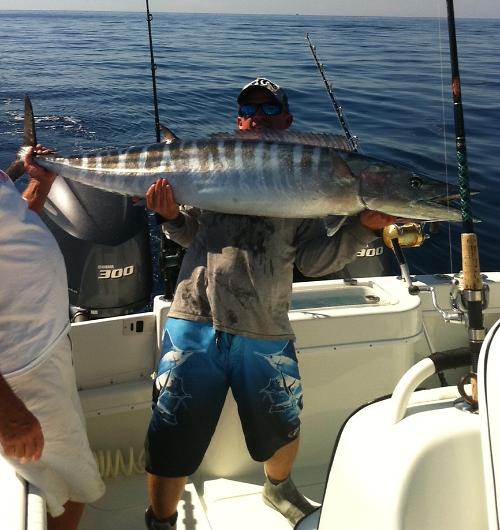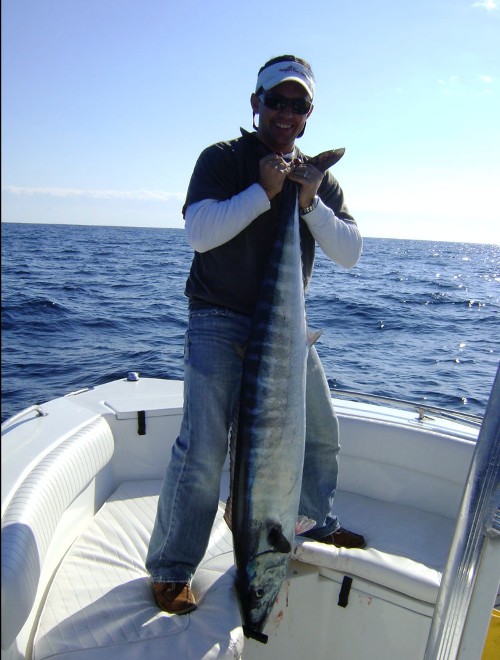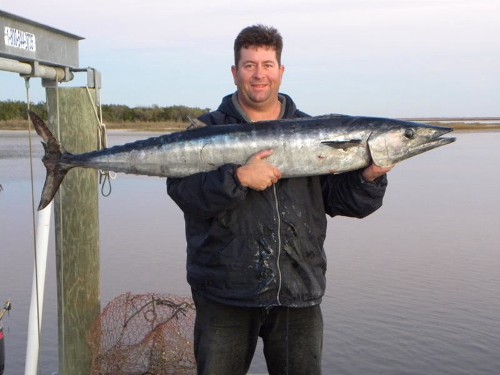 ---