"Friday's Action" | OIFC World Cat / Carolina Cat | 05/21/10
Captain Shannon, fishing the "Always Broke" out of Holden Beach reported that he and his crew headed to the Lighthouse Rocks this past Saturday. They noted several flying fish on the way out, but the sea condition made them think they'd have problems keeping baits in the water. When they got to the Lighthouse rocks they started putting line out. As soon as the 1st line was in, the reel screamed. Dale Britt of Varnumtown jumped on the line and after a fun battle they had their 1st king. This was Dale's first king ever and he was ecstatic!.
As the day rolled on, the action slowed. They set up a mahi spread consisting of a double hooked balleyhoo and a green skirt a short distance back. That's when the yellow and green flash exploded in the water and the reel screamed. But it was quickly realized that the drag wasn't set and a birds nest soon appeared. They were able to get things under control and a fine mahi was gaffed. The guys managed 5 more mahi before calling it a day. A great fish story.
Capt.'s Zach and Chris Dawson fished a charter today and the group landed several kings. They have a full day charter Saturday with a possibility of heading to the Stream. Capt Jeff B. and friends are headed to the 455 in the morning to see what they can get into. There's no doubt the king and cobia are near.. We open at 6am and the early bird gets the,,,,well, fish? Anyway stop by. I get lonely in the morning.
- Capt. Rickey Beck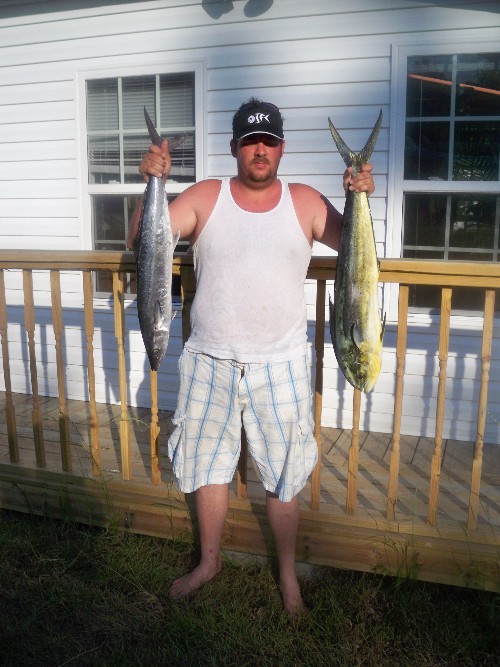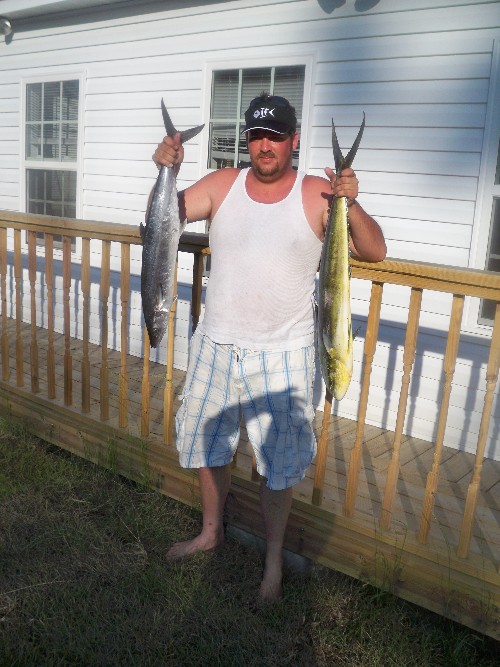 ---