"OIFC leads Martini Wahoo tourney" | OIFC World Cat / Carolina Cat | 04/21/10
And now, the rest of the story--- current standing at bottom--
wife Amy, cousing Brian and 11 yr old nephew Austin joined forces with me to compete in annual Martinis Hook A Hoo wahoo tournament. This year the tournament has 51 boat entries which is outstanding and deserves congratulations. Anyway, I had a plan and we decided to implement and take a shot at tournament. I took my Bluefin Tuna gear (bent butt 50's) and took off the mono topshot so I had 500 yards of 130# braid left. I then tied on 200# ball bearing snap swivels to each rod. I made up 50' sections of 150# mono leader with 200# ball bearing snap swivels crimped to each end. I then took Black Bart Wahoo lures and rigged with cable and hooks and also bought 3 of the Black Bart High Speed wahoo leads- 2 in the 48oz size and 1 in the 32oz size. And off we went. I've never considered myself a great wahoo fisherman, thus I went 180 and decided to try a completely new technique for which I'd never done before-- off we go. We arrived to the Black Jack area at 8am and deployed three bent butt 50's with Black Bart lures, leader and trolling leads and picked up trolling speed to 12 knots. We were all skeptical, but what the heck. At 8:30 the 32oz lead got nailed and we were hooked up. Brian reeled in the Wahoo, which later weighed at 39 pounds. We were cautiously optimistic. Maybe this works? We were off again at a blistering 12+ knots. It was quiet until 10am when the same 32oz lead bait got nailed, this time the fish meant business. 11 year old Austin Aycock went to work on the reel and after a long battle, the fish showed color. I leadered the fish to the surface where it showed itself. Brian struck with the gaff and hauled aboard what at the time looked like a 100 pounder, later to weigh in at 74 pounds. It'd been so long since I fished, my internal scale was off calibration; nonetheless, a nice fish. We were excited. It was 10:45 when we boated the fish and reset. From there on, whatever we caught was gravy. Austin caught another smaller Hoo around 35 pounds that ate the lure while I was deploying it, only feet from the boat! Finally, at 1:30pm we had another big bite; this fish took more line than the 74 and we wondered, could this be the mystical 100 pounder? My wife Amy did the honors and worked the fish for what seemed like forever; we were all very anxious as we honestly thought it was going to be bigger than the 74. Turned out the fish had foul hooked itself in the side of the face and was getting extra leverage, but it was boated and later weighed in at 56 pounds. We missed a couple of other bites through the day, but all in all, 4 wahoo is not bad; I am a believer in the high speed stuff. Anyway, that is our story. The tournament goes on through Sunday and approximately half of the field has yet to fish, so our 74 is far from a lock. It's a nice fish but I guarantee there were several others bigger lost yesterday by tournament competitors, so it will just take one team to land the big one to topple our 74. Good luck and stay tuned as we report weigh - in results.
The best news of all this is that the fishing is REALLY picking up. The water temperatures were 72-75 degrees and color was clear blue. There was a red hot Blackfin Tuna bite at the Steeples and lots of Flying Fish around. Surprisingly, no Dolphin were to be found, but that will not be long. The conditions are right. I'm looking forward to fishing again, maybe Friday? It looks pretty. See you on the water.
Martinis Wahoo Tourney - CURRENT STANDINGS AS OF WEDS. AM --
Wahoo:1st
74.08lbs OIFC Brant McMullen
2nd 66.86lbs Getting Jiggy David Braswell
3rd 58.50lbs Sing's Fling Kevin Singletary
Dolphin:
21.58lbs Sing's Fling Kevin Singletary
Tuna:
17.90lbs Chasin Bugs Eric Jordan
Congratulations to Brant and his team and good luck to everyone yet to fish.
Total Boats: 51
Boats fished through Tuesday: 26
Fishing today, Wednesday: 1
- Capt. Brant McMullan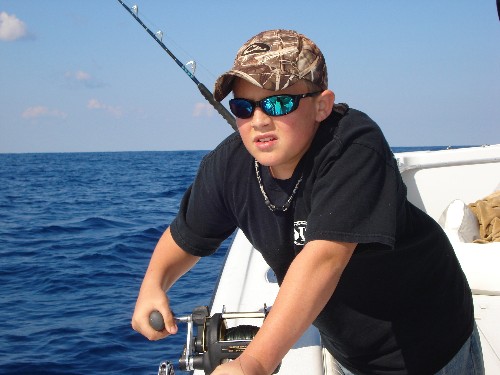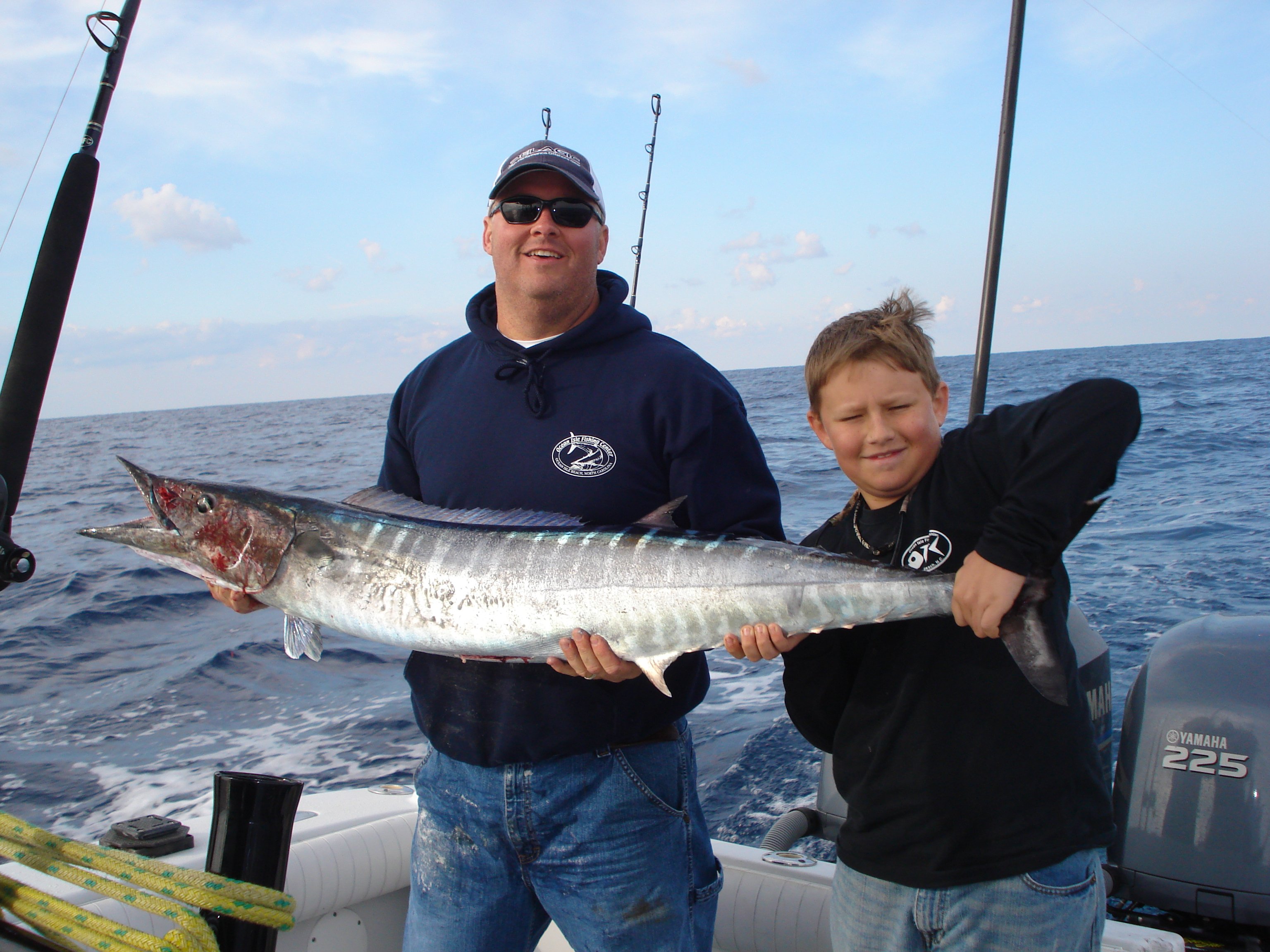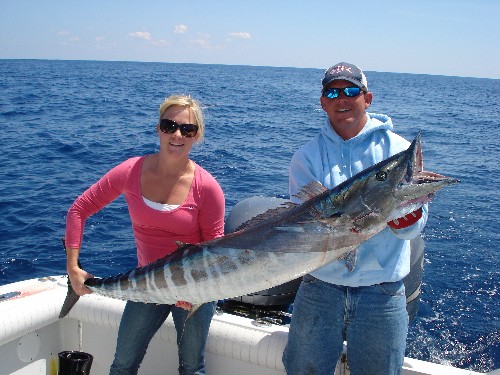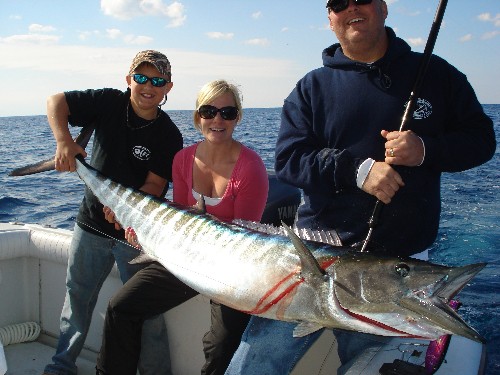 ---