"Cobia on a Sabiki?" | OIFC World Cat / Carolina Cat | 08/03/10
Stranger things have happened in the world of off shore fishing. The cobia hitting a sabiki rig wasn't exactly what happened. The crew of the OIFC Cat was jigging for bait and a cobia came up to the sabiki to check things out. He in fact brought along his big brother. I guess big brother got big by not being dumb. The nosey one ended up on the OIFC cleaning table.
The crew, Marc Tebben (Dayton, OH.), Jason Tebben (Charlotte, N.C.), Ed Conder (Charlotte, N.C.) and Joe Gliemmo (Columbus, OH.), spent their day fishing the Jungle and the Barges in search of kings. Though you could have closed your eyes and seen as many kings as they did, the group enjoyed a smooth day on the ocean catching spanish mackerel. All in all they had a good day, a great time and said they'd be back next year.
Oh, yeah, Joe was the lucky one who landed the cobia.
- Capt. Rickey Beck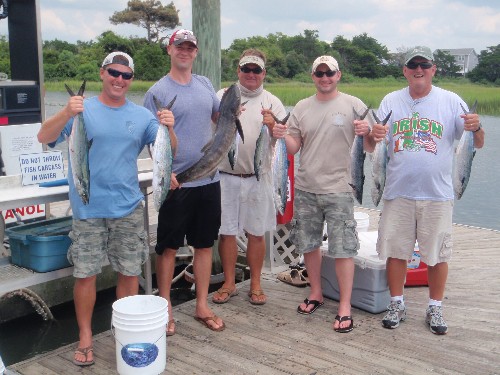 ---