"300 lb. Bluefin" | OIFC World Cat / Carolina Cat | 01/16/10
Captain Don Williamson along with Eric Gregory and Mike McDuffy were fishing aboard Don's 33 ft. Hydra Sport the Black Gold when they spotted birds and porpoises working around 100 ft of 64 degree water. They had been on their way to wahoo fish but decided this was just too good to pass up!
At around 9:30 am they hooked up on a small bluefin and released it. Determined that his big brother might be in the neighborhood they elected to stay. Shortly after that Don saw a big bluefin sky. His crew thought he was seeing things!
At 10:30 am the line on the out rigger began screaming and shore enough a big bluefin had hit on a pink Islander with a large ballyhoo. (We had stayed open 30 minutes late last night so Don could by bait..thought I'd throw that in). Eric, the youngest of the crew took the rod. They put it in a swivel rod holder amidships and 1 hr. and 10 minutes, the 86 inch, 300 lb. bluefin was alongside ready to be gaffed.
The rest is history. The fish was handled at the OIFC and is awaiting the dealer. Don said that Captain Brant's Bluefin Tuna School gave him the knowledge needed to land their tuna.
A reported 103" bluefin was weighed in at Morehead City a couple of days ago. A couple of short ones have been caught here and now the Black Gold hits pay dirt. The conditions are ripe for bluefin tuna fishing. Not only that but the wahoo bite is still strong. The winds are going to mess up our fishing the next couple of days, but be ready to hunt!
- Capt. Rickey Beck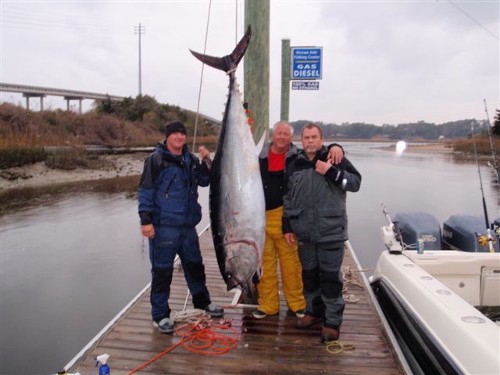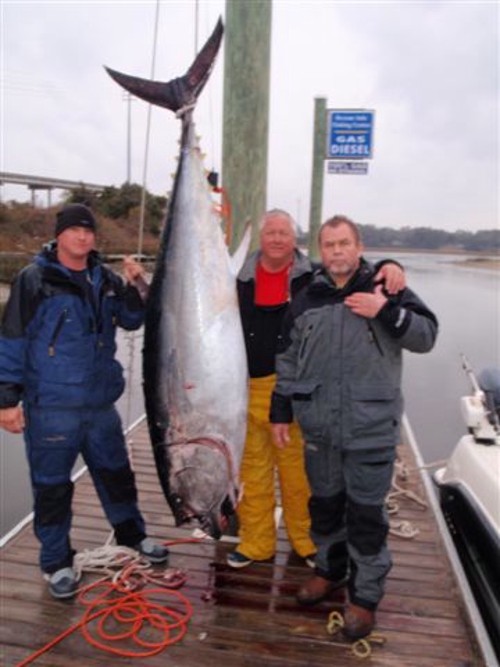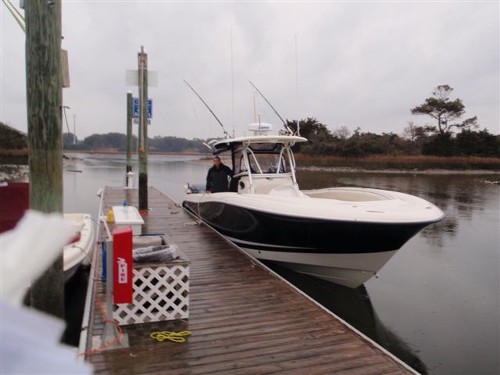 ---