""Dave's Cobia"" | OIFC World Cat / Carolina Cat | 07/07/10
Captain Chris Dew and Captain Chris Eckert on the World Cat were joined by Dave Sedney, Dan Sedney, Ron Remirez and Jeff Coffman all of W.Va on a charter to Christina's Ledge. They had got the bait, pogies in 8-10 ft of water just off of Ocean Isle. The group brought back a nice cobia which was caught by Dave.
Captain Chris Dawson aboard the Carolina Cat fished with Chad, Seth and Danny Correll as well as Jeff "I wish you were here" Bowden, who joined them in spirit..an inside joke. This group bottom fished the Jungle and caught a 43 lb cobia.
Captain Zach Faulkner and Captain Jeff Williamson, aboard the "Get Floor'd" fished with Bobby Usher (Atlanta), Erik Usher (Ashville), Richard Lehnhoff (Charleston, Sc), and Will, Sam, and Nick Smith (Knoxville, Tenn). The group fished about 8 miles out using naked pogies and landed several kings.
- Capt. Rickey Beck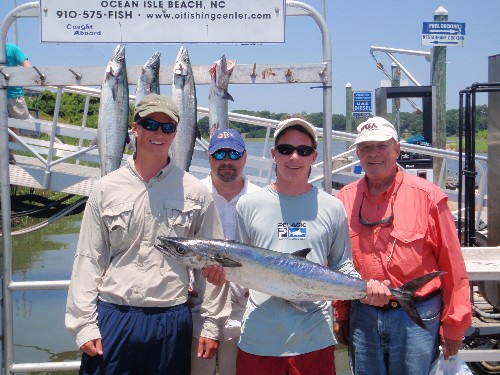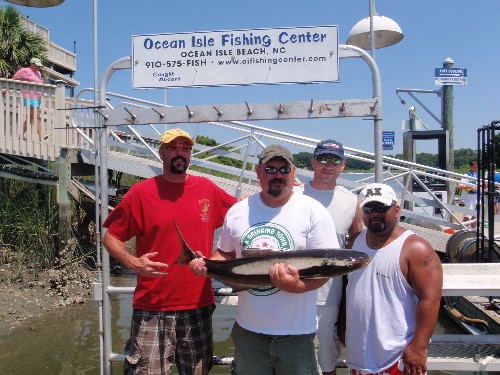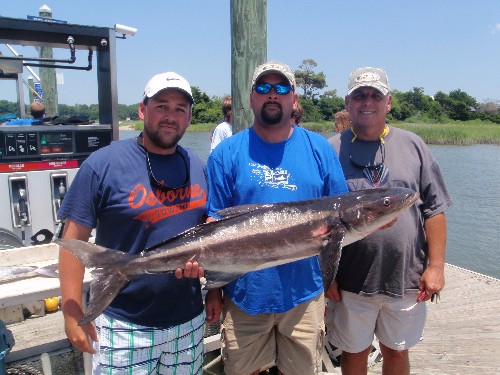 ---