"WIND" | OIFC 1- 36' | 07/18/10
That one word summarizes the fishing activity, or lack thereof in the OIB area. We may try to sneak out the 1st of the week and attempt some spanish fishing and maybe stretch it a few miles out and try some kings.
The Barta Tournament is over, and thanks to the Coast Guard, Navy and Marines a near disaster was averted when the "Reel Time", owned by Rick Sykes of Durham, N.C. began taking on water and sank.
Inshore, captain Jeff B. and Toby Russ fished the Shallotte River yesterday, but between the wind and the current they gave it up. Dr. Jeff Wallen fished the jetties yesterday also, but the wind was such that he hung it up. Captain Kyle had a charter today and had some success. I am sure he'll do a report on his trip later.
Below are pictures sent to me by Paul McIntyre of a mahi they caught last week while fishing near Christina's Ledge aboard their boat "Tiger Rag". Pictured are Mike and Jake Matulia. Also in the picture is Paul's dad, 79 yr. old "Grandpa Jack" McIntyre who still loves to fish. Thanks for the pictures Paul.
Check out the Tournament Section of the web site for updates on the OIFC Rodeo prize money. It continues to grow.
That about wraps up the news from the OIFC.
- Capt. Rickey Beck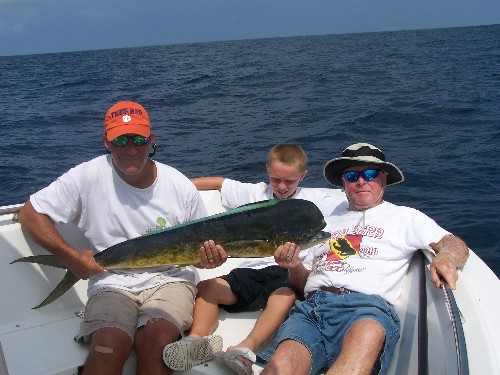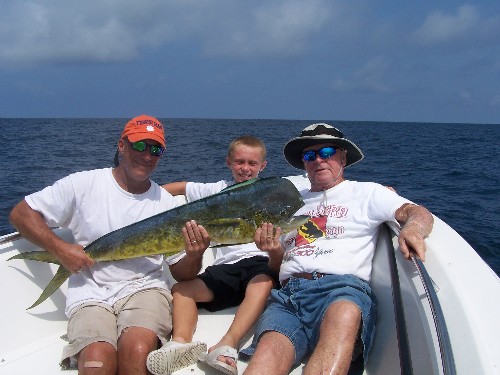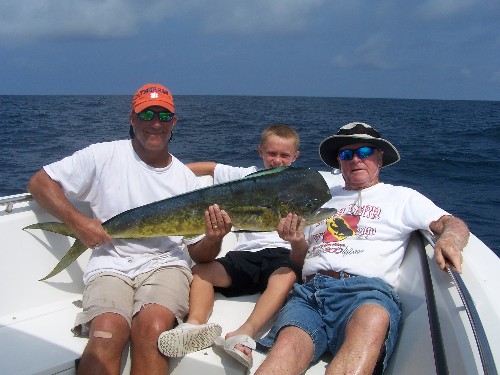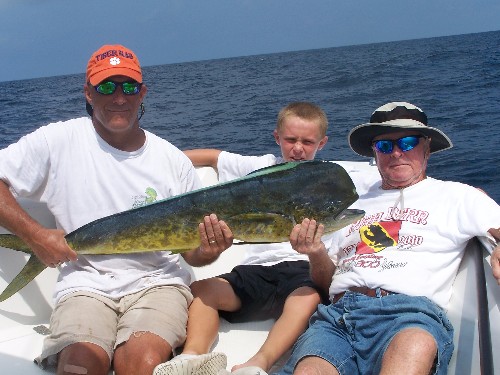 ---