"Jungle Sail Fish" | OIFC 1- 36' | 07/14/10
Darby Lykins, (left) and Frank Harrington (right), show a 6 ft 6 in. sail caught while fishing the Jungle for kings, using pogies on #6 treble hooks on July 6th. Fishing with them were Mike Cochran, Seth Joyce and Allison Strong. They fought the fish for about 45 minutes. Once safely onboard Frank's "Laid Back", the trebles were quickly removed, the fish measured, and a photo was taken. They the revived the sail and it was released in healthy condition.
Great job and thanks for sharing the story with the readers. As I said, sometimes I save reports for rainy days like today.
- Capt. Rickey Beck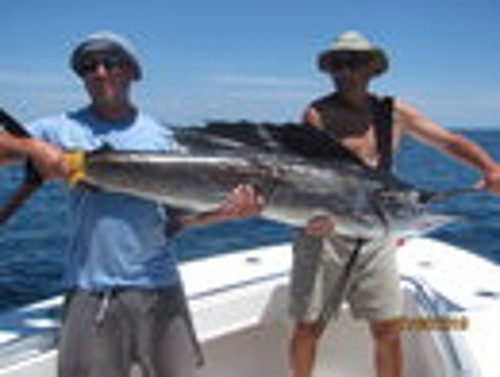 ---