"Kingfishing Getting Better and Better" | OIFC World Cat / Carolina Cat | 10/28/10
Man, how about that Fall Brawl! That was fun. Great weather, great turnout and great fishing. As I said when the SKA's division one in northern NC concluded a couple weeks ago, I sure hate to see the king mackerel tournament season end just when the fishing is getting good.
So, for those who just can't get enough, let me remind everyone about the NC Kingfish Championship slated for November 13th - 21st. That's right, 9 DAYS!. Teams will select 2 of those 9 days to count as their fishing days. That decision can be made up until 6am of the fishing day selected by calling the declaration hotline at 910-253-3474. This tournament does not have a captains meeting as all entries and awards take place on line at www.oifc.com. Teams must enter either on line or by printing off an entry form from the tournaments page on the website and mailing it in. Before fishing teams must select their fishing days and lastly, GO FISH!
This is a simple tournament designed to be easy for the fishermen to fish. We have TWO weigh in locations. Teams may either weigh their fish at Town Creek Marina in Beaufort, NC or Hatteras Village Marina in Hatteras, NC. The idea behind the weigh in locations was to offer options for the fishermen on the north and south end of the fishing grounds again in an attempt to make it easy to fish. Entry fees are low with several TWT options for the gamblers. Most importantly somebody is going to walk away as the 2010 NC State Champion.
Fishing Report: The big fish have already started showing up on the east side of Cape Lookout all the way to and past Hatteras. I have reports of giant kingfish just on the east side of Cape Lookout with fish being caught over 60lbs already. Up towards Hatteras fish in the 40lb range are becoming more and more prevalent every day with the monster kingfish to arrive any day. There are lots and lots of fish right now in Hatteras.
Accommodations: For those teams with 2 or 3 days to devote to this event I highly encourage you to check into staying in Hatteras. I just spoke with Billy Webster of Hatteras Landing Marina (our host location) and he has put together some smoking deals for us on accommodations and boat slips. Contact Billy at 252-489-0458 and tell him you're coming to fish the tournament. His facility is top of the line with your choice of condos overlooking your boat in the marina or hotel rooms. Both options are priced very very reasonably. The condos are big with 4 or 5 bedrooms so sharing with another team is also an option. He is also going to have a vehicle for us to use if there are teams who travel to Hatteras by boat. We will be up there for the week staying in a condo.
Some folks who haven't been to those waters may be a little hesitant as you've heard the legend and lore of the outerbanks. Fishing Hatteras from a weather perspective is very similar to fishing the Brunswick county coast. If it's blowing hard out of the south it's going to be rough. The nearshore waters are protected on a north wind. The good news is the fish are usually within sight of land and the weather typically in years past has given us ample opportunity to get our fishing days in. For those with questions or concerns about getting to Hatteras, navigating around or fishing Hatteras please don't hesitate to contact me and I'll do everything I can to help (captbarrett@oifc.com). We may try to organize a boat caravan up to Hatteras if everyone's schedule works out where we drop in the water at Morehead and run to Hatteras. But, if Hatteras isn't your game, Morehead has plenty of fish to offer and is certainly easier to get to.
Next week we're headed down to Ft Pierce, Fl to defend the SKA National Title but when we get back it'll be time for the NC Kingfish Championship and the biggest and best king fishing of the year. Come check it out, you won't be disappointed.
- Capt. Barrett McMullan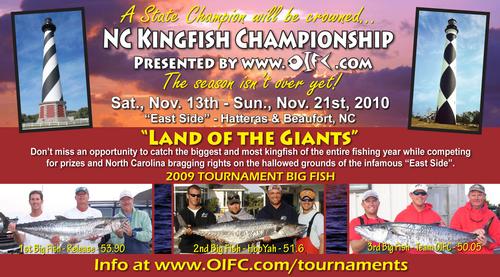 ---