"Tower Trip" | OIFC 1- 36' | 08/17/10
Captain William Parker of the "Hound Dog" took a trip to the Frying Pan Tower today along with friend Duwane Wood and son Caleb White. Capt. Parker found plenty of pogies in the ICW between the Bentree Club House and the Shallotte Inlet, thanks to information provided by Captain Chris Dew of the OIFC World Cat.
William said the water was so clear that he could see the bottom at 65 ft and could see the downrigger ball at 40 ft. That visibility and 85+ degree made for some slow fishing. They did manage some small 'cuda and a 15-18 lb mahi. However, check out the picture and you can see the beautiful ocean conditions.
- Capt. Rickey Beck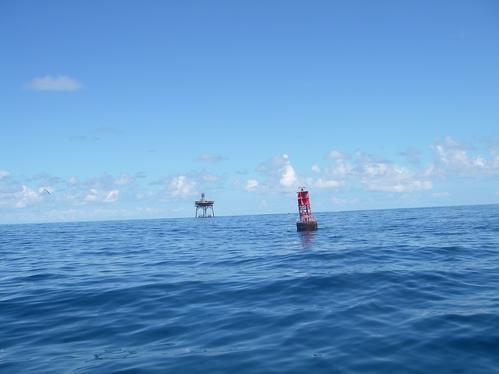 ---