"Labor Day Flounder" | Speckulator - 22' | 09/06/10
Below is a picture of Miss Lindsey Evans with a nice flounder she caught behind Ocean Isle Beach. Lindsey was fishing with Ryan Neuwirth of Shallotte Point. They were using pogies.
The flounder bite has been excellent and consistent in shore, while the bite on the artificial reefs has not really fired off. It was just a few summers ago we were concerned about the lack of flounder being caught in our back waters, but it seems that with pogies being more plentiful the flounder population has increased. That's my unofficial observation.
Also now is a good time to remind everyone of the Bay Creek Classic which is this weekend. Please participate..it is for a great cause!!!
- Capt. Rickey Beck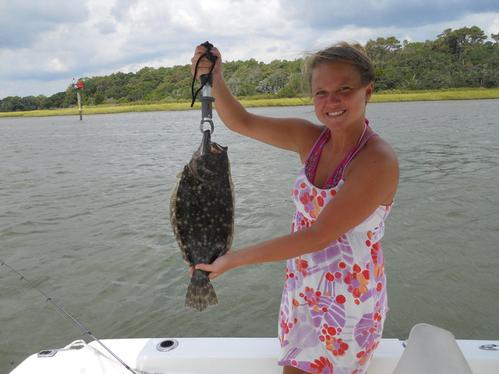 ---