"More Of This Week's Action" | OIFC World Cat / Carolina Cat | 06/03/11
Along with Captain Brant catching kings at the Lighthouse Rocks, I THOUGHT I heard Captain Chris Dawson getting a cobia at the 390's. Haven't confirmed that yet.
But, Monday, Chris Campbell and his wife Robin were fishing the 390's aboard their Sea Hunt the "Big Whiskey". They hooked a king on the downrigger set at 45 ft. and baited with a frozen cigar minnow. It turned out to be a teenager. They then missed a king on the long line..a short strike, but right after that the mid line started screaming and peeling off like like a king had hit it. After Robin had fought the fish for @ 30 minutes they found out it was a cobia. In fact 2 cobia came along side. Chris put the gaff to the one Robin had been doing battle and boated a 30 (+-) cobia.
The mahi Robin is holding was caught in Tubbs Inlet on a mud minnow..NOT!!! They caught that @50# dolphin fish while visiting an exotic remote island.
In shore, Will King was on the dock cleaning several flounder he caught late Thursday evening while fishing behind Sunset Beach Island. Will said he was using OIFC Custom Mud Minnows, provided exclusively by Sterling Aqua Farms
That wraps up this week in fishing at the OIFC. We've got a couple of trips Saturday and the weather is looking great. Several of us will be at Myrtle Beach Speedway Saturday night watching the Jolly Mon Racing Team in action. I hope to have some pictures of that and some fishing pictures to post Sunday. Se ya on the asphalt.
- Capt. Rickey Beck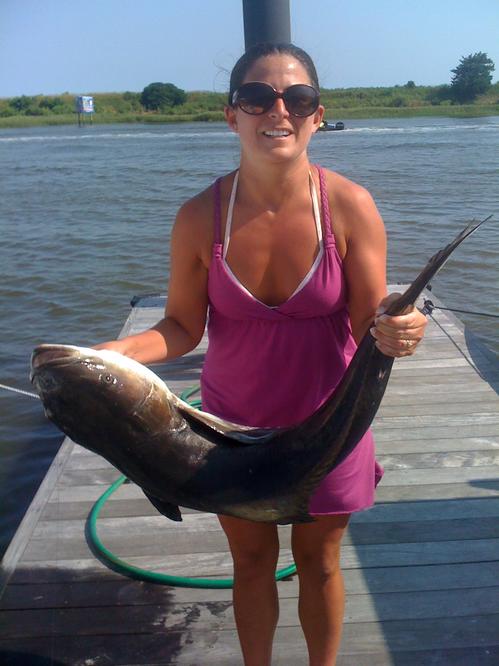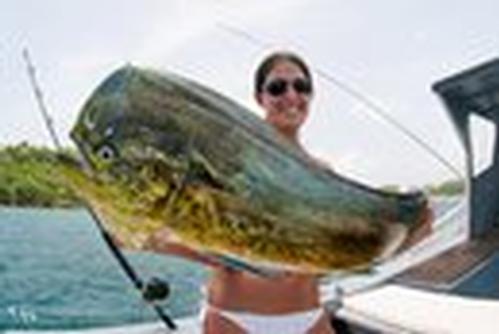 ---