""New Year Drum"" | OIFC World Cat / Carolina Cat | 01/01/11
Inshore fishing continues to be strong despite extreme cold weather for us this time of year. Lots of reports from Little River to the Cape Fear River have been saying the same thing. Redfish are biting and biting hard! Everyday someone is catching a good one. I wish it were me! John Taylor from Fayetteville, NC was bound and determine that he was going to catch one today. Pictured below is his best fish of the day, a 23" fat Red! Mr. Taylor said he also landed two more that were 21 inches. You can bet I will be after them hardcore this week. See ya on the water!
Oh, What are they biting on? Gulp baits on the bottom or under a popping cork has been pretty productive. Live mud minnows on a 1/8 to 1/4 ounce jighead will work really good this time of year. Where? Dead water, shallow, really shallow...Good Luck!
- Capt. Jacob Frick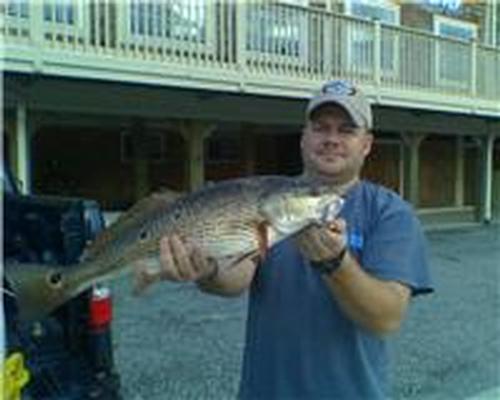 ---