"Prince Edward Island Recap" | OIFC World Cat / Carolina Cat | 09/16/11
Finally catching my breath after several weeks of travel which concluded with an unforgettable trip to Prince Edward Island, Canada as part of the OIFC's Traveling Fisherman program. What an adventure it was!

On board for this expedition were:
Barrett McMullan
Chris Eckert (OIFC Mate/Capt)
Zach Faulkner (OIFC Mate/Capt)
Kyle Hughes (OIFC Capt)
James "Big Chief" Hammonds (Holden Beach Charter Capt/Tournament Fisher)
Chris Blackwell (Ft Pierce, FL Capt/Tournament, Commercial Fisher)
Mark Blackwell (Ft Pierce, FL Capt/Tournament, Commercial Fisher)
John Langel (Ft Pierce, FL Commercial Fisher)
I've been fortunate and had the opportunity to travel to many remote and exotic fishing locations around the world. I've pretty much determined that Venice, Louisiana is located on the very edge of Earth. After arriving to our most recent destination in North Lake, Prince Edward Island, I believe I've found the other edge of the Earth! We flew into Charlottetown, PEI, rented a couple of vans and headed east Saturday evening. We figured we would get to our motel, pick up supplies for the next day of fishing and then go have dinner at a local restaurant. Upon arrival in North Lake we quickly figured out this was no metropolis as the only sign of life we could find was the motel attendant. Fortunately we were directed to the one restaurant within 20 miles which happened to be in walking distance from the motel where we would have every one of our meals over the next 3 days. The weather in Charlottetown was a pleasant and refreshing 60 degrees. When we got to North Lake that evening and stepped out of the van the 45 degree cool air combined with the 25 knot north wind took our breath away. North Lake fits the exact description of the small quaint fishing village. There is a small harbor with about 50 commercial lobster boats, a seafood processor, lobster traps scattered everywhere, a motel, and one eatery. It is perfect.
The next morning we woke up to perfect conditions. The air temps were in the high 40's and the wind was near calm. We all had high hopes of the fishing as we've heard stories of the monster tuna that live nearby, but nobody really knew exactly what to expect. It wouldn't take long to figure it out.
We split up into teams of 4 and met with the crews of the two boats we had chartered around 7:30am at the wharf. The wharf was really unique. It's basically a man-made canal about 60 feet wide and the 40 to 50 ft lobster boats line up two deep along the sides from one end of the wharf all the way to the inlet. It was a little strange really. There was a good number of boats there but only a very few were fishing. I think most of them focus on the lobster fishery in the early summer. The boats that were fishing that day all departed about the same time in a single file line out the inlet which is a man made bulk head about 30 feet wide. I was fishing with Chris and Mark Blackwell and John Langel with Capt.'s Darren, Greg and Spencer. I was all set in for a long ride on the slow lobster boat that seemed to have a top end of 7knots. About the time I got comfortable, Capt Darren says "ok boys I think we're close". We had traveled maybe 1 mile from port and I'm thinking, ok I've seen this before, it's going to be one of those kind of charter where you shoulda been here yesterday. We stopped the boat and began jigging sabikis and immediately were bringing 1lb Tinker Mackerels over the side 3 at a time. We had expressed interest in trying live bait so the crew was willing to give it a shot. It's easy to see why the tunas are so big and plentiful up there, the bait is THICK. About the time we put a dozen baits in the well, Capt Greg says, "hey boys, look over there I believe those guys are hooked up". About a 100 yards away I see a boat making way with a rod doubled over. Halfway stunned, and in true tourist fashion I say, "hooked to what"? I'm quickly reminded by the crew with mild grins, "you'll see". So, with a livewell full of beautiful tinker mackerels Capt Darren steers us offshore and he studies the depth machine. About that time, I see explosions going off about a half mile from us like somebody was dropping school busses into the ocean from an airplane. "Oh, there they are" said Capt. Greg, "who is up first". I can't believe their confidence. Surely it's not that easy. I've been tuna fishing for 15 years and can think back to all the pain, misery, suffering and endless hours of monotanous trolling, freezing with no bites. Chris Blackwell was up first and got suited into his harness. We got about half way to the busting tunas and Capt Darren began getting a strong mark on his bottom machine. "Ok fellas, ready when you are. There are several under us right now". Capt Spencer chunked up a bunch of herring he already had on the boat and started a chum line. Chris was now geared up and Capt Greg hooked up a live bait. He warned Chris to hold on and that it shouldn't take long. We all stood bye with cameras and video cameras not believing it could really be this easy. The bait hit the water, Spencer gave it 5 pulls of free-line, held onto the line and it came tight. "There he is"! We were hooked up less than 1 minute into fishing.
Stand by for the rest of the story.
- Capt. Barrett McMullan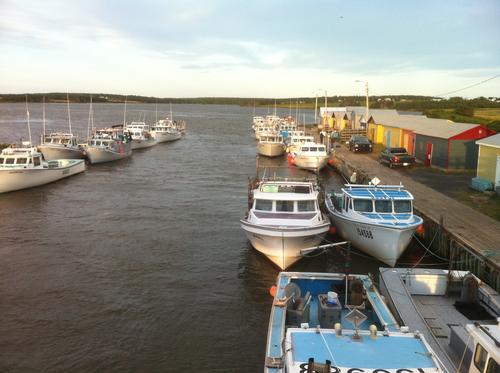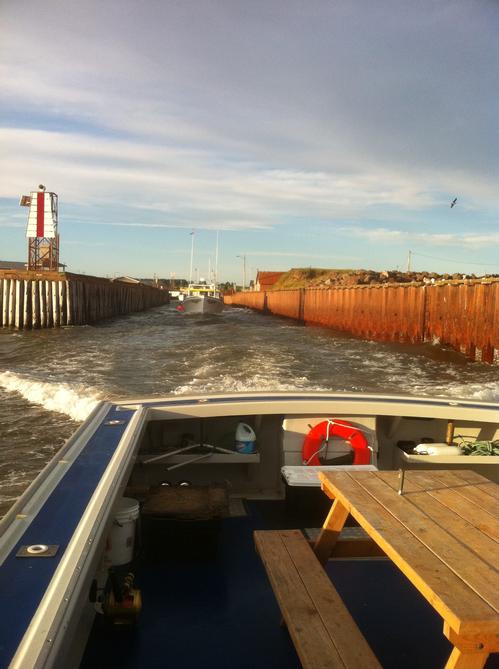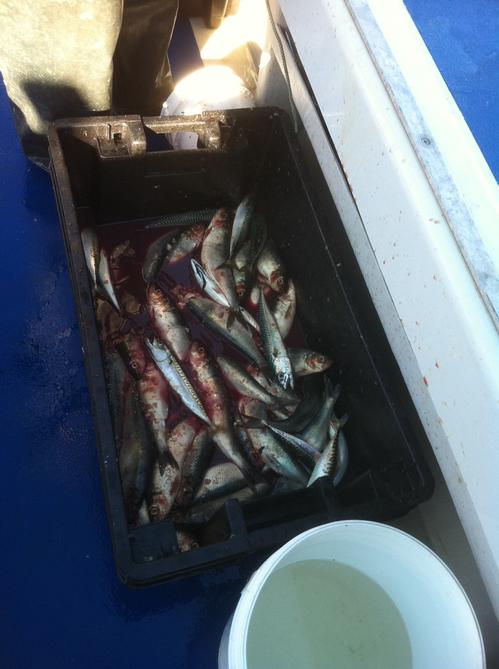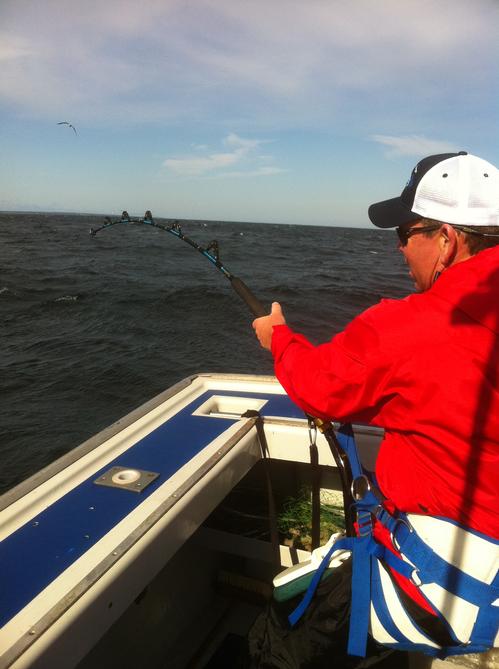 ---