"Irene" | OIFC World Cat / Carolina Cat | 08/25/11
Close friends and family know me as a hurricane watcher/worrier and landfall predictor extraordinaire since we first bought a home here in 1985. I am generally correct.
That being said, if I was asked for a prediction at 9 am today I would have said no sweat! By mid day I was worried. Now I am a little more relaxed. I am gassing up the car, but it was on empty anyway. I'm not running out to by milk and bread But I'm not a milk drinker nor do I eat bread. If my boat were in the water, I'd probably pull it out.
I think we'll get tropical force and maybe more winds, heavy rain and probably a pretty good storm surge...depending on exactly when the storm hits. This is because we are on the cusp of a new moon which brings with it extreme tides. I think we'll have erosion and some wash over.
Let's hope and pray that's all we get. Stay tuned.
- Capt. Rickey Beck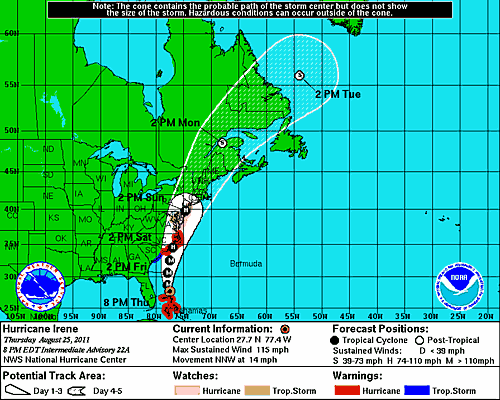 ---