"The Law's Cluster" | OIFC World Cat / Carolina Cat | 11/20/11
Captain Michelle Drake and Jeff of "The Law" fishing had watched the weather for a couple of days. Finally, they got a good report. Michelle checked all the gear and set the alarm for 5:30 am Sunday morning. After missing the alarm, they didn't get a line in until 10:55. A black fin was on before they got the 2nd line deployed. Then with 4 lines out, a 2nd black fin hit. There were a few more strikes, then the big one hit.
That is when things got interesting. Michelle fought the wahoo to the boat. When the fish surfaced she looked for Jeff. He was looking for gloves. So Michell wrapped the rod between her legs, held it against the combing pads, and began leadering the fish. The gaff was in the rod holder. The with the leader in the right hand, the gaff in the left and the rod wrapped around her legs, Michell gaffed the wahoo! Jeff came just in time to help hoist the fish in the boat. Michelle was shaking as hard as the wahoo.
Michelle can brag about being the 1st mate, the angler and catching the wahoo on a rig Jeff had complained about from the time Michelle made it until the fish hit it.
The Law crew headed to Doc Holidays with tuna, Bonita and a 65+ pound 66 inch wahoo. The downside is they weren't in the Hook A Hoo or in the Rodeo.
Congratulations to The Law.
- Capt. Rickey Beck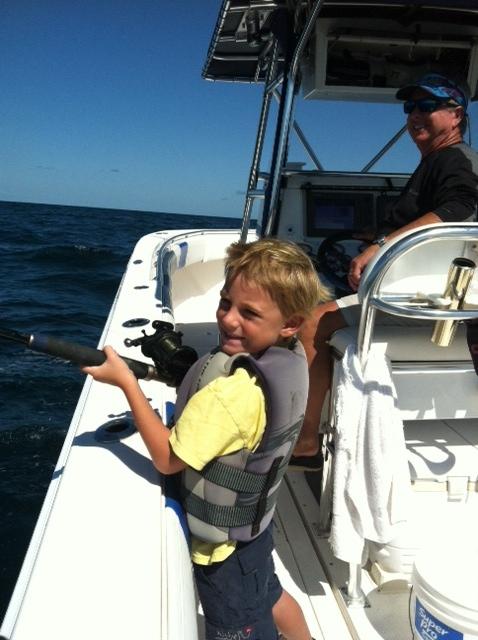 ---