"Family Fishing " | OIFC World Cat / Carolina Cat | 10/06/11
Barrett and I made a quick round-trip run t Sarasota, FL to pick up the new Team OIFC touranment boat-- Yellowfin 32. This boat is the same as the one's we have been running in previous years, but powered with F300s instead of the F350s. We did give up some accelleration and top-end speed, but we are still plenty quick (hard to catch a fish at 60mph) and the economy is very impressive. I am glad to have a 32 Yellowfin back on our team as the ride and fishability are awesome.
So, we got back late Tuesday and why not go fishing? Wednesday was forecast nice, so Caroline and Brayden played hookie from school while Grandpa Rube and I hosted the two junior anglers on a fishing trip/boat break-in trip. We ran out toward the Jungle to try to find a King, but found none- I was surprised at this. However, we headed a bit deeper and caught several nice Grouper. I later found out that a red hot King bite had ensued that afternoon at Lighthouse Rocks -- no matter, Grouper eats better anyway. The boat did good, but most important, my two kids are really doing great on the boat. Even 2 year old Brayden is in to all of it -- I'm excited to have them as part of the team; they give me enthusiasm to go "fun" fishing more often.
- Capt. Brant McMullan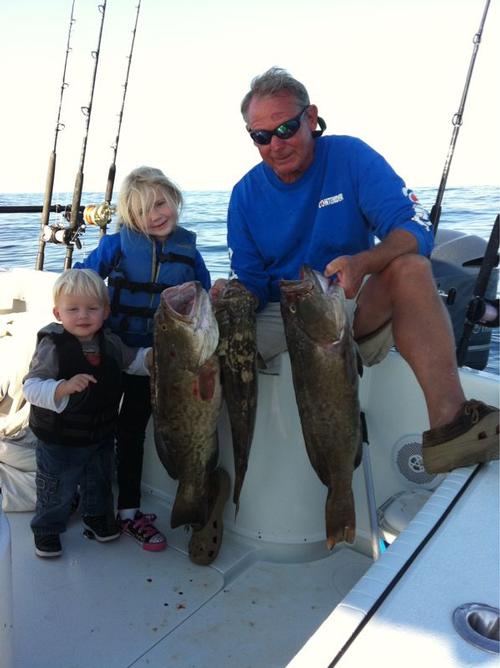 ---