"My Buddy Joe" | Tiberias - 22' | 11/11/11
Mr. Joe had family coming in from Cincinnati, OH last night and wanted to put them on a few fish. Mr. Joe's brother Bob and nephew Bobby drove all night arriving here at 4 a.m. this morning. They were on my boat by 10:45 a.m. ready to fish. A bit chilly today with a stiff North wind blowing, but the trout are bite'n! We started off with a few small fish and then found a few keepers. Mr. Joe's brother Bob was convinced that the bite was good enough he could catch one on the fly. IN THIS WIND? He caught one on the fly today! Unbelievable! Meanwhile, we kept picking away at them. Bob finally gave up on catching another on the fly and picked up a spinning reel. He made a few cast and caught our best trout of the day. Close to 4 pounds...I guess some people just have all the luck. Mr. Joe caught a nice red which peeled off several yards of 6 pound test line before surrendering. Awesome day on the water! I love it! See ya on the water!
Pictures below...First pic...Bob, Bobby, Joe...Second pic...4 keepers still in the livewell that we dicided to release...Third pic... What we kept for dinner!
- Capt. Jacob Frick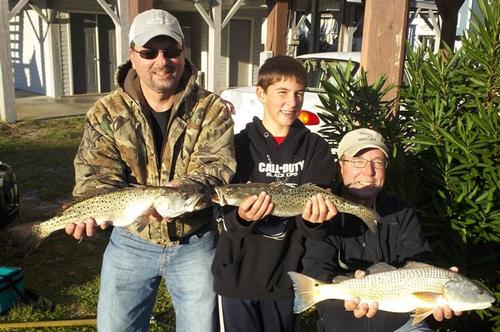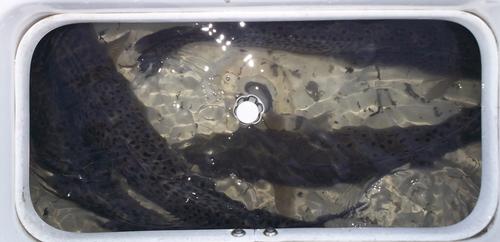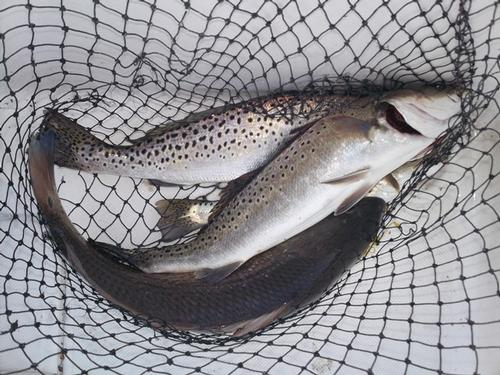 ---